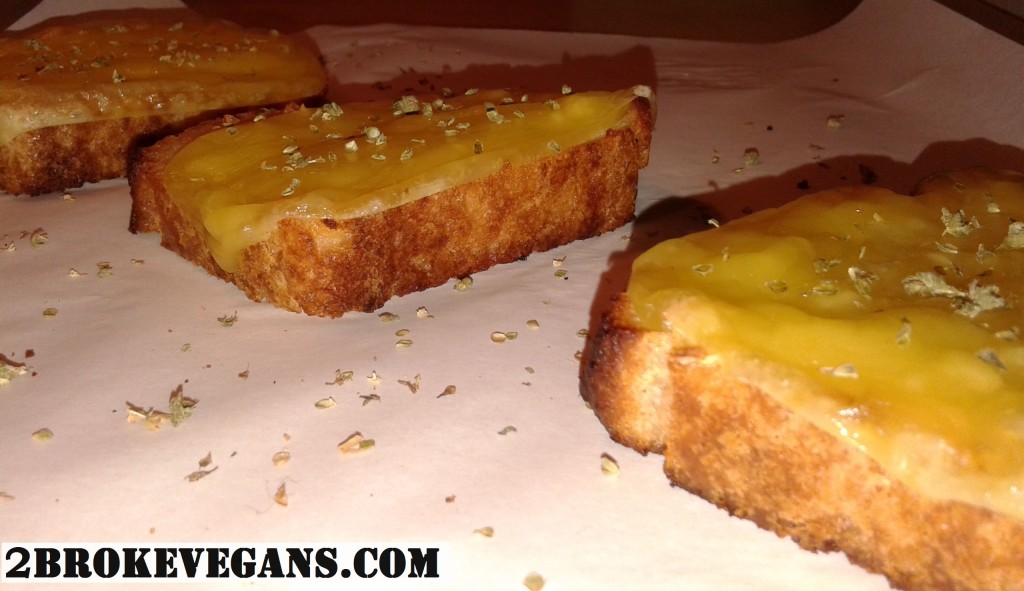 We recently reviewed the Orgran gluten free vegan easy bake bread mix. Since it's world vegan day, we thought we would share what we ate to celebrate today! How about some vegan gluten free garlic cheese bread? Check it out:
First we made the bread mix by Orgran.
Then we made our vegan garlic sauce. To do this, you'll need to add the following in a small sauce pan over medium-low heat on the stove:
2 medium to large garlic cloves, minced
3 Tablespoons of vegan butter
1/2 teaspoon of sea salt
2 Tablespoons of olive oil
Keep it on the heat until the vegan butter melts and you begin to smell the garlic. Stir occasionally.
Pre-heat your oven to 200° Celsius (392° F).
On a sheet of parchment paper place 4 slices of the bread and begin coating both sides with the garlic sauce. Spread it as evenly as you can using a spoon or butter knife. We found the sauce was just enough for coating both sides of 4 slices of bread.
Now place the sheet of parchment paper with the garlic bread into the oven for about 8 to 10 minutes (basically until the bread absorbs the excess liquid, you do not want the bread to be burning at all). Then place slices of your favorite vegan cheese on the bread and place back in the oven until the cheese melts. Take the bread out and sprinkle dried oregano on the top! They are very delicious! Happy World Vegan Day!