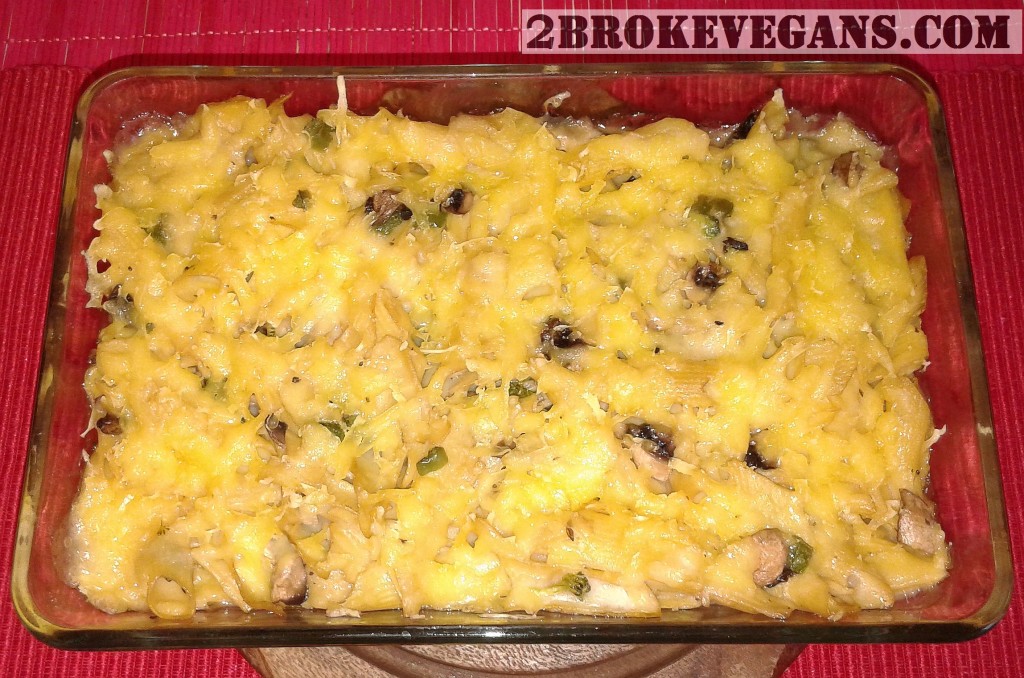 You thought gluten-free vegans don't get to enjoy the simple pleasures of life? Of course, I am referring to melted cheese with pasta! This baked cheesy pasta is so delicious!
We purchased a new vegan cheese that melts, stretches and tastes fantastic! Amazingly, it is a Greek vegan cheese! I think the good things need to be shared (and no we are not getting paid for it). Violife vegan cheese for pizza by the company Viotros 🙂 Thanks Bamboo Vegan for bringing it to us!!!
Here is how to make this amazing dish 🙂
Ingredients:
250 grams of vegan, gluten free penne rigate noodles
2 small garlic cloves, minced
2 tablespoons of chopped green onions
1 cup of chopped mushrooms
1/2 cup of chopped green peppers
1 Tablespoon of broccoli flowers (it has an overpowering taste, if you want to add more do it with caution!)
a dash of cumin
sea salt and pepper
vegan butter
200 ml of rice cream
a cup of the grated or shredded vegan cheese you prefer, here in Greece we use the Violife Cheese!
Boil the penne in salted water according to the instructions. Strain the pasta and let them cool there for a bit. In the big pot which you just emptied the penne from, add 2 tablespoons of vegan butter, place it over medium to low heat and when the butter starts bubbling add the garlic and the green onions to saute them. After a couple of minutes add the broccoli , the mushrooms, the green peppers, a dash of cumin, some sea salt and pepper; saute them until they get soft. When they are done, add the penne noodles and mix well so that the vegetables spread everywhere!
In a buttered pan, spread some of the grated or shredded vegan cheese, add a layer of pasta mixed with the vegetables and a layer of vegan cheese. Then, add the rest of the pasta. Pour 3/4 of the rice cream package on top of the pasta so that it goes everywhere to make your pasta creamy! Finish by covering the pasta with vegan cheese, until you see nothing but vegan cheese!!
Bake at 160° Celsius (320° F) for about 20 minutes, or until the vegan cheese melts 🙂
Enjoy !