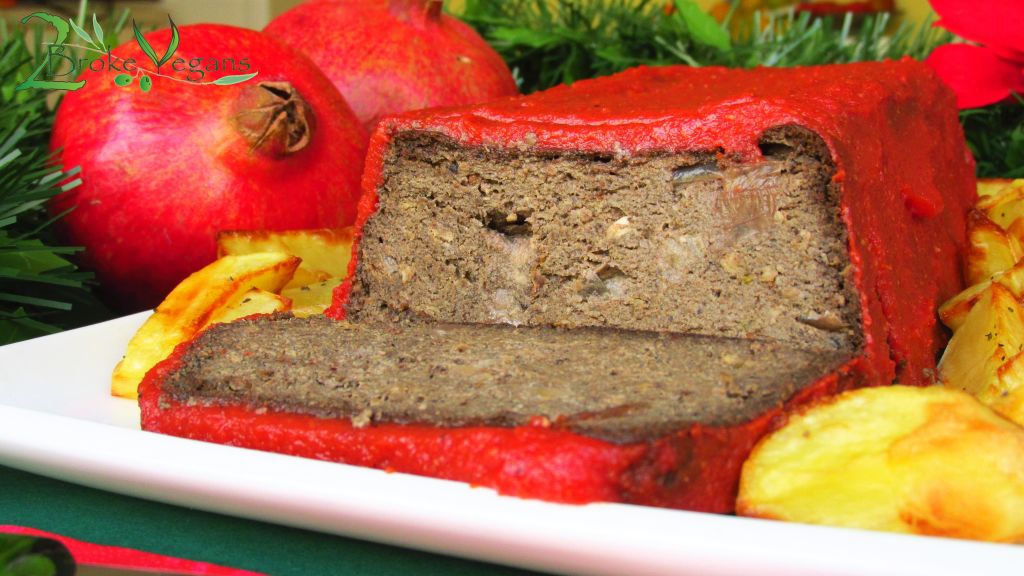 No Christmas is complete without a meatloaf, right? We have made a delicious gluten free vegan meatloaf we want to share with our readers this holiday season! This delicious vegan loaf primarily consists of walnuts and portobello mushrooms. While it was in the oven, I could not believe how amazing it's aroma was! I knew it was going to be tasty and it sure did not let us down in that department! This was one of those recipes I was not entirely sure would work on my first attempt, however, it turned out great. We hope you try it and enjoy it as much as we did! Happy Holidays!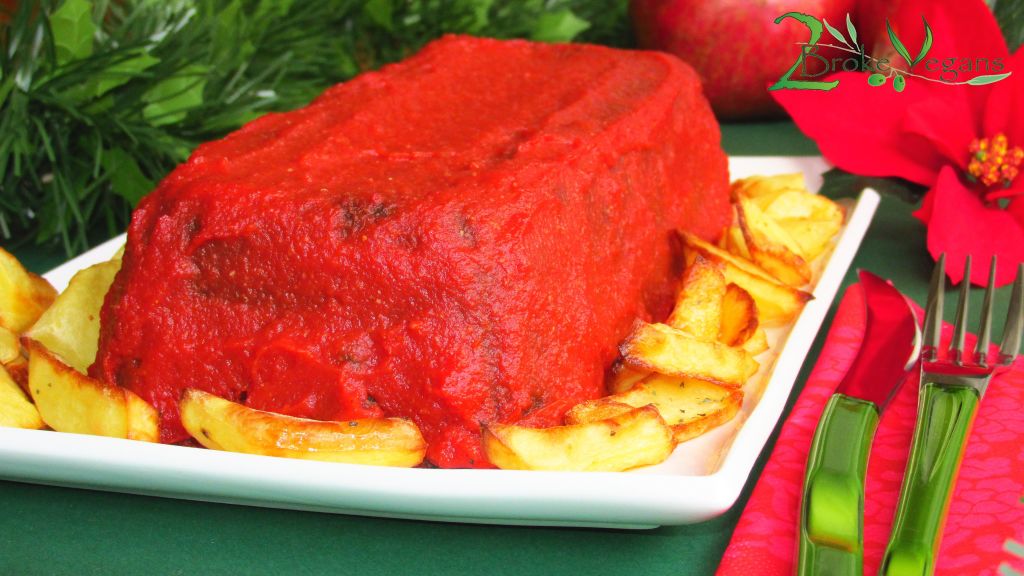 Ingredients for the meatloaf:
500 grams (17.6 ounces or 7 cups) of walnuts
500 grams (17.6 ounces) of portobello mushrooms (agaricus bisporus), chopped
1 tablespoon of ground cumin
1/4 teaspoon of liquid smoke (click here in Europe or click here in North America)
2 Tablespoons of olive oil plus a little more to coat the mushroom pan with
1 teaspoon of mustard powder
3 Tablespoons of gluten free vegan Worcester sauce (we use this one also available at Botanica here in Patra and Bamboo Vegan in Athens or click here in North America)
1/4 teaspoon of apple cider vinegar
1/4 cup of buckwheat flour
1 Tablespoon of dried oregano
1 teaspoon of sea salt
1/4 teaspoon of ground allspice
1/4 teaspoon of ground black pepper
1 cup of diced red onions
Ingredients for the sauce used as a topping:
1/2 teaspoon of mustard powder
1/2 teaspoon of nutmeg
1 Tablespoon of organic brown sugar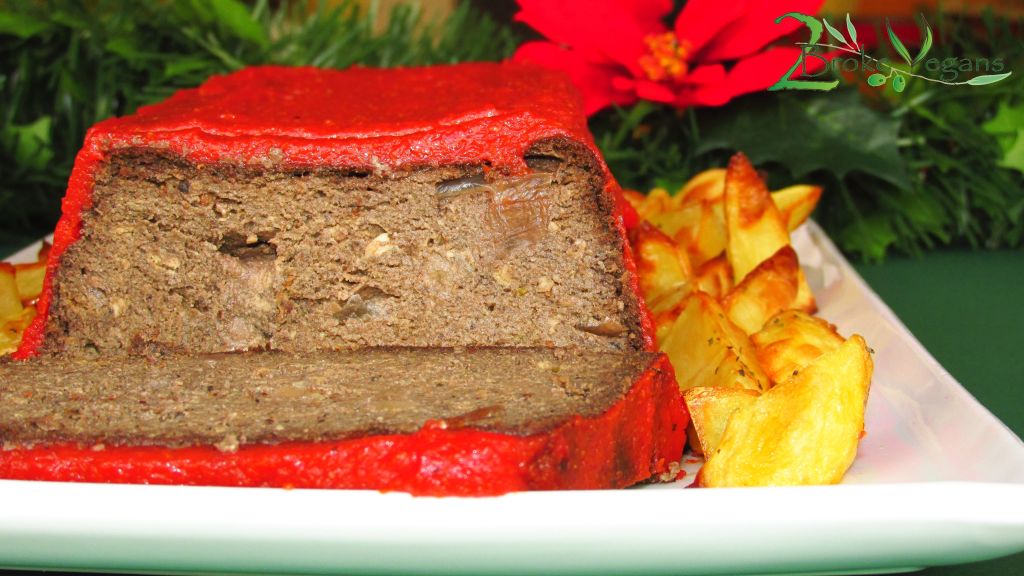 Instructions for the topping sauce:
Add all the ingredients in a small to medium sized pot and stir until ingredients dissolve into the ketchup.
Place on the stove over medium heat.
Stir every few minutes for 20 minutes until the sauce thickens up a bit.
Remove from heat and refrigerate until you need it in the steps below.
Instructions for the meatloaf:
Soak the walnuts in water for 12 to 24 hours. They will become softer the longer they soak.
Pour a small amount of olive oil on a pan and place on the stove over medium heat.
Once oil is warm, add the mushrooms and sizzle for a few minutes. Add the cumin and liquid smoke. Keep the mushrooms on the heat for a total of 10 minutes or until soft.
Allow the mushrooms to cool off a bit.
Pre-heat the oven to 180° C (356° F)
Drain the water from the soaking walnuts and add them to a high powered blender along with the mushrooms, 2 tablespoons of olive oil and all the other ingredients except the onions and buckwheat flour.*
Blend on highest speed using a tamper to push all the ingredients down towards the blades. Keep blending until mixture is as smooth as possible!
Empty the contents of the blender into a large bowl. Mix in the buckwheat flour and diced onions using your hands. Coat your hands with some vegan butter or olive oil if you do not want the mixture to stick to your hands as much. Mix thoroughly!
Empty ingredients into a small loaf pan you have coated with vegan butter. Cover pan with parchment paper and aluminum foil or just aluminum foil if you are not as paranoid as we are.
Bake for 60 minutes. Remove from oven and remove the cover. Empty the meatloaf out onto a piece of parchment paper.
Add the sauce to the sides and back and place loaf back into the oven for 10 minutes.
Remove from oven and serve.
* You could try to make this recipe using a food processor. It may not turn out as smooth as it would in a blender but the walnuts should be soft enough to make it work if they were soaked for 24 hours.

Copyright protected by Digiprove © 2014