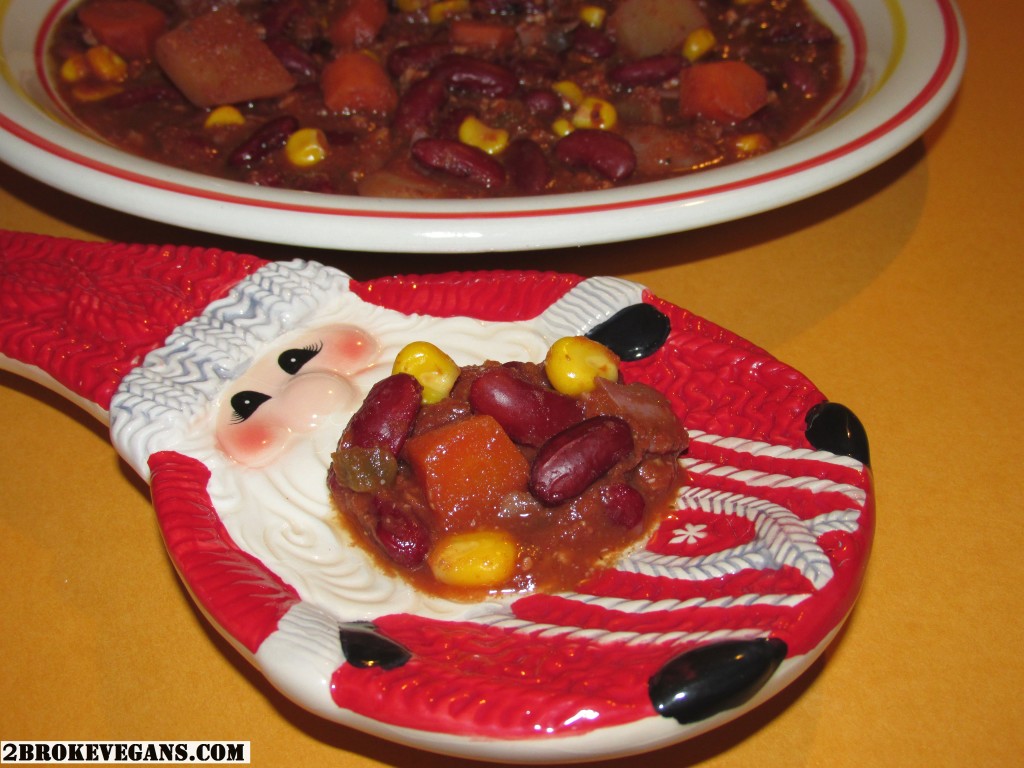 My mom makes a very good raw vegan chili back home in Minnesota but I was in the mood for traditional chili. There is something special about the flavor of a good chili that warms and fills the belly. This makes it one of my favorite foods for winter! Here is how I made it…
Ingredients:
Olive oil
3 garlic cloves, minced
½ cup of red onions, diced
½ cup of celery, sliced
½ cup of green peppers, diced
½ cup of mushrooms, sliced and chopped
½ cup of carrots, sliced and chopped
2 small to medium sized potatoes, peeled and chopped into cubes
5 medium to large tomatoes, blended into a juice
1½ cup of kidney beans, soaked in water overnight, drained and rinsed
1 cup of Greek gigantes plaki beans, soaked in water overnight, drained, peeled and rinsed
1 cup of corn
1/2 Tablespoon of cumin
1½ Tablespoon of dried oregano
2 teaspoons of paprika
2 teaspoons of red pepper flakes
2 teaspoons of sea salt
¼ teaspoon of ground black pepper
½ teaspoon of mustard powder
3 Tablespoons of organic raw cane brown sugar
2 cups of water
Get a large pot, ours holds at least 4 liters of liquid and it was almost full. Coat the bottom of the inside of the pot with a thin layer of olive oil. Place the pot over medium heat on the stove. Once you smell the oil heating up, add the onions, garlic, celery and carrots. Stir occasionally and add the sea salt and ground black pepper. After you see the celery sweating add the green peppers and mushrooms. Stir occasionally and in about a minute or two turn the heat down to low. Add the potatoes, cumin and oregano. Stir.
Now you will add the tomato juice, mustard powder, brown sugar, paprika and red pepper flakes.  Next, add all of the beans. I cannot seem to find black beans here in Greece yet so I used more kidney beans to compensate. Add the water and crank the heat up to high to bring the mixture to a boil. Stir occasionally to prevent anything from burning along the bottom.
Once boiling, turn the heat back down to medium-low to allow the chili to simmer. Add the corn. Keep stirring occasionally for the next 45 to 60 minutes (or until the kidney beans soften to your liking). Once the kidney beans are soft enough for you, remove the pot from the heat and mix in the vegan taco meat. Just like that, your vegan chili is ready to be served!