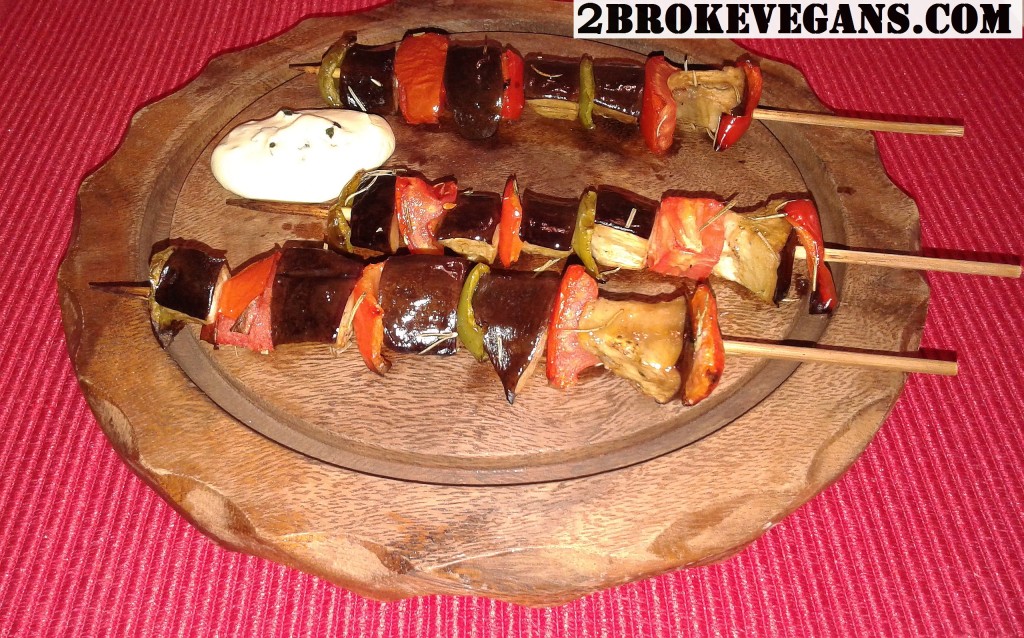 This is easily the most famous fast food in Greece! Here is it's vegan and gluten free version, it will take some preparation time but these vegetable kabobs sure taste amazing!
You will need wooden sticks for kabobs, that you will soak in water for 30 minutes so that they won't burn during the grilling.
Ingredients:
For the souvlakia (makes 9 kabobs)
1 eggplant
1 tomato, firm
1 green pepper
1 red pepper
For the marinade:
1/2 cup of olive oil
1 Tablespoon of lemon juice
10 drops of gluten free Worcester sauce
garlic powder
sea salt
a dash of ground ginger if you want
For the garlic peppermint sauce (to be blended in a high powered blender):
1/2 cup of water
2 Tablespoons of olive oil
1 teaspoon of sea salt
2 or more garlic cloves, depends on how much you love garlic
200 grams of tofu (1 tofu block)
1 Tablespoon of lemon juice
1 teaspoon of mustard seed powder
1/2 cup of blanched almonds
15 leaves of fresh or frozen peppermint
First, chop the vegetables in pieces small enough to be able to cook but big enough to be able to stand on the stick without falling apart.
Put the eggplant pieces in a strainer and sprinkle salt on them, this takes their bitterness away. Leave them for thirty minutes, then wash them well.
Next, in a glass bowl (not too wide), combine the marinade and all your vegetables. Mix well with your fingers so all the flavors come together and all the vegetables are coated with the marinade. Leave them in the marinade for at least 30 minutes.
In the meantime you can prepare the sauce, by adding all the ingredients in a blender and blending until smooth. You can add the peppermint leaves in the end but do not blend them too much, so that you can see them when you serve the dip! Put the dip in the fridge, so that it is cool when you serve it. It will compliment the hot souvlakia perfectly!
Now, take the wooden sticks and poke your vegetables on them. Grill them for 5 to 10 minutes (depending on your oven or grill) until the vegetables are grilled with some color. Serve to eat right away with the dip. They are perfect for the barbecue 🙂

Copyright protected by Digiprove © 2014