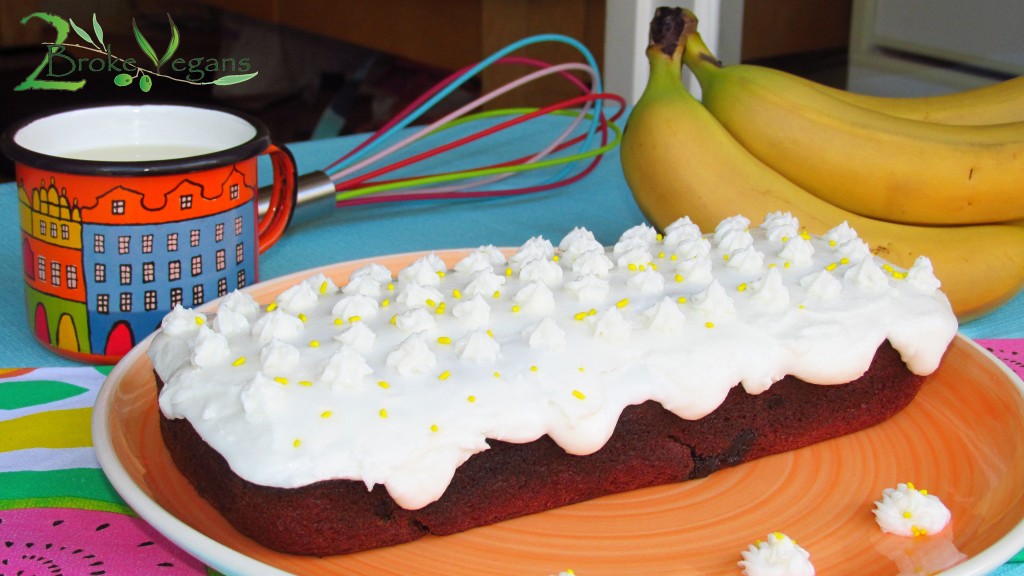 Today is Athanasia's namesake day! Here in Greece they celebrate their namesake much like a birthday with a few differences. It's traditional to name children after one of their grandparents which results in a continuation of the family names and many days of celebrations each year! Every day of the year is associated with at least one saint or martyr by the Orthodox church and they even have an "All Saint's Day" in case your name is not one that is celebrated. Ok, now that we have covered some culture, let's talk chocolate chip banana cake! A few months ago my mom suggested we turn our banana bread into one with chocolate chips. This, of course, was a great idea! We decided to make a cake instead of another bread so we could have a sweet for Athanasia's namesake. This cake is delicious!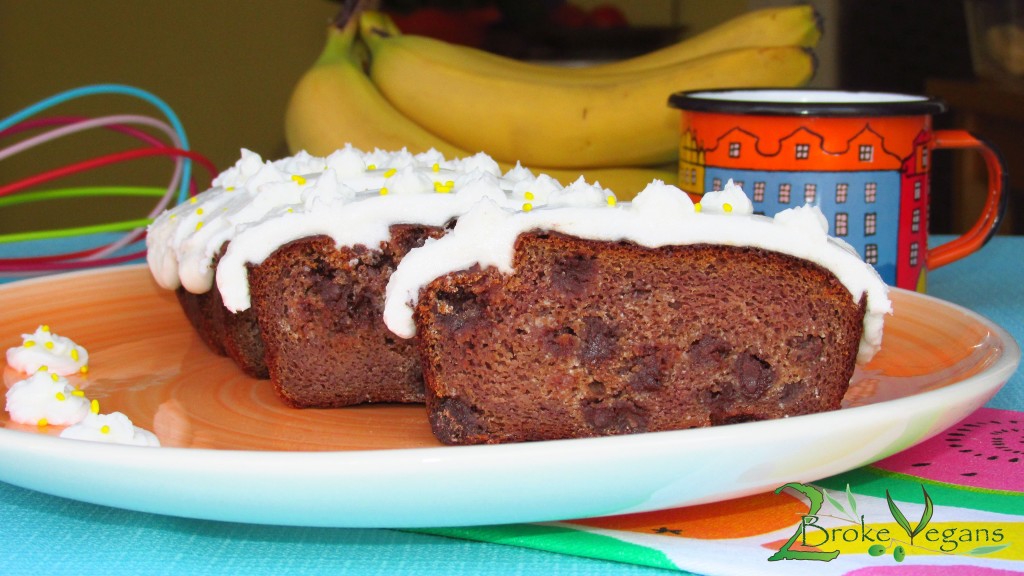 Ingredients for cake (fills a 26 x 12 x 6 cm or 10 x 4.7 x 2.5 inch cake pan):
2 ripe bananas
4 Tablespoons of organic raw cane sugar
2 Tablespoons of apple cider vinegar
4 Tablespoons of olive oil
1/2 cup of vegan milk (rice, soy, almond, etc)
Dash of vanilla powder or 1/4 teaspoon of vanilla extract
1/4 teaspoon of sea salt
1/4 teaspoon of ground cinnamon
1 cup of buckwheat flour
1 teaspoon of baking powder
1 teaspoon of baking soda
1/2 cup of vegan chocolate chips (we used these or click here in North America)
Instructions for cake:
Pre-heat oven to 150° C (302° F). We used the convection mode.
Coat a cake pan with vegan butter.
In a blender or using a powered mixer combine all the ingredients except the chocolate chips and mix/blend until they are as smooth as possible.
Pour batter into pan.
Pour the chocolate chips into the batter. Stir until they are distributed evenly.
Place cake in the oven and bake for 55 minutes or until a toothpick comes out clean (besides the melted chocolate).
Remove from oven and allow time to cool before adding frosting.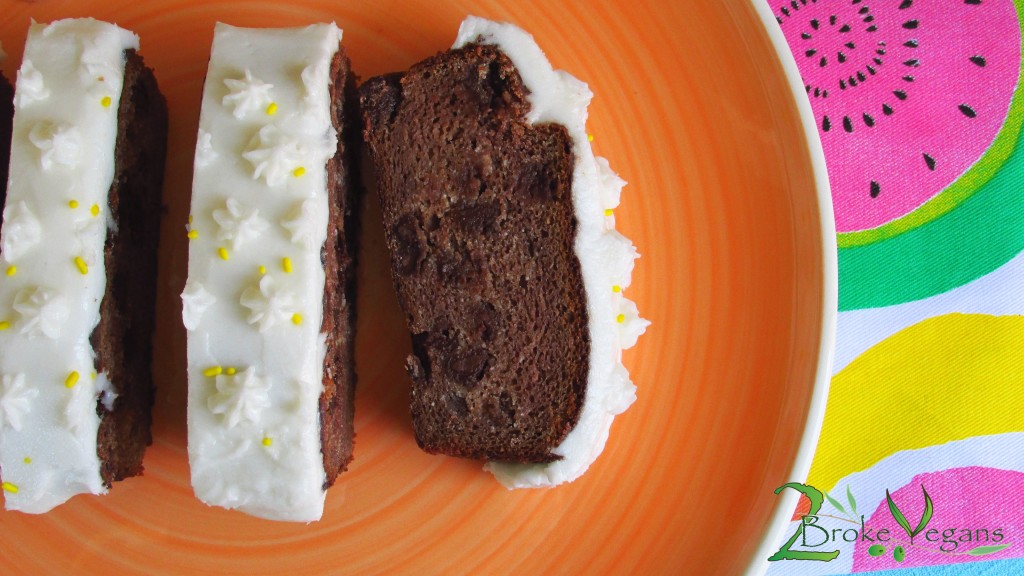 Ingredients for vanilla butter-cream frosting:
3 Tablespoons of vegan butter
2 Tablespoons of vegan milk
Dash of vanilla powder or 1/4 teaspoon of vanilla extract
2 cups of organic raw cane powdered sugar
Instructions for vanilla butter-cream frrotsing:
Add all ingredients into a large mixing bowl.
Using a powered mixer (or whisk), mix until ingredients come together as smoothly as possible.
Once cake has cooled completely, spread the frosting on the cake.
Place cake in the refrigerator until you are ready to serve.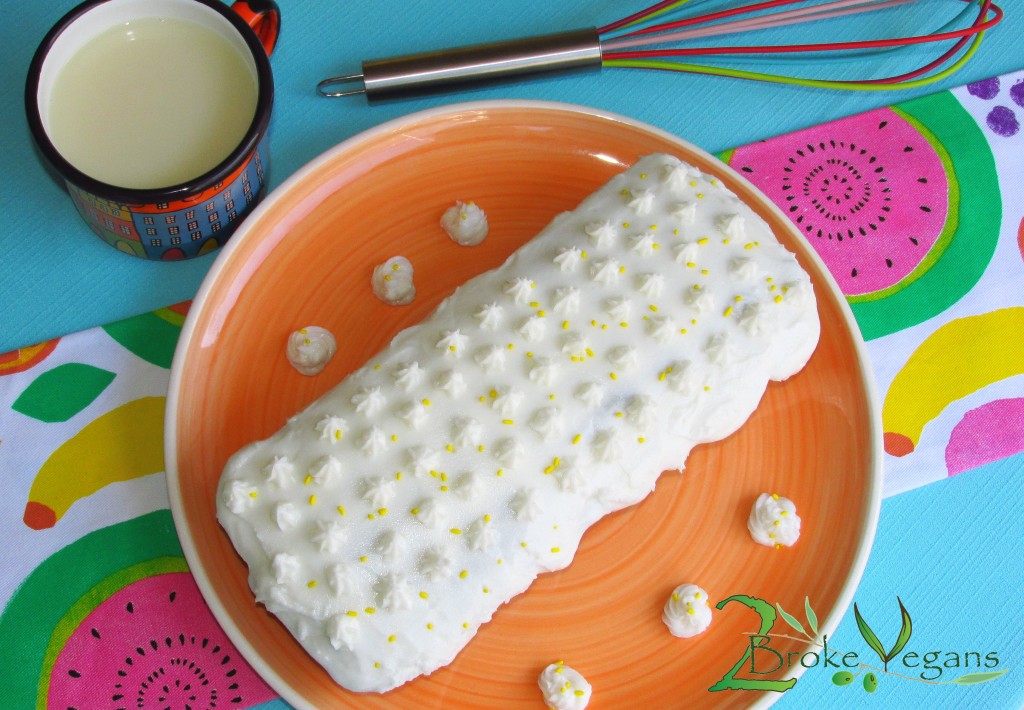 Copyright protected by Digiprove © 2015