We wanted to make a few ideas we had for a nice romantic Valentine's day dinner. Naturally, the dessert was the easiest idea to come up with: chocolate! We had been wanting to make a version of our vegan gluten free chocolate cake that had orange in it to give it some zest (pun intended). So we made this gluten free vegan chocolate orange cake! It also has melted chocolate chunks in the cake to really melt those chocolate lovers out there 🙂 Here is how we made it: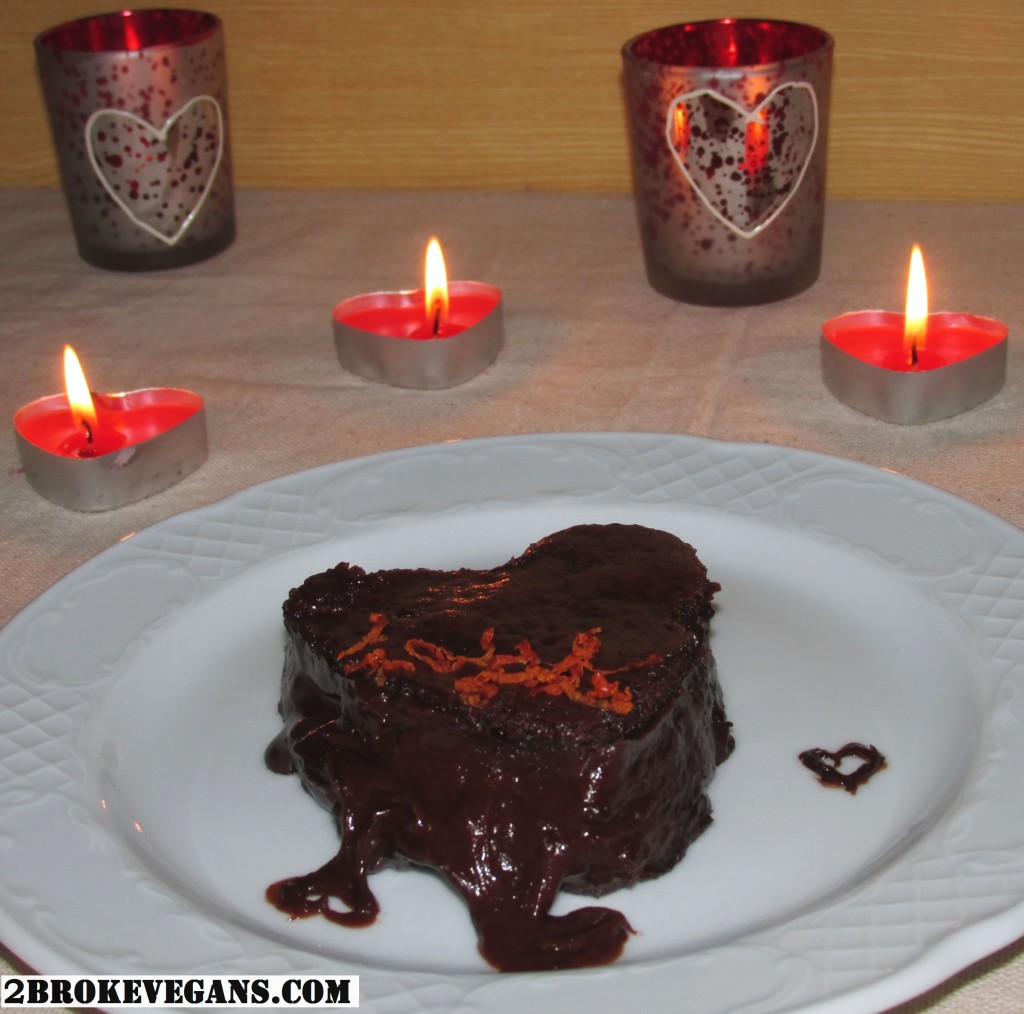 Pre-heat your oven to 145° Celsius (293° F)
In a large mixing bowl whisk:
1 cup of buckwheat flour
1/4 cup of gluten free all-purpose self-raising flour ( We use this flour in North America and the same flour in Europe)
1/4 teaspoon of baking powder
1/4 teaspoon of baking soda
1/4 teaspoon of sea salt
1 Tablespoon of ground flax seeds
5 Tablespoons of cacao powder
1/4 teaspoon of xanthan gum
Once whisked set aside. In a separate bowl prepare your wet mixture:
1 cup of vegan milk (almond milk, hazelnut milk, rice milk, soy milk, etc)
1/2 cup of sunflower oil
1/2 cup of agave syrup
4 Tablespoons of vegan butter
1 Tablespoon of apple cider vinegar
1 Tablespoon of orange juice
1/2 cup of raw cane sugar
1/2 cup of brown raw cane sugar
This recipe will also use:
Medium sized chunks of your favorite gluten free vegan chocolate that will melt while the cake is baking.
Mix until almost smooth. You will still see small chunks of the vegan butter floating around, this is ok.
Now, slowly pour your dry ingredient mixture into the wet mixture. Stir until almost completely smooth. Again, there may be small pieces of the vegan butter visible if you mixed by hand, this is ok, they will melt in the oven!
Pour almost all of the mixture into your cake pan. Save some of the batter to cover the chunks of chocolate inside the cake. To place the chunks into the cake use your finger and push them about halfway into the batter. You do not want the chunks to touch the bottom of the pan but you do want them below the top line of the batter. Put as many as you would like spread out into the batter and cover the top of the chunks with the rest of the batter you set aside.
Put the pan in the oven and bake it at 145° Celsius (293° F) until a knife or toothpick comes out clean (besides the melted chocolate). It should take 15 to 25 minutes depending on your oven.
We will have a few more recipe ideas for Valentines Day in the next two days but we really wanted to share the dessert first. Don't spoil your appetite though!