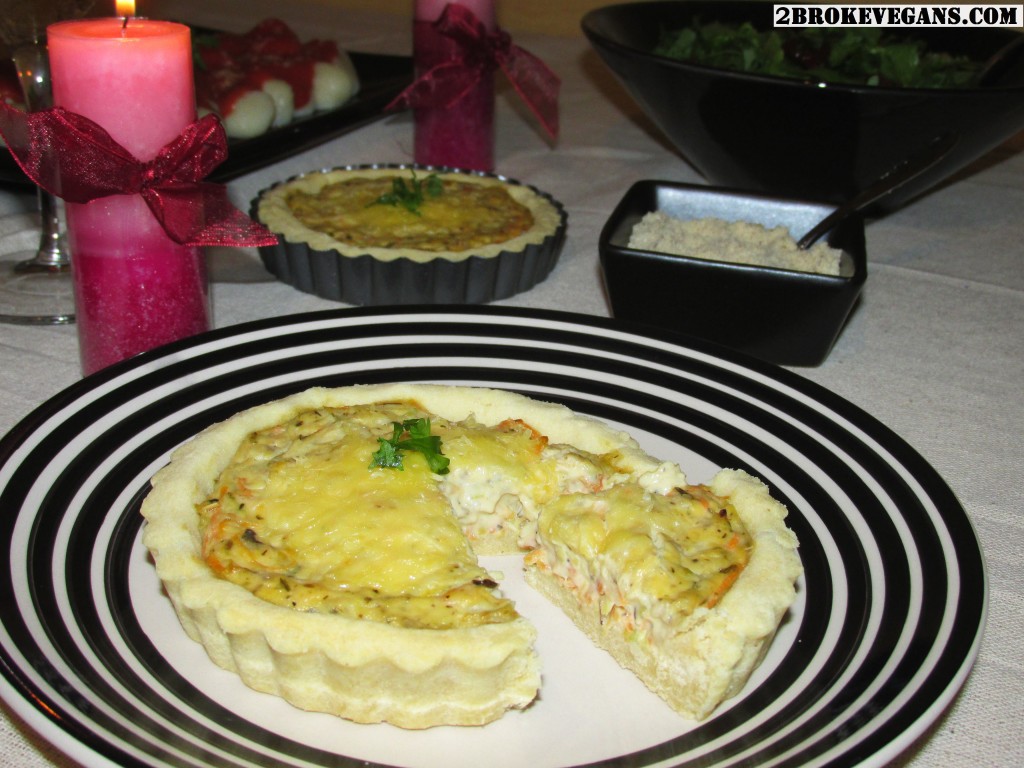 Delicious creamy zucchini carrot mini-tart recipe; an ideal appetizer for a romantic dinner for two. It is amazing how well zucchinis and carrots combine with the herbs to elevate the flavor! Everyone who ever has tried this tart (that I know of) has loved it. May you enjoy it as well!
Ingredients:
2 small zucchinis
2 small carrots
2 Tablespoons of chopped red onions
2 Tablespoons of chopped green onions
100 ml of almond cream (click here for a recipe)
About 1 cup of grated or shredded vegan cheese that melts
Olive oil
1/2 teaspoon of sea salt
Dash of ground pepper
1/2 teaspoon of oregano
1/2 teaspoon of thyme
1/2 teaspoon of basil
Wash and peel the zucchinis and carrots. With a special tool or with your peeler, cut them into strings, or just grate them.
Pre-heat the oven to 160° Celsius (320° F)
Coat a frying pan with some olive oil and heat it up over medium heat. Then, add the chopped onions and sizzle for 1-2 minutes. Add the zucchini and carrot strings, give it a good stir and then add the salt, pepper and herbs. Sizzle until they soften up. Once they are soft enough, add about half of a cup of grated vegan cheese and the cream. Stir until the mix becomes thick.
When it is ready empty half of it on a mini-tart and the other half on another mini-tart crust. Bake them for about 8 minutes or until the vegan cheese melts.
Enjoy!