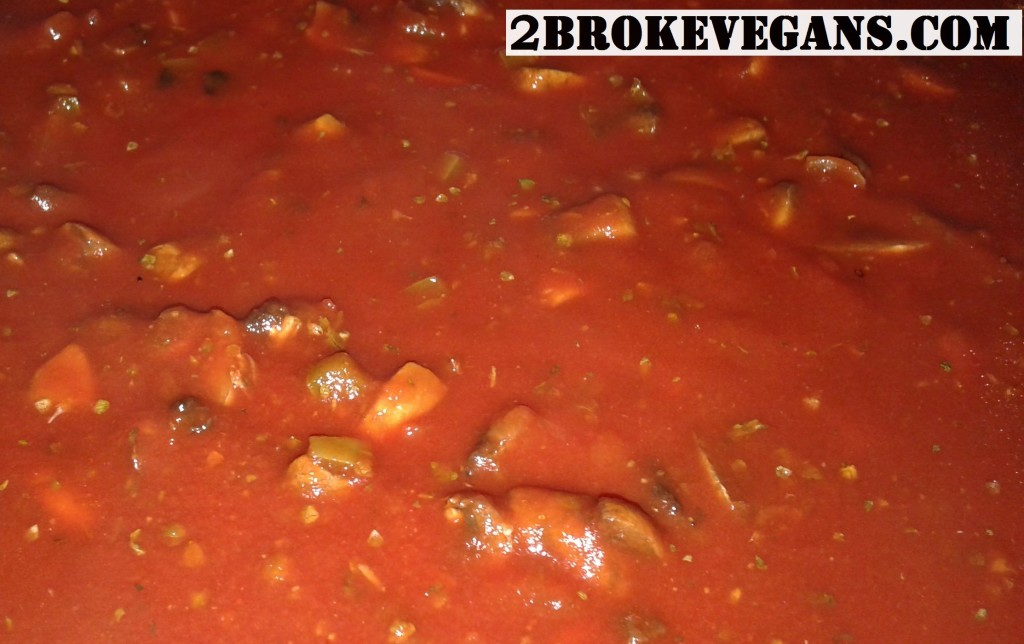 Let's face it, sometimes you are in a hurry and do not have time to use fresh tomatoes to make a pasta sauce. We always prefer using fresh tomatoes but when we are short on time we prefer to make this quick vegan pasta sauce:
Coat the bottom of a large and deep frying pan (that has a cover) with olive oil. Place the pan over medium-low heat on the stove. Once the olive oil is hot enough add these ingredients in the following order and saute them (stirring occasionally):
1/4 cup (50 ml) of chopped or diced red onions
1 garlic clove, minced
1/4 cup (50 ml) of diced green peppers
2 cups (400 ml) of chopped mushrooms
1/4 teaspoon of cumin
1/2 teaspoon of vegan worcester sauce
1/2 teaspoon of sea salt
What we do when we buy mushrooms, onions and green peppers (sometimes) is dice and chop them right away. Then we freeze them (individually, of course) so we can use them quickly when we need to. We prefer to use fresh ingredients whenever we can but some days are so busy we have no choice but to use our frozen supply. They were purchased fresh though!
Once they have sizzled for about 10 minutes, add:
500 grams of Tomato juice (we buy organic tomato juice in 500 gram boxes at the super market to use when we are in a hurry)
70 grams of tomato paste
1 Tablespoon of raw can sugar
1/2 Tablespoon of dried basil
1 Tablespoon of dried oregano
1 teaspoon of dried parsley
Stir these ingredients until all contents of the pan are distributed evenly. Place the cover over the pan and keep on the heat. Stir occasionally for about 15-20 minutes. Once you smell the herbs, it's ready. This usually happens after the sauce begins bubbling from the heat. This is a delicious recipe, please enjoy!