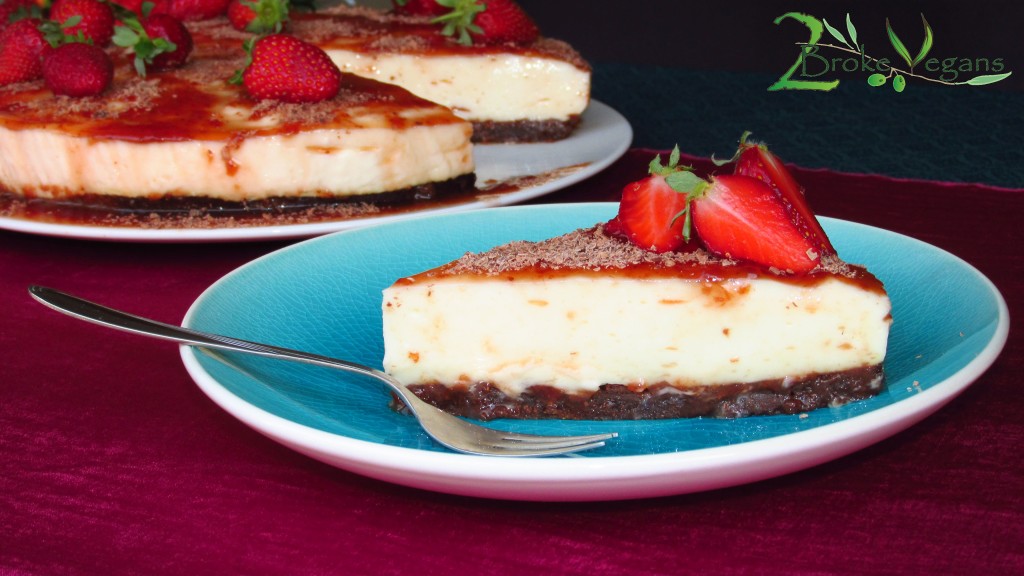 Valentine's day is almost here, are you ready? We wanted to make a nice gourmet dessert for Valentine's day this year and while we were thinking about what we should make, an opportunity fell right in our laps! We have been working with Violife to come up with some recipes using their products for a while now. Recently, they asked us to try making a dessert using their original vegan cream cheese. Naturally our first thought was to make a gluten free vegan cheesecake!
Our first thoughts were to do something extravagant, but ultimately we decided to get a basic vegan cheesecake recipe available so each person could garnish it the way they choose. We garnished ours using strawberry jam, strawberries and chocolate shavings. We made a delicious cacao based chocolate crust to pair with the amazing rich flavor of the vegan cheesecake filling. Without further ado, we present this year's Valentine's day treat: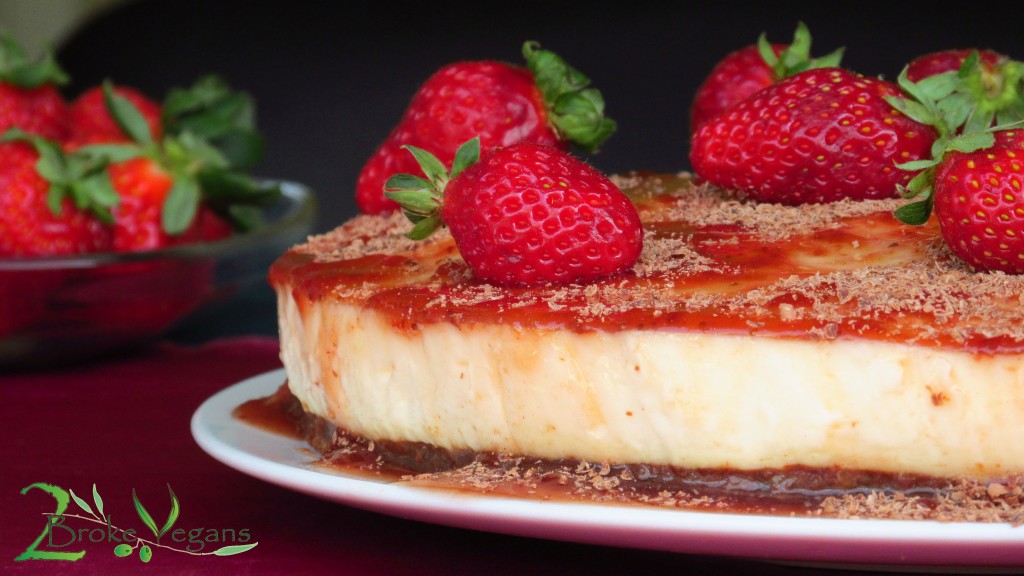 This recipe makes a full vegan cheesecake in a 10 inch (25.4 cm) diameter springform pan. Depending on the size of the slices you could get 8 to 10 pieces of cheesecake out of this recipe.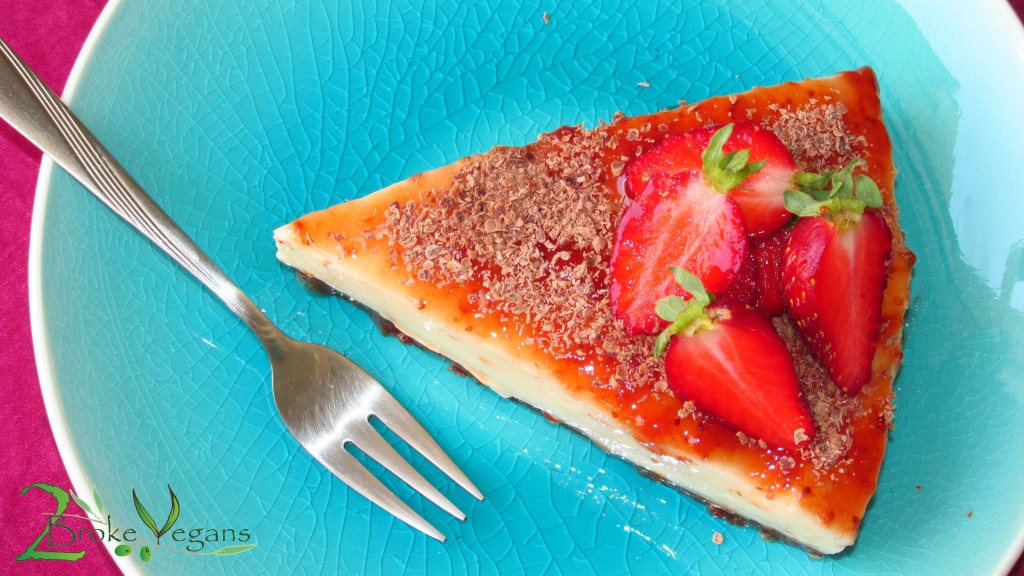 Ingredients for the crust:
2 Tablespoons of cacao powder
8 medjool dates without the pits (145 grams or 5.1 ounces of pitted medjool dates)
1 1/2 cup of raw almonds (210 grams or 7.4 ounces)
1/4 cup of gluten free all purpose flour (40 grams or 1.4 oz)
1/4 teaspoon of Himalayan salt
4 Tablespoons (60 ml) of water
Instructions for crust:
Pre-heat oven to 160° C (320° F).
Add all ingredients into a high powered blender. Blend until it becomes smooth and creamy using a tamper to push ingredients towards the blades. You could use a food processor too but the crust will have chunks of almonds in it.
Coat a cheesecake pan (springform pan) with a thin layer of vegan butter. You can use a pie tin if you do not have a springform pan.
Slightly wet your hands or gloves and press the crust as thinly and evenly as you can into the pan.
Bake in the oven for 8 minutes.
Remove from oven and set aside allowing crust to cool.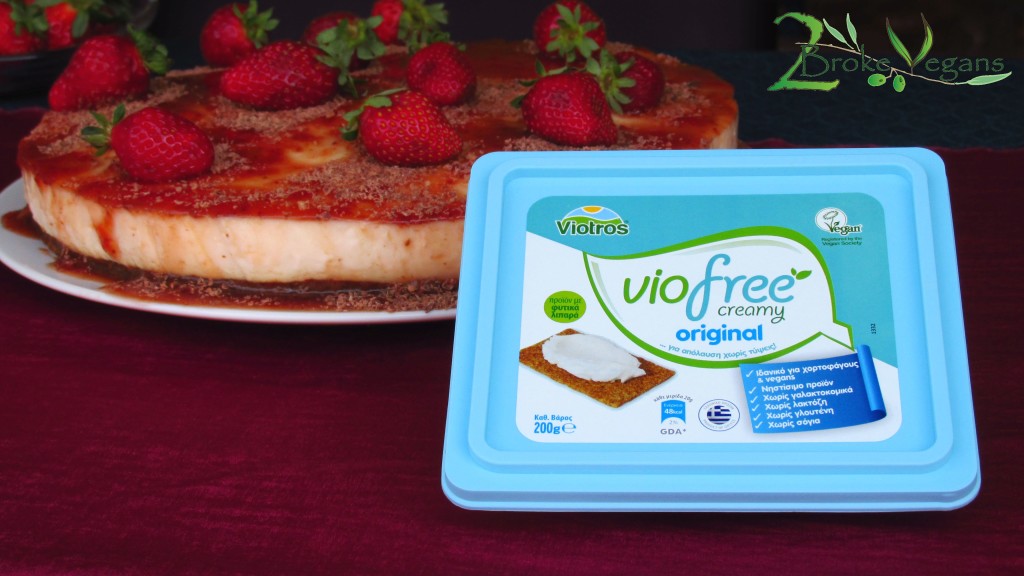 Ingredients for the vegan cheesecake filling:
1200 grams (42.3 oz) of Violife/Viofree vegan original cream cheese. We used 6 of their 200 gram packages.
4 Tablespoons (60 ml) of freshly squeezed lemon juice
1/8 teaspoon of finely ground Himalayan salt
1/8 teaspoon of vanilla powder
2 cups (320 grams or 11.3 ounces) of organic cane powdered sugar (you can blend organic cane sugar to turn it into powder if your blender is completely dry!)
1 or 2 teaspoons of xanthan gum. We used 2 teaspoons to get a nice thick filling. If you would prefer a runnier texture use only 1 teaspoon.
Instructions for vegan cheesecake filling:
Add all ingredients except the xanthan gum into a large bowl for a powered mixer.
Beat the ingredients with a powered mixer. Begin on a low speed and turn it to a high speed as the mixture becomes creamier.
Once mixture is as smooth as possible add the xanthan gum. Continue beating on highest speed until filling thickens and gum is completely dissolved.
Spread filling over the crust making it as even as possible.
Place vegan cheesecake in refrigerator or freezer for at least 2 hours before serving. Garnish with strawberry jam, strawberries and chocolate shavings if desired.
Keep vegan cheesecake refrigerated.
We buy our Violife/Viofree products at Botanica here in Patra. It is also available at Bamboo Vegan in Athens. For a complete list of where to find Violife/Viofree vegan cheese products throughout the world click here! To request Violife/Viofree products click here.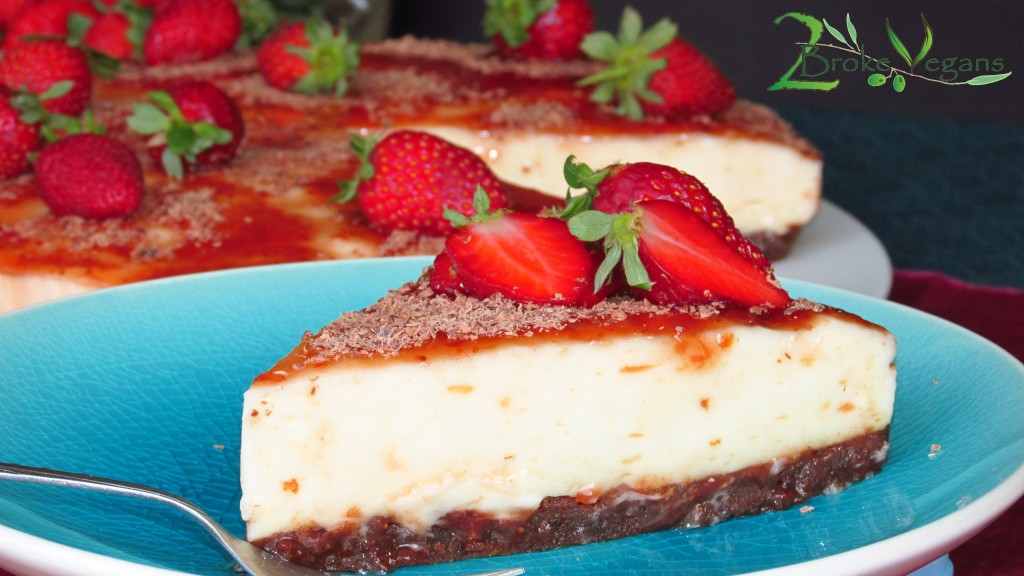 Copyright protected by Digiprove © 2015