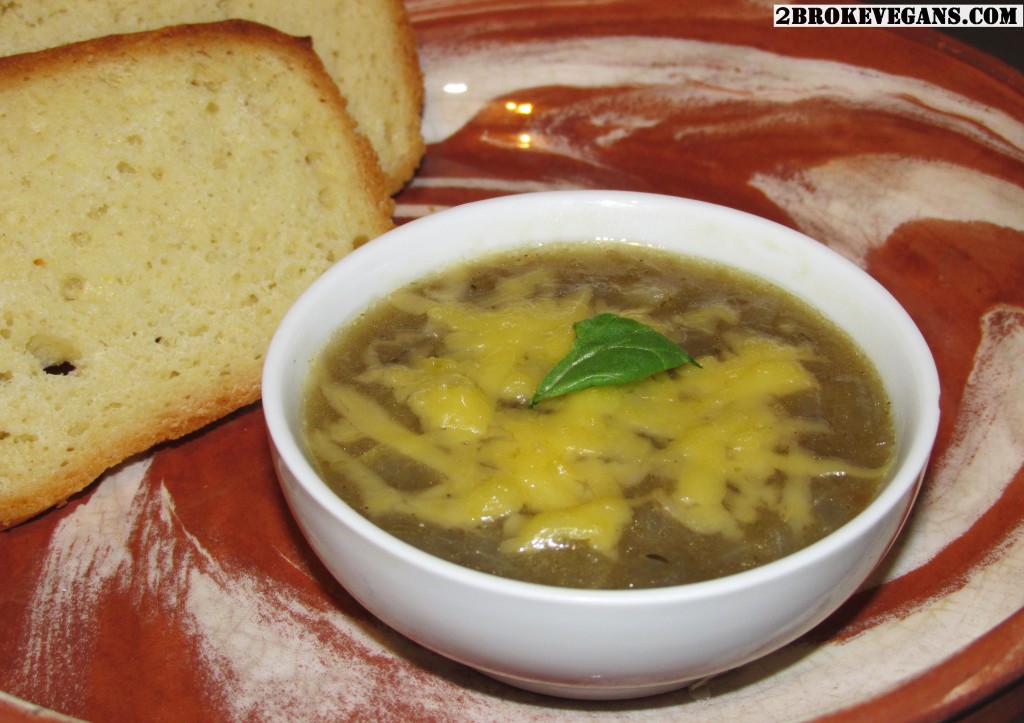 Athanasia has been wanting an onion soup for a long time now! I decided it was time to make it, finally. This tasty vegan French onion soup is also gluten free. It does not take a long time to make it at all (after you dice the onions of course) and this recipe will serve two bowls of soup.
Ingredients:
2 Tablespoons of vegan butter
Olive oil
4 cups of onions, diced (this is about 3 medium sized onions)
2 garlic cloves, minced
4 cups of vegetable broth
1 teaspoon of sea salt
Dash of ground black pepper
1/2 teaspoon of dried thyme
1/4 teaspoon of gluten free vegan Worcester sauce (in Europe you can find it here)
1 teaspoon of xanthan gum (guar gum would be fine as well)
shredded vegan cheese
In a large soup pot pour enough olive oil in it to thinly coat the bottom of the pot. Add the vegan butter next and place the pot on the stove over medium heat. Once the vegan butter has melted, add the onions. Saute them for 5 to 7 minutes or until they become caramelized. A pinch of sea salt will assist in this process nicely. Now, add the garlic and continue to saute for a minute.
Next you will add the broth and turn the temperature all the way up to bring the soup to a boil. Add the sea salt, black pepper, thyme and Worcester sauce. Stir soup occasionally as it reaches the boiling temperature. Once soup is boiling add the xanthan gum. Stir completely until you do not see any of the xanthan gum powder anymore. Lower the temperature to medium low.
Set your oven to broil.
Take an oven-safe bowl and add a thin layer of shredded or grated vegan cheese on the bottom. Using a ladle, add some of the vegan french onion soup on top of the vegan cheese. Add as much as you would like but leave a little room on the top for another layer of vegan cheese.  Put the bowl into the oven to broil it for 2 to 4 minutes. You want the vegan cheese to melt, as soon as it has melted, remove the bowl from the oven and serve! Be careful though, the soup will be very hot.

Copyright protected by Digiprove © 2014