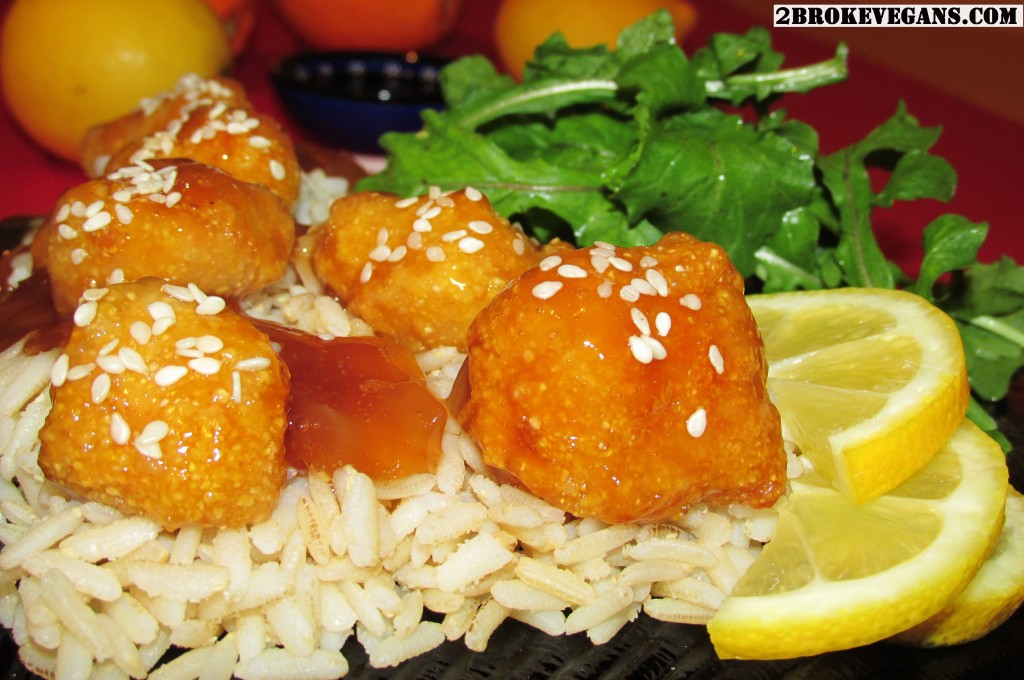 This gluten free vegan orange chicken is bursting with flavor! There are a few steps and it requires some patience to make it; however, it's worth it! Do not be afraid to venture into the unknown! I have been trying new ideas and going where I never imagined I would dare when it comes to cooking and it has been so rewarding! When I first began I was merely dipping my toe in the water and now I am swimming against the current! It feels so good to work so hard at something and pull it off. Let's get to it, here is how I accomplished vegan orange chicken: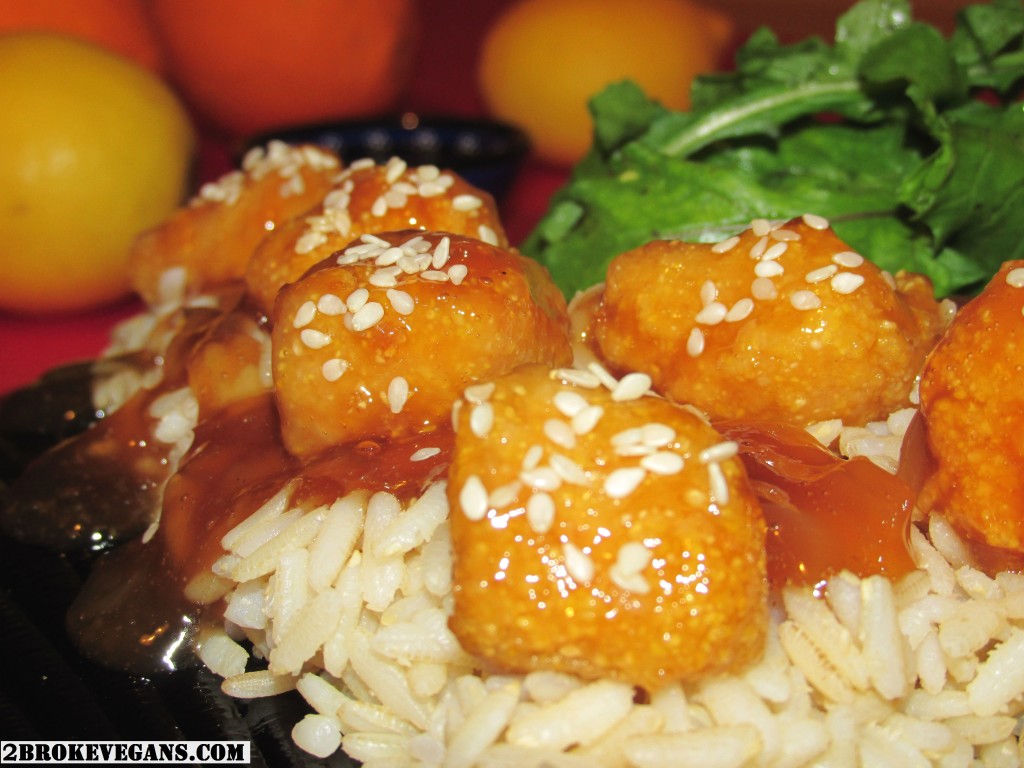 Ingredients for the sauce/marinade:
1 1/2 cup of water
2 Tablespoons of orange juice
2 Tablespoons of lemon juice
1 teaspoon of apple cider vinegar
2 teaspoons of tamari
1 cup of raw cane brown sugar
1/2 teaspoon of ground ginger (powder)
1 garlic clove, minced
2 Tablespoons of chopped green onions
To prepare this sauce you will need a medium sauce pan. Add the water, orange juice, lemon juice, vinegar and tamari in the sauce pan. Whisk these ingredients together and place the pan over medium heat on the stove.  Keep over the heat for a few minutes then add the rest of the ingredients; whisk. Now crank the heat up and bring the sauce to a boil. Whisk occasionally. Once the sauce begins boiling, remove from the heat and allow to cool a bit.
In the meantime prepare:
200 grams of tofu ripped into chicken nugget sized chunks (this is about 1 1/2 cup of tofu chunks)
Place the tofu chunks into a small bowl and pour enough of the sauce over the tofu to cover them all completely. If the sauce has cooled all the way cover the bowl with saran wrap and cover the sauce pan with the lid. Place in the refrigerator overnight.
Go to bed.
BEEP! BEEP! BEEP!
Wake up and get ready for the fun! It's time to fry the tofu chicken like nuggets. Here is what you will need:
1/2 cup of brown rice flour
1/2 cup of corn flour (not corn starch!)
1 teaspoon of sea salt
dash of ground black pepper
In a medium sized bowl whisk these ingredients together completely. Remove the marinating tofu chicken nuggets from the fridge and begin taking each chunk out and smothering it into the flour mix until it's completely covered. Place them in a bowl until you are ready to fry them. Save the marinade sauce from the bowl you removed the nuggets from and pour it back into the sauce pan with the rest of the sauce and set aside until you are ready for it.
To fry the tofu chicken pour enough sunflower oil into a medium to large sauce pan for the nuggets to be covered completely when they go in. Heat the oil up over medium heat. Wait about 15 minutes for the oil to be hot enough to fry the nuggets. Do not put too many nuggets in at once or they will stick together! When you place them into the hot oil they will sink to the bottom at first but soon enough they will begin floating. They only need to fry for about 2 minutes. They should turn a light golden brown. Remove carefully using the utensil of your choice and place on a plate lined with some paper towel to absorb the excess oil. Keep doing this until all your tofu chicken is done.
Now, take a medium frying pan and pour all the sauce into it you set aside earlier. Place it on the stove over medium heat and whisk 3 teaspoons of corn starch into the sauce to make it thicker. This process can take about 10 minutes! You must whisk, whisk, whisk! Once it is whisked completely the mixture should be simmering. Add all the tofu chicken nuggets into the mixture and stir occasionally for 5 minutes. Remove from the heat and prepare your favorite rice if you have not already. Serve with some rice and sprinkle sesame seeds over the top of the vegan chicken if you desire.
That's what it takes to get great vegan orange chicken but it is definitely worth it! Enjoy!

Copyright protected by Digiprove © 2014