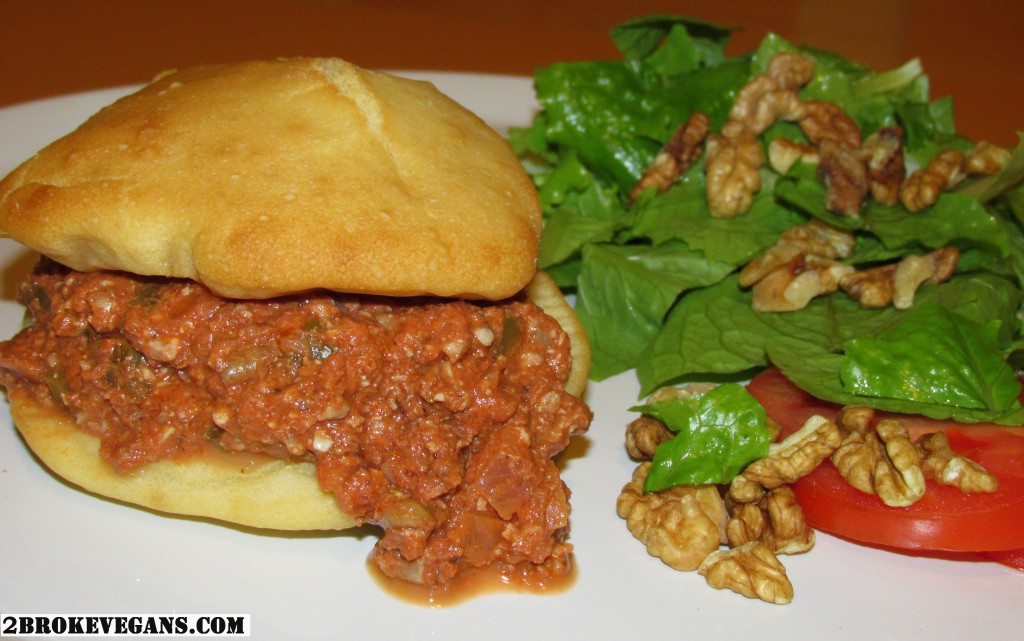 It has been a long time since I have had sloppy Joes! I have been working with walnuts a lot lately and so it was only a matter of time before I attempted vegan sloppy Joes. The time had come and I must say they taste amazing! One bite of these and you will think you are eating a school lunch all over again! Here is how I did it:
Ingredients:
1 cup of raw walnuts soaked for 24 hours
1/2 cup of red onions, diced
1/4 cup of green peppers, diced
1 garlic clove, minced
1 teaspoon of mustard
2 teaspoons of gluten free vegan Worcester sauce (click here to find it in Europe or click here to find it in North America)
1 cup of tomato sauce (this is about 1 large tomato)
70 grams (just under 1/3 cup) of tomato paste
1 Tablespoon of organic raw cane brown sugar
1 teaspoon of sea salt
1 teaspoon of oregano, dried
1/4 teaspoon of ground cumin
dash of ground black pepper
dash of paprika
Coat a medium sauce pan with a thin layer of olive oil and place the pan on the stove over medium heat. Once you smell the olive oil heating up, add the onions and green peppers. Saute them for 5 to 7 minutes. Then, add the minced garlic, stirring occasionally for 1 minute.
Now, add everything else except the walnuts! Bring the sauce to a simmer; stirring occasionally as usual. Simmer for 10 minutes.
While you are bringing the sauce to a simmer, drain and rinse the walnuts you soaked for 24 hours. Using a blender or food processor pulse or blend the walnuts into smaller pieces. Be careful not to make them into a smooth spread!
Remove the sauce from the heat on the stove and mix the walnut "meat" into the sauce! That's all there is to making vegan sloppy Joes! You can use our Simple Gluten Free Vegan Bread Recipe (click here) to make delicious buns for the sloppy Joes!

Copyright protected by Digiprove © 2014