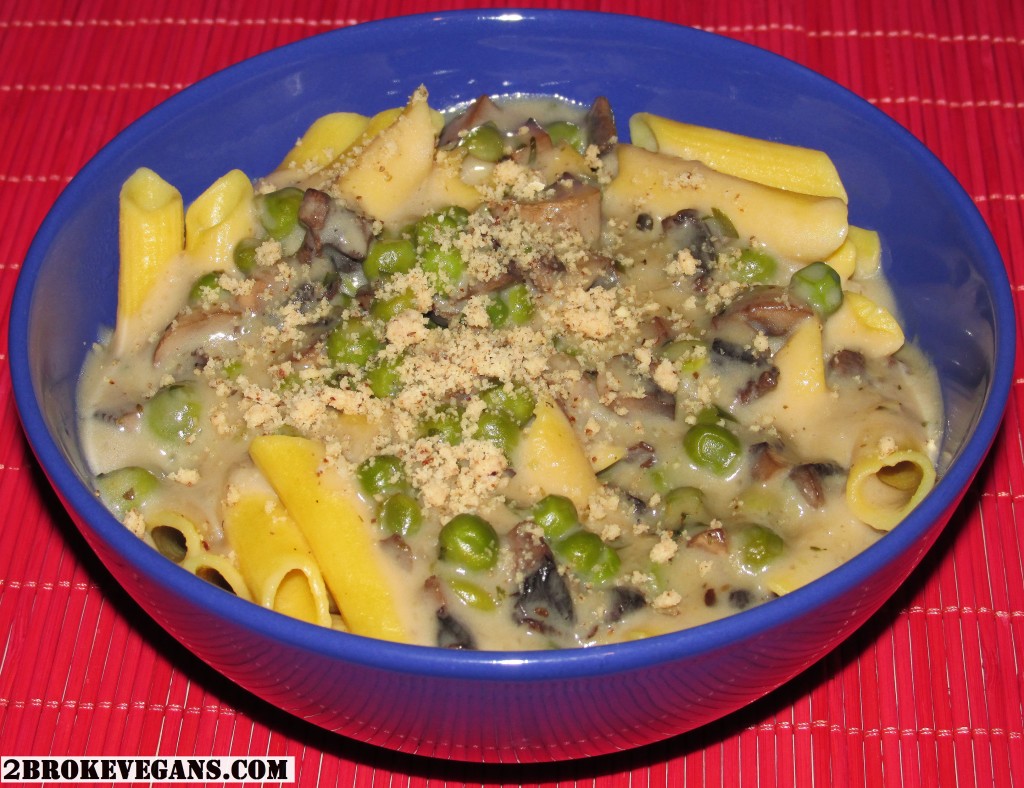 This cheesy mushroom and herbs pasta boasts a delicious and smooth cream of mushroom flavor! Yet, it is vegan and gluten-free! Here is how I made it:
Ingredients:
2 Tablespoons of vegan butter
1 teaspoon of vegan gluten free Worcester sauce
1 garlic clove, minced
1/4 cup of fresh red onions, chopped
1/2 teaspoon of cumin
dash of ground black pepper
1 cup of vegan milk (almond milk, soy milk, rice milk, etc.)
1 cup of water
1/2 cup of almond cream*
2 teaspoons of sea salt
1/2 Tablespoon of fresh parsley finely chopped
1/4 teaspoon of dried thyme
1/4 teaspoon of dried oregano
1 cup of grated or shredded vegan cheese
1/2 cup of peas
1 teaspoon of xanthan gum
1/2 cup of mushrooms, chopped
Your choice of your favorite vegan gluten free noodles
*To make your own almond cream, check out our almond cream recipe by clicking here!
In a large frying pan, heat up the vegan butter over medium heat. Once the vegan butter begins melting, add the minced garlic clove, onions and Worcester sauce. Stir. When you smell the garlic, add the mushrooms, cumin and ground black pepper. Stir occasionally for 5 to 7 minutes.
In a medium sauce pan add the vegan milk, water and almond cream. Place the pan over medium heat and whisk. Add the herbs, peas and xanthan gum.  Whisk. Continue whisking as the mixture heats up. By now the mushrooms should be tender, add them and all of the juice from the mushroom frying pan and turn the heat down to medium-low. Switch to a spoon and stir. Add the vegan cheese and continue stirring occasionally for about 20 to 25 minutes until the liquid thickens a bit.
While you are waiting for your sauce to thicken, begin boiling the water for your noodles. Use your choice of vegan gluten free noodles, make as many as you would like. Once the noodles are done, serve some in a bowl and pour as much of the cheesy mushroom and herbs pasta sauce over them as you would like! Feel free to add some vegan Parmesan cheese for an over the top flavor!