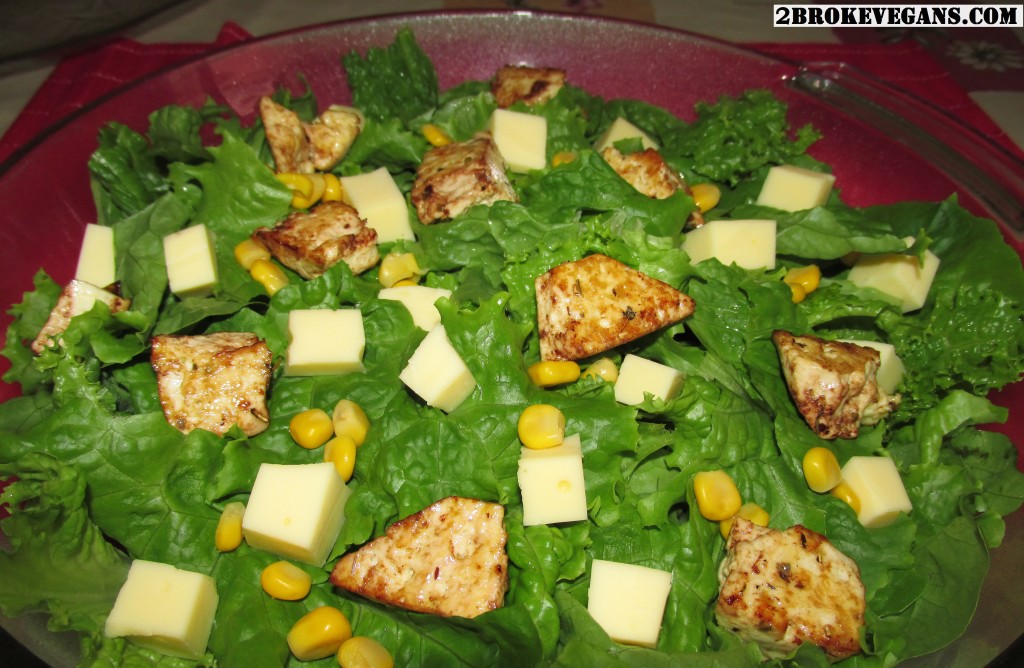 Vegan Caesar salad! The wonders never stop 🙂 When Jake perfected his tofu chicken recipe, we knew we would recreate every chicken recipe we could in a vegan, gluten free way. Obviously, the vegan Caesar salad was a very easy decision. We served the salad with an awesome vegan mayo dressing!
To make the vegan tofu Caesar salad chicken, here are the ingredients:
3 Tablespoons of vegan butter
1 garlic clove, minced
dash of ground black pepper
1/2 teaspoon of sea salt
1 teaspoon of dried oregano
2 teaspoons of organic vegan Worcester sauce
130 grams of tofu ripped with your hands in small pieces
In a large frying pan, add a thin layer of olive oil. Then, add the vegan butter and place the pan over medium heat on the stove. Once the butter melts, add the minced garlic clove. Stir. Now, add the Worcester sauce, sea salt, black pepper and oregano. Stir. Finally, add the tofu "chicken" pieces. Shake the pan a bit once every few minutes. Leave the tofu on the heat for 5 to 7 minutes then try to stir and flip them onto another side for another 5 to 7 minutes and remove from the heat! It's very quick, basically you want the tofu to gain some color as if it's been grilled but you do not want to burn it!
Ingredients for the salad:
1 curly green lettuce bunch
Sweet corn kernels
Vegan cheese cut into cubes
Vegan tofu chicken
Ingredients for the vegan mayo dressing:
Wash the lettuce and chop it in a large bowl.  Place the cheese cubes, the corn and the chicken on top.
In a bowl add the ingredients for the dressing and mix well. Drizzle on top of the salad and enjoy!