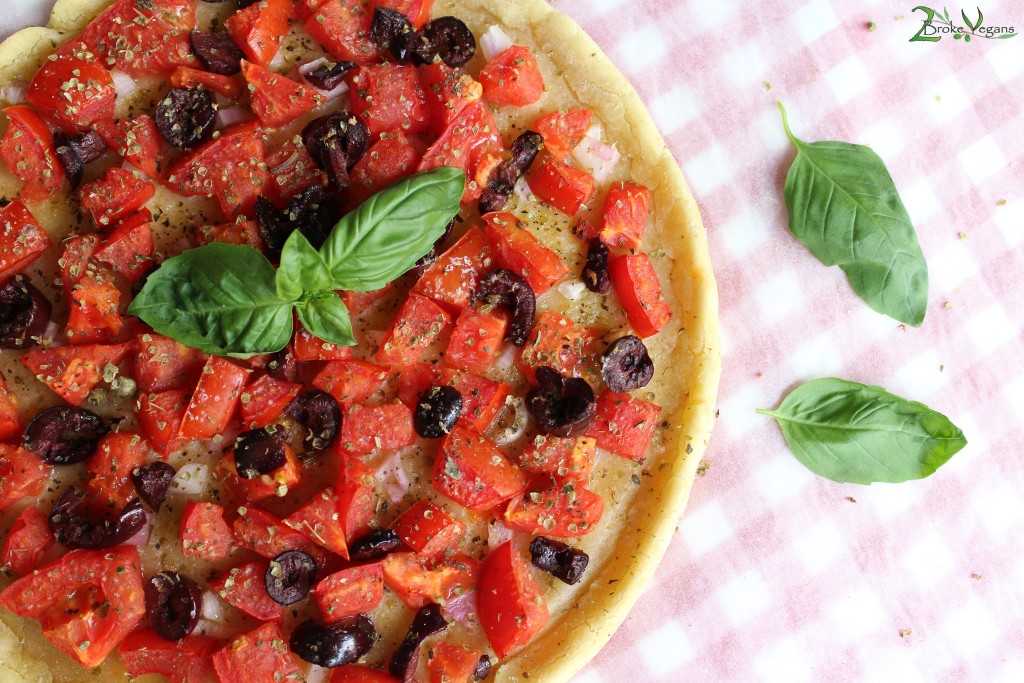 Well, here we are posting another pizza! I could be biased, but I always thought pizza is one of the things I do best. I grew up eating pizza and as my Grandpa would tell you I had no problems eating pizza for breakfast or as a midnight snack either! For this pizza we wanted to veganize a classic. This gluten free Italian style pizza features no cheese or sauce. We made it using tomatoes, olive oil, garlic, sea salt, onions, olives, herbs and love. This recipe is the last one of the recipes we are posting for the food blog awards we are participating in. If you are interested in supporting us, click here and then click like to vote for us. Thank you for your support!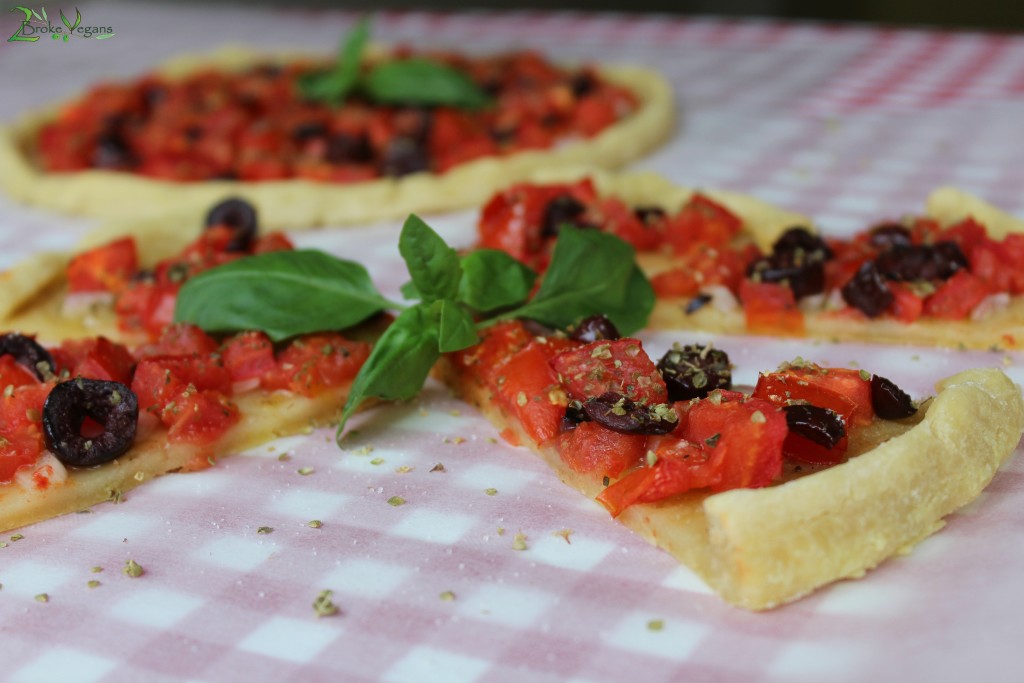 Ingredients for the dough (makes 2 small pizza crusts or 1 medium to large crust):
200 ml of warm water
1 teaspoon of raw organic cane sugar
1/2 teaspoon of dry yeast
1/2 Tablespoon of ground flax seeds
1 teaspoon of sea salt
1/4 teaspoon of apple cider vinegar
1/2 Tablespoon of olive oil
300 grams (2 1/4 cups) of gluten free all purpose flour
Instructions for the crusts:
Combine the water, flax seeds and sugar. Whisk, mix or blend well.
Add the yeast, whisk, mix or blend completely. Allow mixture to stand for 5 minutes.
In a separate bowl, whisk the sea salt with the flour.
Pour the water, sugar, flaxseed and yest mixture into the flour mixture bowl.
Add the vinegar and olive oil. Use your hands to mix thoroughly until dough emerges.
Cover bowl containing dough with a towel and allow it to sit for 40-45 minutes.
Preheat oven to 150° C (302° F) on convection mode.
Sprinkle a little flour on the parchment paper you will be using to shape the dough into crusts. Get a little flour on your hands before handling the dough as well!
Shape the dough into the pizza crusts. Fork them on the bottom for better baking results.
Pre-bake the crusts for 3-4 minutes.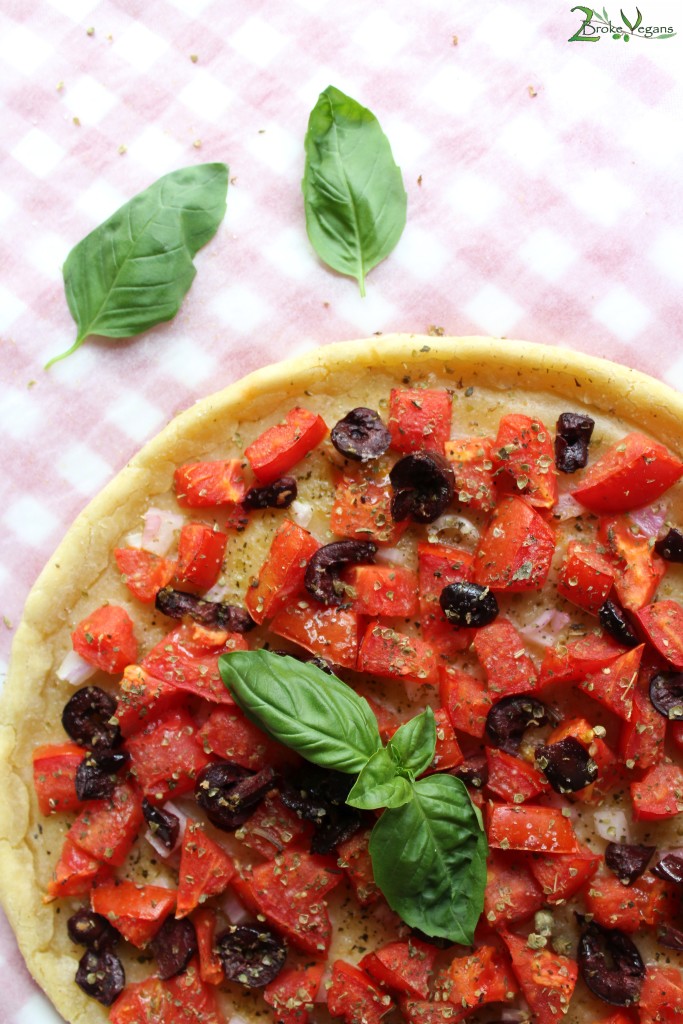 Additional ingredients needed for these pizzas:
Minced garlic cloves or garlic powder. The more the better for this pizza!
2-3 large tomatoes, diced
1 small red onion, diced
Olive oil
Finely ground sea salt
Dried or fresh basil
Dried oregano
Instructions for pizza assembly:
After crusts have pre-baked, remove from oven and brush olive oil along the outside as well as along the bottom. Make sure there is enough oil to cover the crusts without drowning them!
Sprinkle as much sea salt and garlic on the crusts as you would like.
Cover the bottom of the crusts with the dices tomatoes and diced red onions.
Top it all off with some more sea salt, garlic, basil and oregano.
Bake in the oven for 10 to 13 minutes.
Remove from oven, slice and enjoy!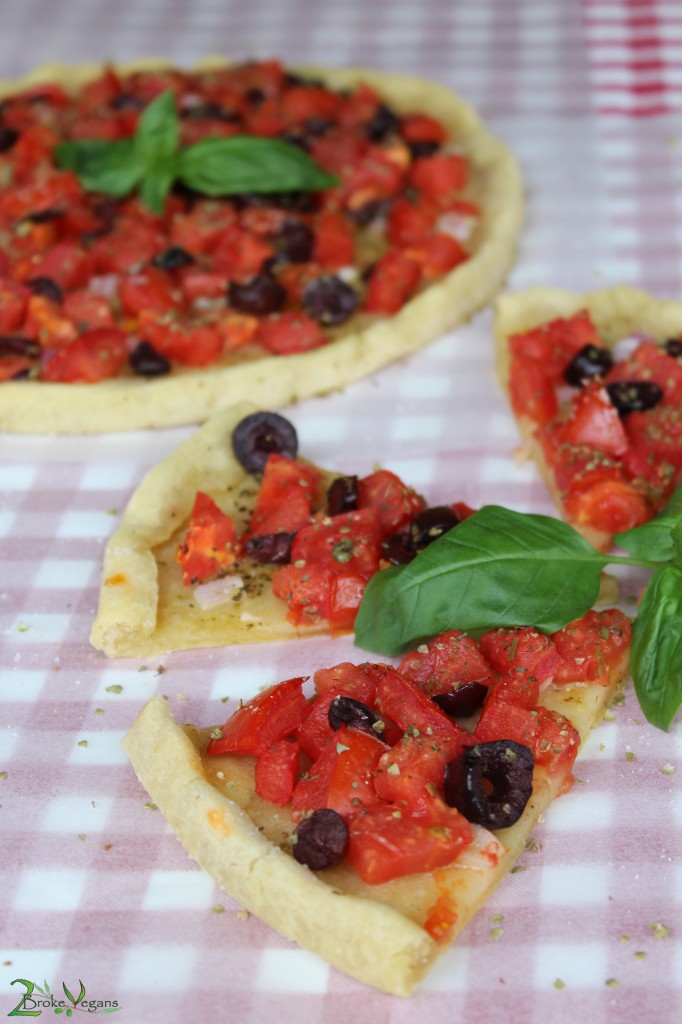 Copyright protected by Digiprove © 2015