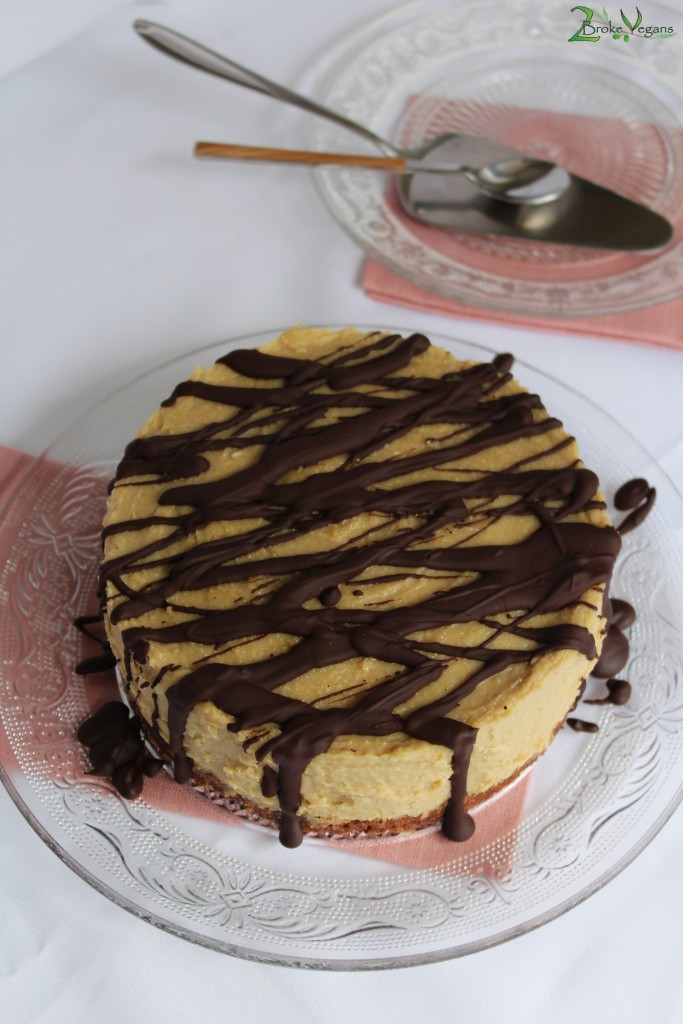 One of the combinations I love most in desserts is peanut butter with chocolate. I understand there are people out there who despise these flavors together but I am certainly not one of them! I decided it was time to make a peanut butter and chocolate vegan cheesecake and I must say I really love how it turned out! This recipe is another one of the recipes we are posting for the food blog awards we are participating in. If you are interested in supporting us, click here and then click like to vote for us. Thank you for your support!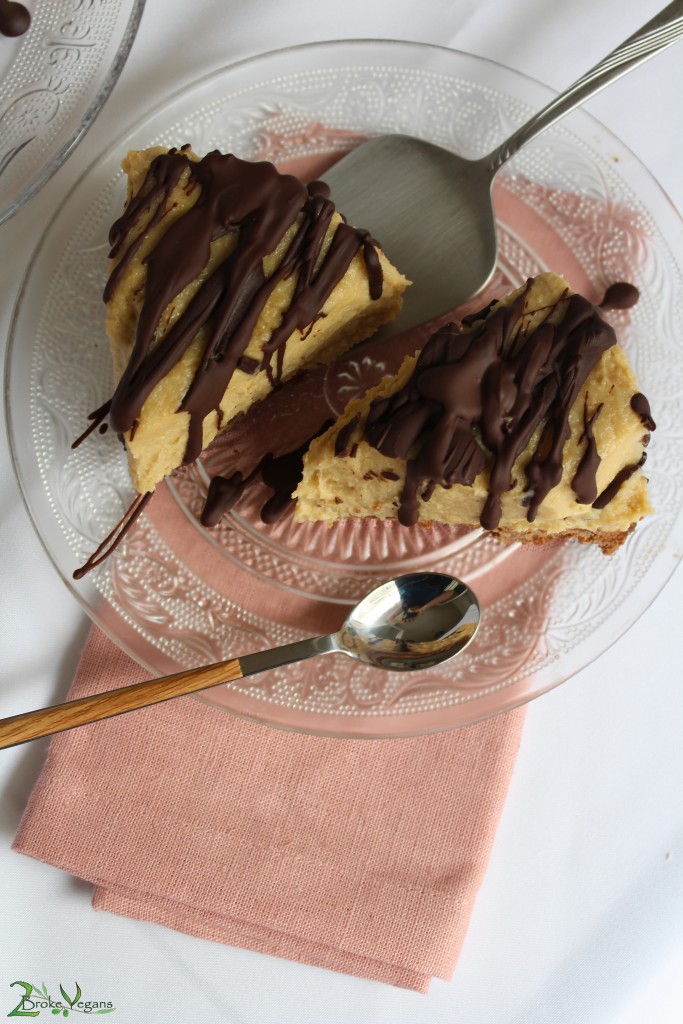 Ingredients for the vegan cheesecake filling:
1 cup (200 grams or 7 oz) of dried chickpeas which is equal to 2 1/2 cups or 480 grams/17 oz of boiled chickpeas/garbanzo beans
2 cups of peanut butter
1/4 cup (4 Tablespoons or 60 ml) of freshly squeezed lemon juice
1/2 cup (120 ml) of agave syrup
3/4 cup (177 ml) of coconut oil
1/4 teaspoon of vanilla powder
2 ripe bananas
Instructions for vegan cheesecake filling:
Boil the chickpeas for 30 minutes. Strain excess liquid from them.
Combine all the ingredients into a high powered blender or food processor and blend until mixture is smooth as possible.
If the blender is struggling, remove half of the mixture, continue blending until that half is smooth. Empty the smooth and blend the other half. Combine both halves in a bowl once they are both smooth.
Empty mixture into a bowl and set aside while you make your crust.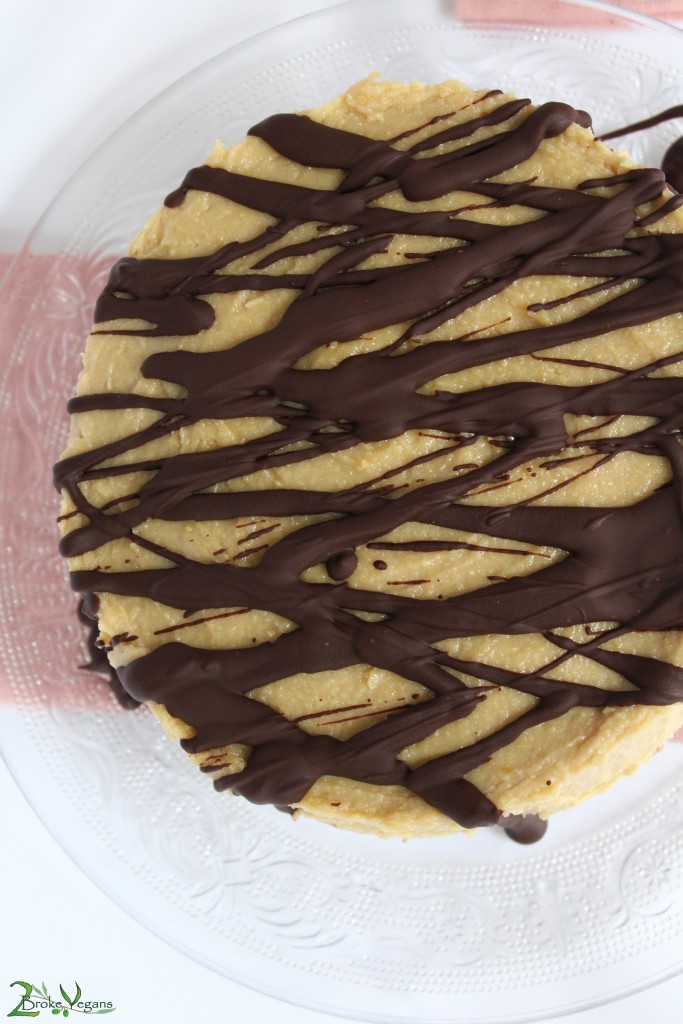 Ingredients for the crust:
3/4 cup dates without pits (110 grams)
3/4 cup dried, shredded coconut flakes (65 grams)
3/4 cup (75 grams) buckwheat flakes (kind of like oatmeal but gluten free)
2 Tablespoons of cacao powder
Instructions for crust:
Pre-heat convection oven to 150° C (302° F)
Combine the coconut shreds, buckwheat flakes and cacao in a blender or food processor. Blend or process until mixed thoroughly.
Add the dates, continue blending or processing until mixture is as smooth as possible.
Press crust into your cheesecake or pie pan.
Bake in oven for 3 minutes.
To assemble the final vegan cheesecake:
Empty peanut butter cheesecake filling on top of crust. Make it as even and smooth as you can.
Place cheesecake in the refrigerator overnight.
When ready to serve, melt chocolate chips or chocolate and drizzle melted chocolate over the vegan cheesecake.
Slice, serve and enjoy!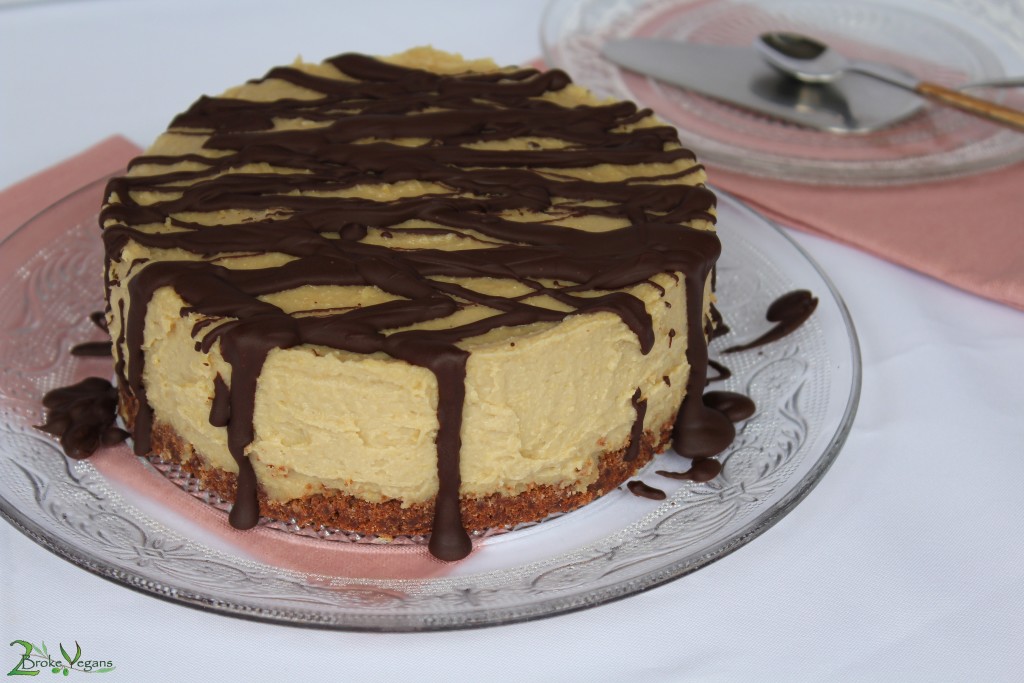 Copyright protected by Digiprove © 2015