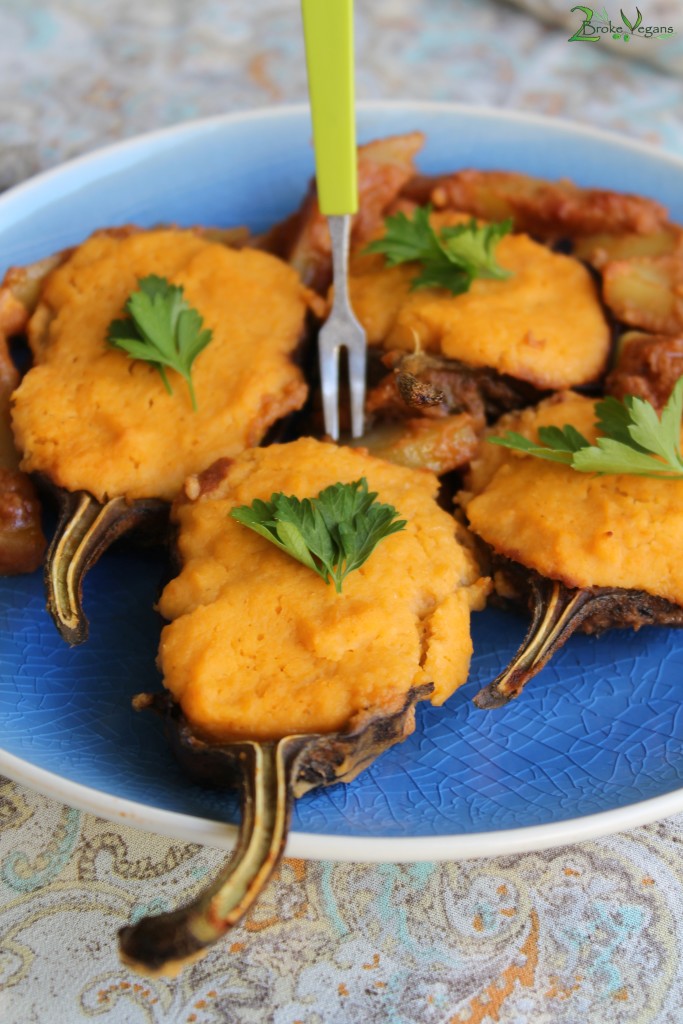 One of the very first recipes we posted was very similar to these Eggplant Boats we are posting today. It's hard to believe it's been two years already! One of the challenges for the food blog awards we are participating in is to make a simpler version of one of our favorite foods. We both loved the original version of this recipe so we wanted to see if we could simplify it without sacrificing flavor or satisfaction. We are very happy with the end result! As stated, this recipe is another one of the recipes we are posting for the food blog awards we are participating in. If you are interested in supporting us, click here then click like to vote for us. Thank you for your support!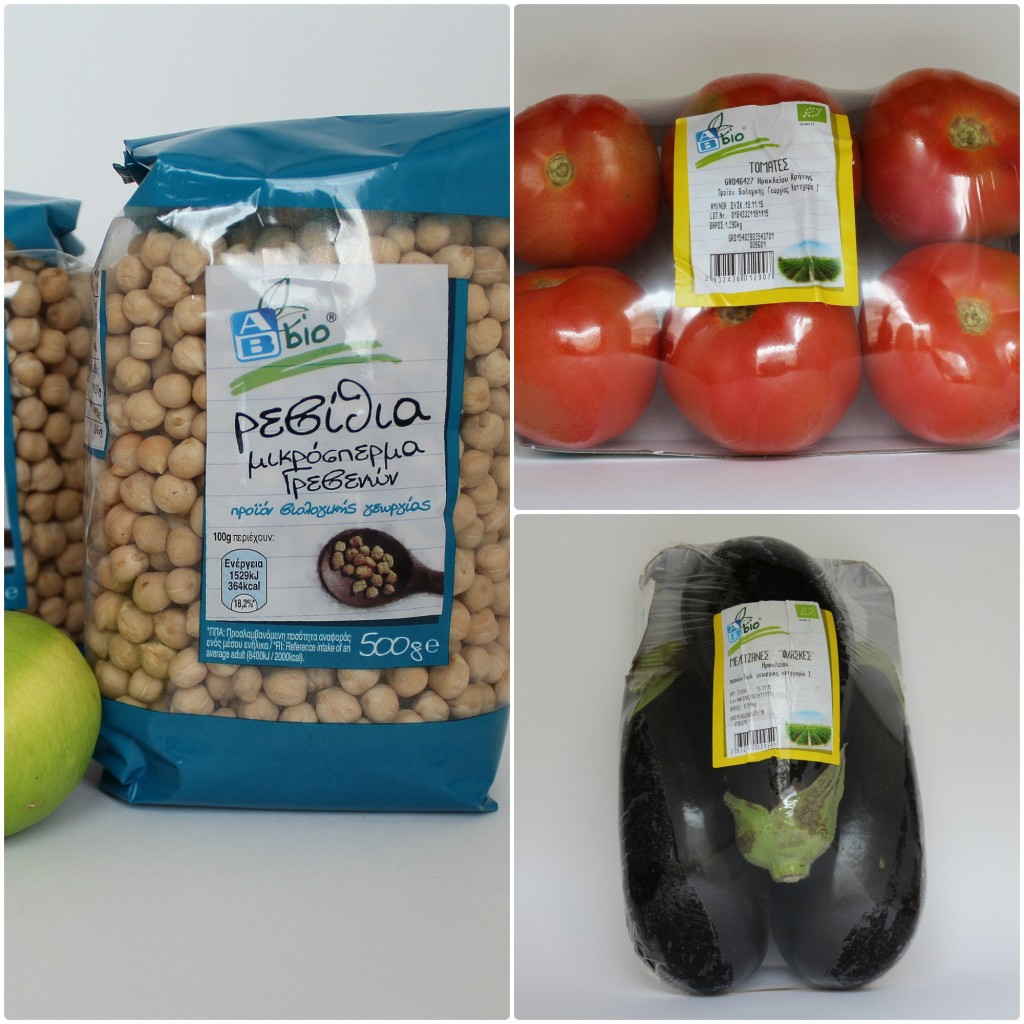 You will need:
Instructions for the eggplants:
Wash the eggplants and cut them lengthwise.
Preheat the oven at 180° C (356° F) using convection mode.
Using a knife, cut out the insides of each eggplant.
Brush them with olive oil inside and out and place them on parchment paper. Place them in the oven for about 20 minutes or until soft without getting burned.
The eggplants are now ready to be stuffed with tomato sauce and vegan cheese!
For the tomato sauce:
500 grams (17.5 ounces) of tomatoes blended into liquid
1/2 small red onion, sliced (about 70 grams or 2.5 oz)
1/4 teaspoon garlic powder or 1 minced garlic clove
1 carrot (about 80 grams or 3 oz)
1 teaspoon of sea salt
2 teaspoons of vegan sugar
1/4 teaspoon of dry basil
1/8 teaspoon of dry parsley
1/8 teaspoon of oregano
Dash of cinnamon, nutmeg, allspice, black pepper, cumin
Olive oil for the pot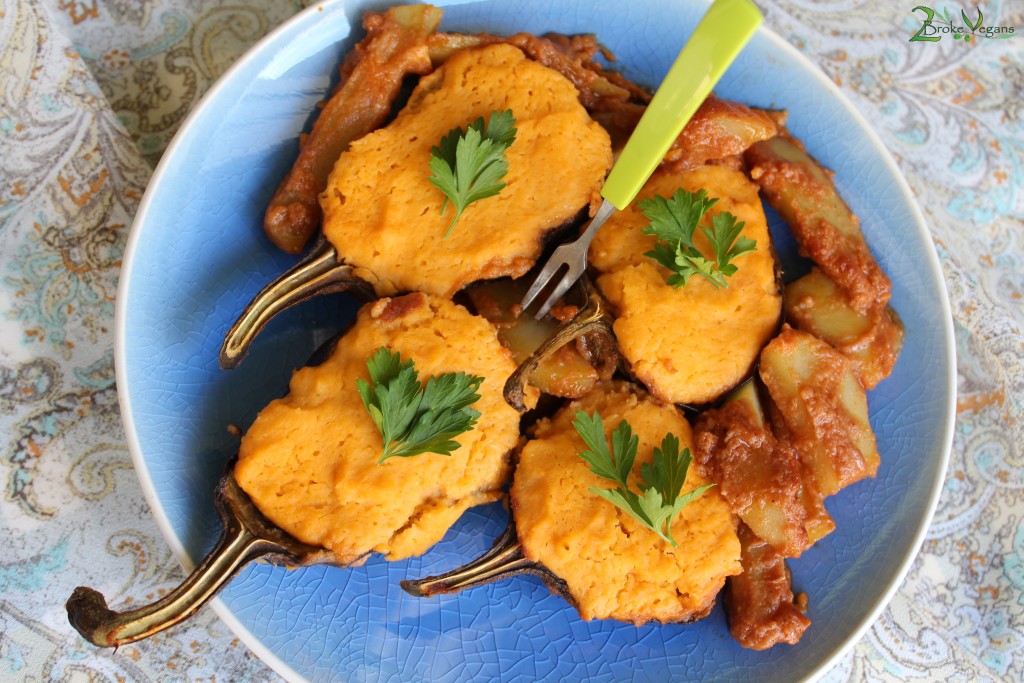 Instructions:
In a food processor or blender mix all the ingredients (except the onion), or grate the carrot and tomatoes and combine with other ingredients.
In a pot drizzle some olive oil and heat it up in medium heat.
When it's hot sizzle the onions for 2-3 minutes, then add the rest of the ingredients.
Mix well and allow to simmer until sauce thickens for about 15 minutes.
For the Tomato and Basil vegan cheese click here and prepare a batch (you can have it ready earlier).
Some assembly required:
In a pan with a lid, drizzle some olive oil and tomato sauce. Place the eggplant boats and between them the potatoes (cut into smaller pieces).
Add 2-3 teaspoons of tomato sauce and top it with the tomato and basil cheese in each eggplant boat.
Cover the pan with the lid (or with aluminum foil).
Place the pan in the oven at 180°C (356° F) for about 30 minutes or until the potatoes are soft and cooked into little bites of heaven.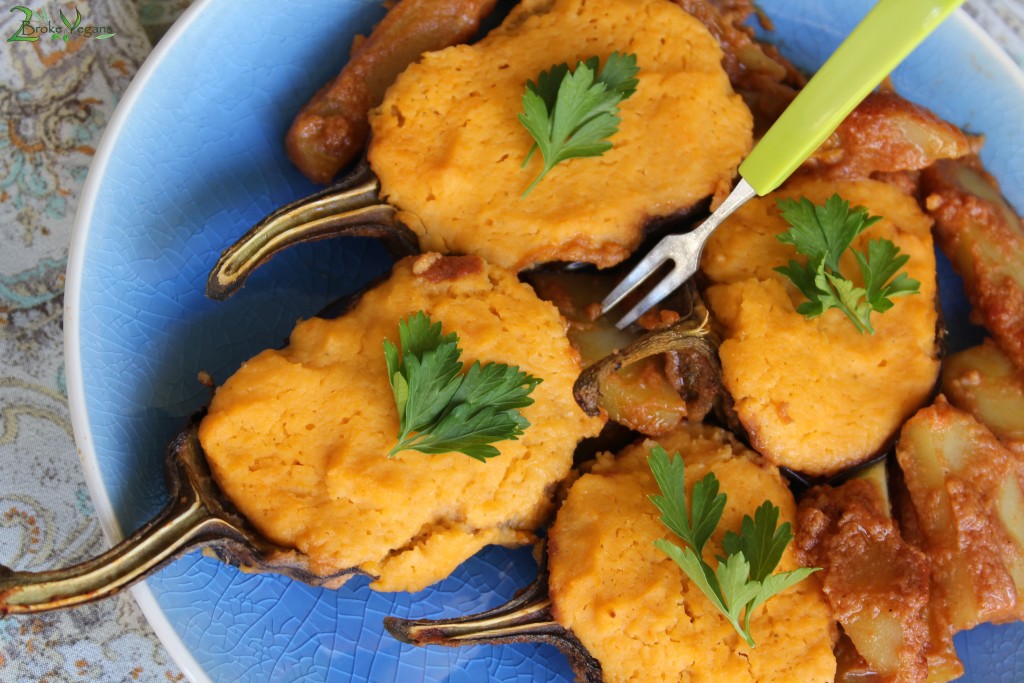 Copyright protected by Digiprove © 2015