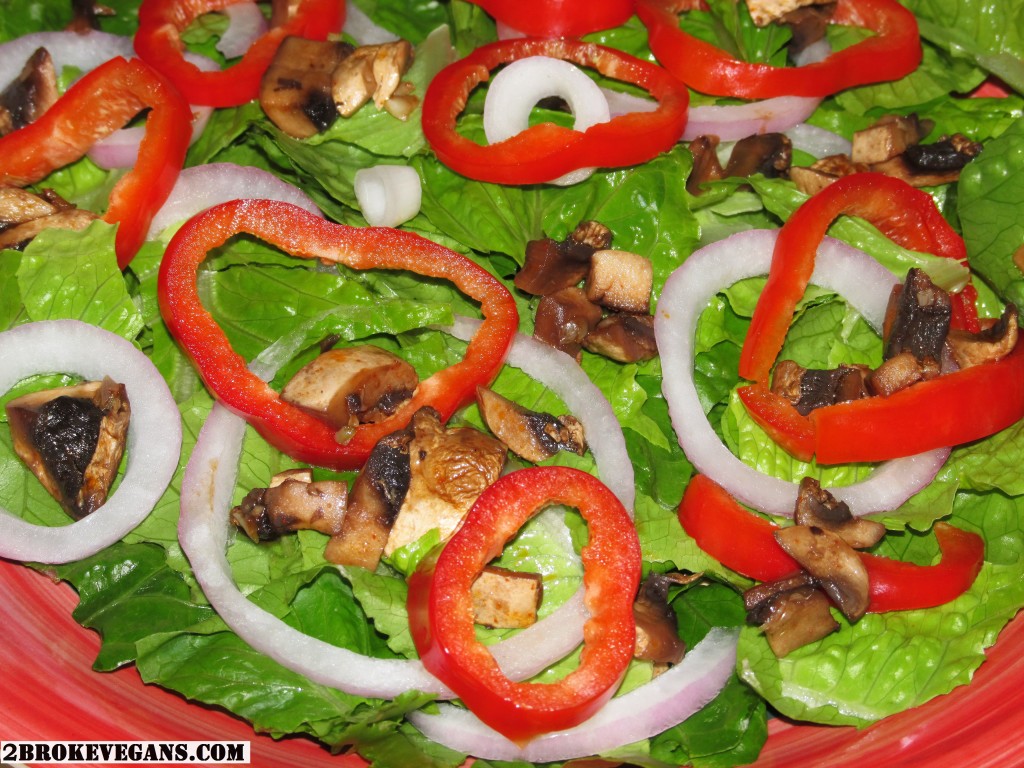 A very delightful one, our Ring of Fire salad has onions and red pepper rings and is served with a barbecue dressing to spice it up! You can even make the optional Buffalo Ranch dressing to really find out about the burning Ring of Fire!
Ingredients:
1 Romaine Lettuce bunch of leaves
1/2 of a red pepper sliced into rings
1/2 cup of chopped white mushrooms
1 garlic clove minced
1/2 of a red onion sliced into rings
Paprika
 Olive oil
For the barbecue dressing:
1/2 teaspoon of vegan and gluten free barbecue sauce
1 teaspoon of agave syrup
2 teaspoons of olive oil
Sea salt
Wash and chop the lettuce. Cut the pepper and the onion in rings by laying them on their side and chopping vertically. Serve on top of the lettuce.
Place a frying pan over medium heat and pour a little olive oil. When it heats up, add the mushrooms with a dash of paprika and sizzle them. When they are done serve them on top of the salad.
In a small bowl add the ingredients for the dressing and mix well. Taste it to check if you need to spice it up by adding more barbecue sauce or make it sweeter by adding agave. Drizzle over the salad and you are done! Enjoy 🙂
Or, for an alternative dressing, mix 2 Tablespoons of our Buffalo Sauce recipe (click here) with 2 teaspoons of our Gluten Free Vegan Ranch Recipe (click here) to make a delicious Spicy Buffalo Ranch dressing. This is truly the way to experience the Ring of Fire… if you dare!

Copyright protected by Digiprove © 2014