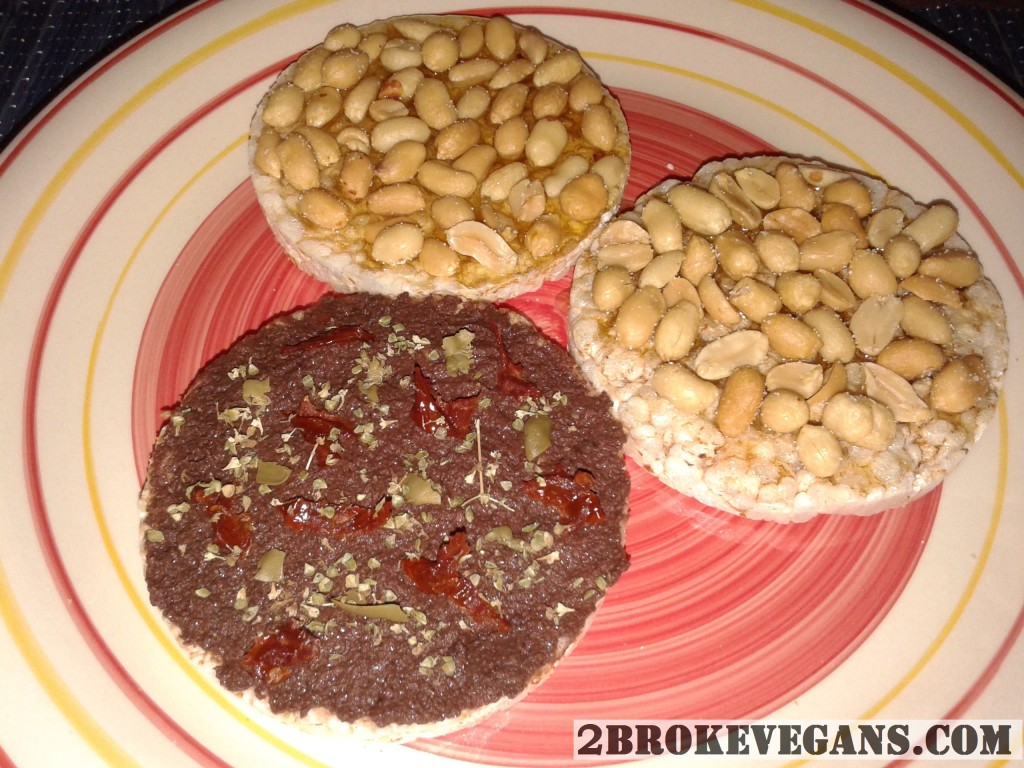 Tonight we invited some friends over for some poker and snacks. Our guests were all meat eaters who consider us lame. So, you understand why I wanted to impress them with cool snacks that do not remind them of their Grandma. Everything we made was gone within the first hour!
Snacks that are gluten-free, vegan and cool? How is that possible?
Why not popcorn and rice cakes with a twist?
To make the popcorn, we buy organic popcorn kernels, put them in a huge pot on the stove over medium heat with olive oil (coat the bottom of the pot with the olive oil), fill the olive-oiled bottom with kernels (but do not put too many so that most of them can pop!) and close the lid. You wait patiently to hear that silent pop pop. When the popping becomes a bit more frequent and louder, take a towel, hold the handles and the lid to lift the pot a bit to give it a good stir (so that no kernel burns). Repeat frequently as long as you hear popping. When you stop hearing popping, remove from the stove; put them in a big bowl so you can either sprinkle sea salt on them (has to be thin or grinded salt) or use a grinder with paprika, basil, sea salt and garlic for magic!
Now for the rice cakes: half of them were with an olive paste spread, then, add a  little bit of capers, a little bit of sun dried tomatoes, a little bit of smoked salt with a sprinkle of fresh dried oregano; the other half of them had this amazing topping (of which the other half of this blog is quite proud of). An inspiration from a late night… he spread agave syrup on the top of them, then he covered them with roasted peanuts and sprinkled sea salt over it all. This is one of our favorite snacks of all time!