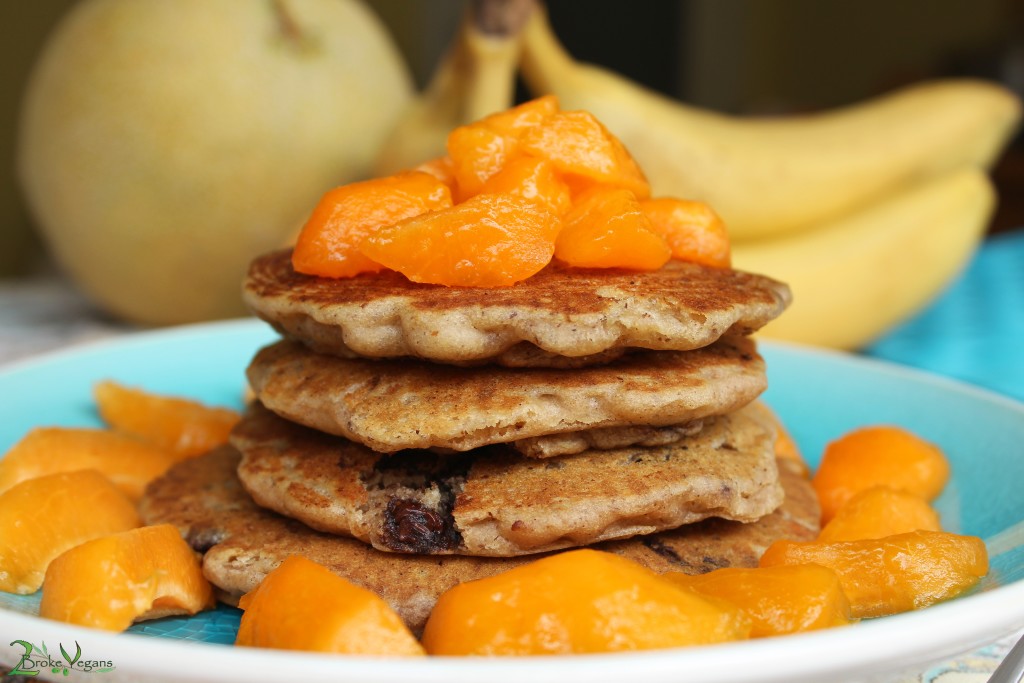 I love making pancakes for Athanasia before she wakes up. I actually tried to bring these to her as breakfast in bed but she refuses to eat in the bedroom (smart girl, we wouldn't want ants)! Recently Boutique Vegan sent us some of these amazing dairy free chocolate chips. We first used some of them in out vegan turtles recipe. Today we used them to make these awesome vegan chocolate chip pancakes!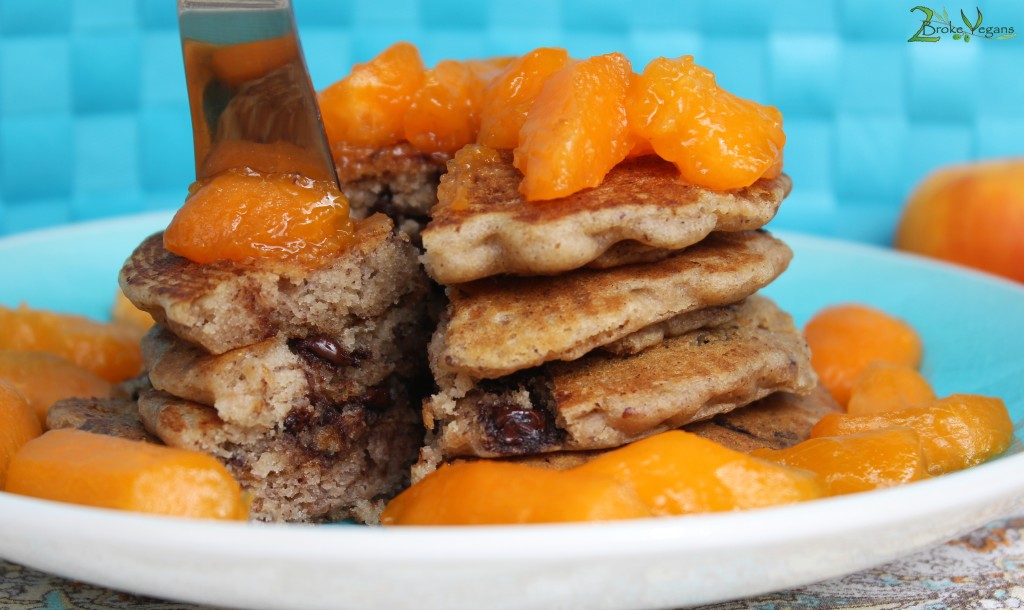 Ingredients to make 6-7 large or 12 medium pancakes:
1 cup (200 grams) of all purpose flour (we used gluten free all purpose flour)
1 Tablespoon of buckwheat flour
2 Tablespoons of vegan raw organic cane sugar
1 teaspoon of baking powder
1 teaspoon of baking soda
1/4 teaspoon of sea salt
1/4 teaspoon of vanilla powder or 1 tsp of vanilla extract
1 cup (240 ml) of full fat coconut milk
1 Tablespoon of apple cider vinegar
2 Tablespoons of coconut oil
1 Tablespoon of ground flax seeds whisked with 3 Tablespoons of water
1/2 cup (100 grams) of vegan chocolate chips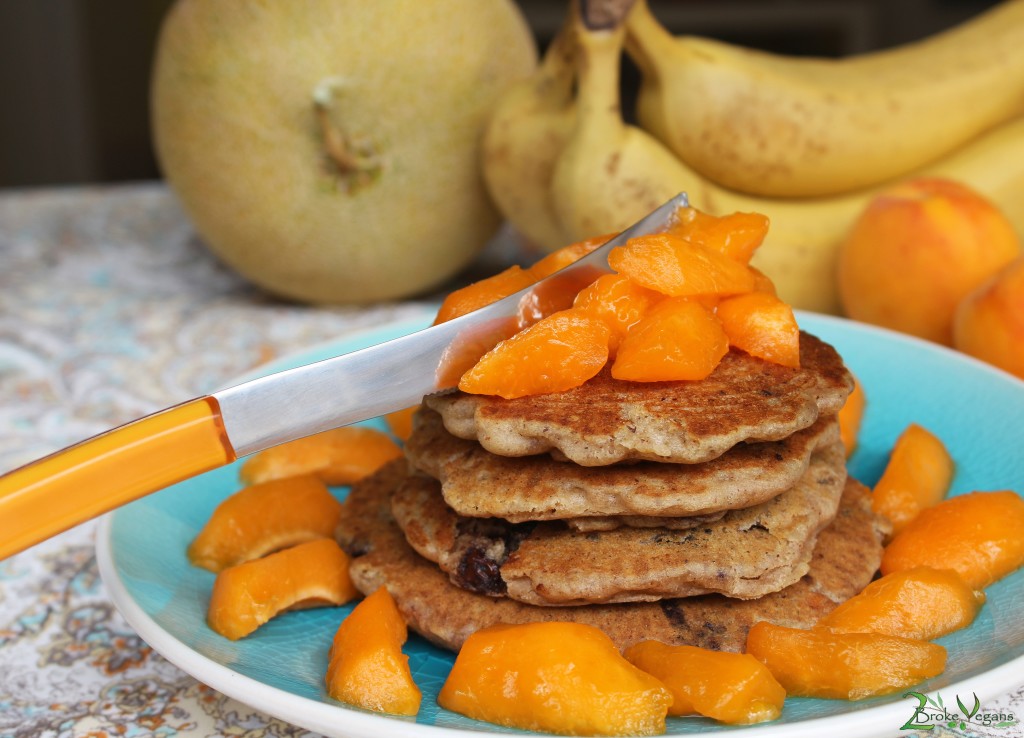 Instructions:
Whisk vinegar with the coconut milk, set aside allowing mixture to stand for 5 minutes.
Combine ground flax seeds with the water. Whisk, set aside allowing a gel-like mixture to emerge in about 5 minutes.
Combine the coconut milk mix and the flax seed water mix with vanilla extract if you used it instead of vanilla powder. Whisk.
Whisk all of the dry ingredients together except the chocolate chips in a separate bowl.
Add the wet mixture to the dry mixture bowl. Whisk until mixed completely.
Stir in the chocolate chips.
On a large frying pan or skillet add a very thin layer of coconut oil. Place pan on stove over medium heat.
Once oil heats up add enough batter for one pancake using a ladle or spoon. Flip pancakes using a spatula when ready. If there is enough heat it should only take about 30 seconds per side.
Continue step 8 until all the batter has been turned into pancakes!
Enjoy with maple syrup or fruit of your choice. We used apricots and they were delicious!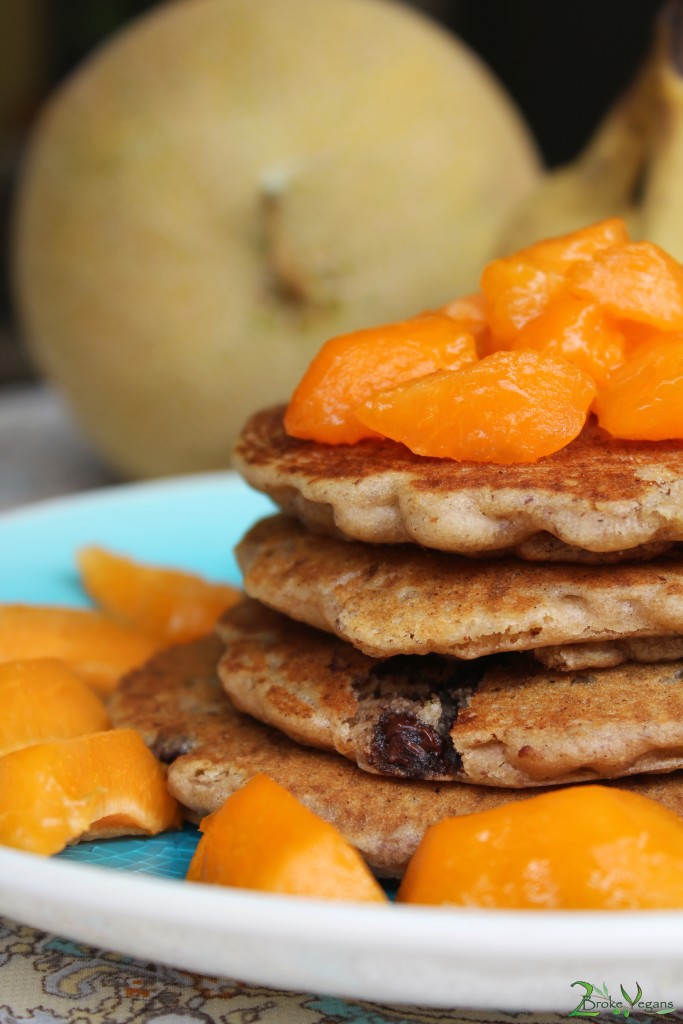 Copyright protected by Digiprove © 2015