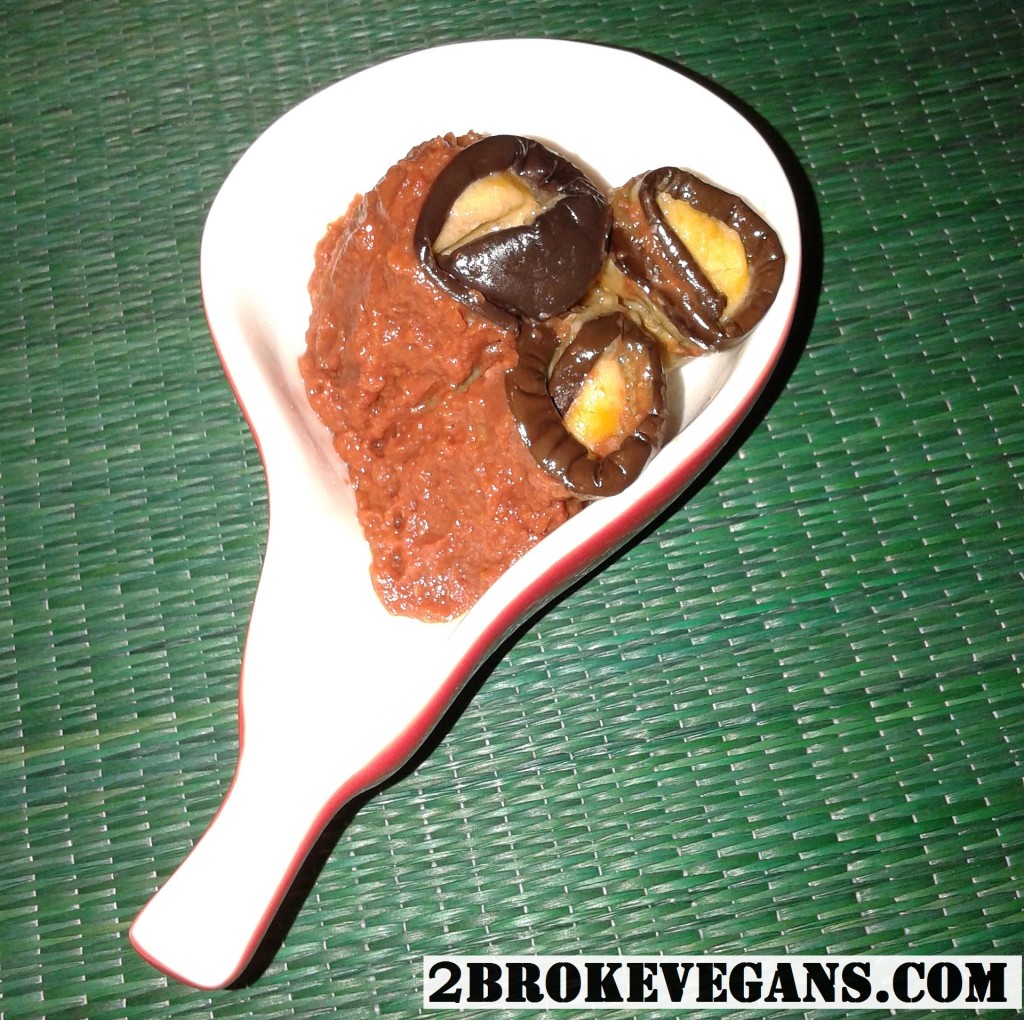 These are little eggplant rolls stuffed with a vegan cheese we made. The vegan cheese hardens when cooked this way! Plus, with the right tomato sauce for the dish it's so appetizing!
Ingredients:
For the garlic and basil cheddar cheese:
half a block of tofu (100 grams)
200 ml of almond cream
3 fresh basil leaves
3 teaspoons of nutritional yeast
1 garlic clove, minced
3 teaspoons of sea salt
1/2 cup of cashews
1 red bell pepper
1 tablespoon of olive oil
1 cup of gluten-free all purpose self raising flour
Mix all the ingredients in your blender, except for the flour. When the mix is smooth, empty in a bowl and stir in the flour until it is completely mixed in! It has a creamy texture but when you will bake it inside the eggplant roll, it will harden because of the flour 🙂                Set aside.
Ingredients for the tomato sauce:
1/4 cup red onions, chopped
1 garlic clove
2 tablespoons fresh parsley, chopped
a dash of cumin
a dash of cinnamon
1/2 teaspoon of raw cane sugar
1/2 teaspoon of sea salt
1/2 tablespoon of dried basil
1/2 tablespoon of dried oregano
2 tomatoes
70 grams of tomato paste
Mix all the ingredients in the blender until smooth! Set aside.
Slice the eggplants lengthwise, not too thin and not too thick slices! Place on parchment paper, spread olive oil on them and bake them at 160 ° Celsius (320° F) for about 10 minutes, or until they are soft. Remove from the oven, allow them to cool off a bit. When they are cool enough for you to touch, place on the end of each sliced eggplant a teaspoon of the vegan cheese and gently roll the slice around it. Place the rolls in an olive oiled  pan so that they are right next to each other, crowded so they can support each other and not unroll! Spread the tomato sauce on top and bake in the oven at 160 ° Celsius (320° F) for 40 minutes!
Yummy 🙂