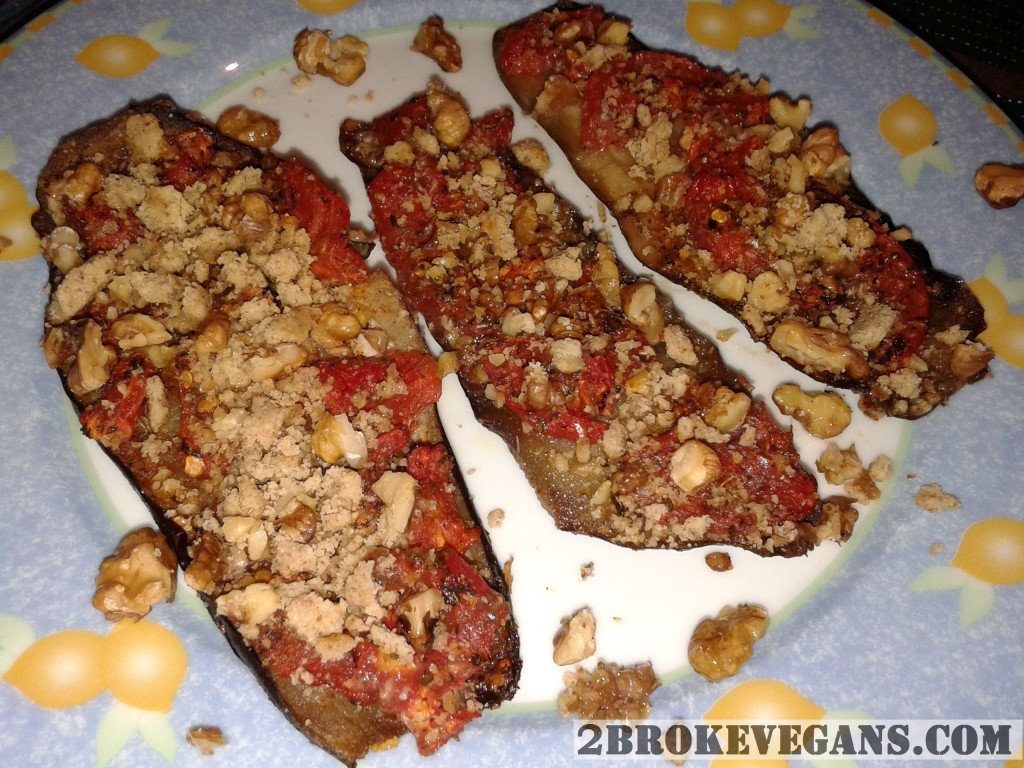 Eggplant slices with walnuts sprinkled on top of them?! I'm in!!
This is a traditional north Greece recipe that I changed a bit but here it is! I basically had to, because people were asking why cinnamon and nutmeg were not in the stuffed eggplant recipe. The nutmeg is for the eggplant and the cinnamon is for the tomato.
That's right, why were they not in it? Well, now they are and they fit right in 🙂
Ingredients:
1 eggplant, sliced
Gluten-free all purpose flour
3 tomatoes, sliced
2-3 garlic cloves, minced
1 Tablespoon of dried basil
1/2 teaspoon of apple cider vinegar
a pinch of nutmeg
a pinch of cinnamon
1/2 teaspoon of raw cane sugar
olive oil
walnuts, crushed
Wash your eggplant and slice it in slices of about 1 centimeter. You don't want them too thick or too thin, you want them right in the middle so that they cook nicely without burning to a crisp. Try to make them even! Soak the eggplant slices in salty water to take the bitterness away, for about half an hour.  Then, strain them well, flour them from both sides and spread them on parchment paper, with some olive oil on top and put them in the oven at 170° Celsius (338° F) for about 10 minutes to soften them.
In a bowl, mix the tomato slices with the vinegar, the basil, a pinch of nutmeg, a pinch of cinnamon,the sugar, some sea salt and little bit of olive oil.
Put the eggplant slices in a cooking pan coated with olive oil, spread the tomatoes on top and cook at 160° Celsius (320° F) for 15 minutes. Then, sprinkle the walnuts on top and keep cooking for 10 more minutes. Sprinkle vegan Parmesan cheese on top and have a bite (it's delicious)!