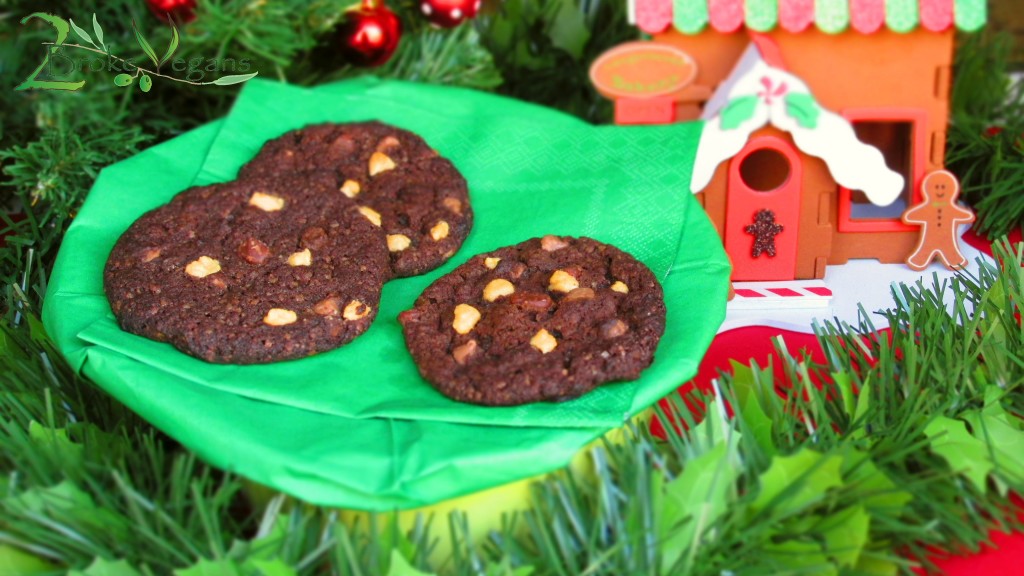 We wanted to make delicious Christmas cookies this year but not necessarily traditional holiday cookies.  We had discussed several options before deciding to make gluten free vegan rocky road cookies. I am very happy we decided on these cookies as they are the most scrumtrulescent cookies I have ever made!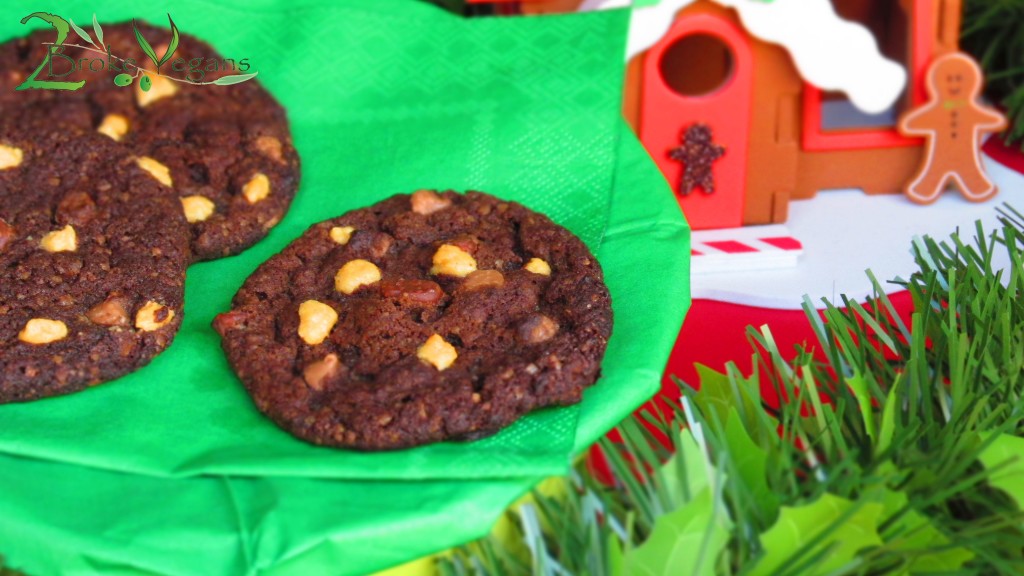 Ingredients for 14 cookies:
1 cup of gluten free all purpose flour
4 Tablespoons of cacao powder
1/2 teaspoon of baking powder
1/2 teaspoon of baking soda
1/4 teaspoon of sea salt
1/8 teaspoon of corn starch
1 Tablespoon of flax seed powder mixed with 3 Tablespoons of water
80 ml of vegan butter
1/4 cup of brown organic cane sugar
1/2 cup of raw organic cane sugar
1/4 cup of gluten free vegan chocolate chips (we used these)
1/4 cup of gluten free vegan caramel chips (we used these)
3 Tablespoons of peanut butter (we made our own, click here for recipe)
Instructions:
Pre-heat convection oven to 175° C (347° F) or conventional oven to 160° C (320° F).
Whisk the flax seed powder with the water. Set aside.
Combine the flour, cacao powder, baking powder, baking soda, sea salt and corn starch in a medium to large bowl. Whisk thoroughly.
Using a powered mixer, combine the vegan butter with the sugar. Beat them until mixed thoroughly.
Pour the flax seed powder and water mixture into the mixing bowl with the vegan butter and sugar. Continue mixing.
Turn the speed of the mixer down to slow and slowly pour the dry flour mixture in. Use a spoon to scrape the sides of the mixing bowl to make sure all the dry ingredients get mixed well. Turn the speed up to the highest speed once no more dry mixture can be seen. Mix thoroughly.
Remove bowl from powered mixer stand. Stir the caramel and chocolate chips in using your hands or a spoon.
Form your cookie balls on a cookie sheet or a sheet of parchment paper. Leave a good amount of space between cookie balls as they will flatten and spread out in the oven.
Form small peanut butter balls from the peanut butter. Decorate the top of each cookie ball with as many peanut butter balls as you would like.
Put cookies in the oven. Bake for 7 minutes if using a convection oven or for 15 minutes if using a conventional oven.
Remove cookies from oven. Allow cookies to cool for a few minutes before attempting to move them or carefully use a spatula to move them to a cooling rack.
Enjoy!

Copyright protected by Digiprove © 2014