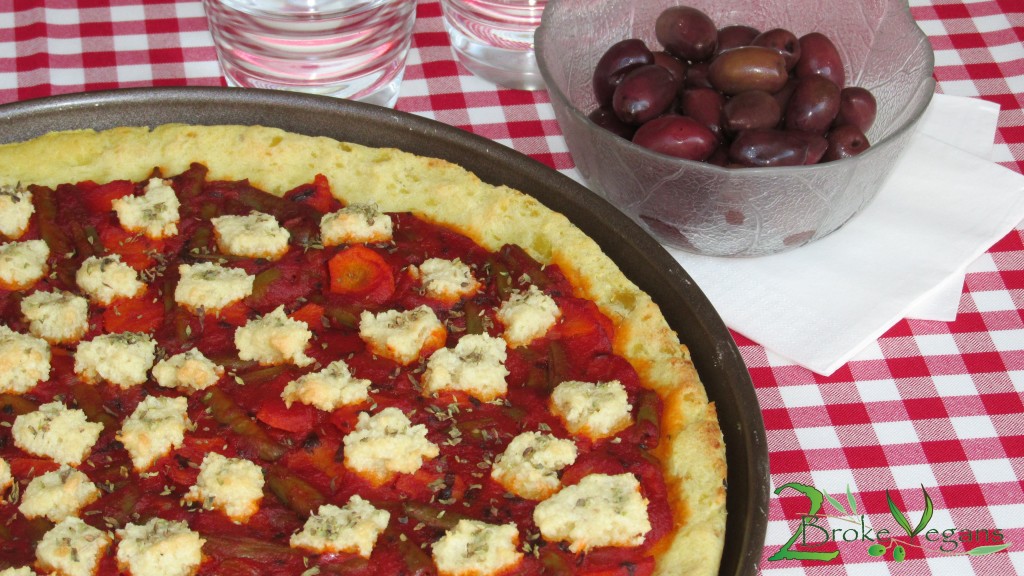 I am writing this post today with a bit of a smirk on my face. You see, for months and months now I have been telling Athanasia how delicious a green beans and vegan Feta pizza would be. She turned down the very thought of it every opportunity she got. Well, little by little she seemed to warm up to the idea so we finally made it and it is great! Our friend over at ohshecooks.com just got done with her famous pizza week which inspired us to make this pizza!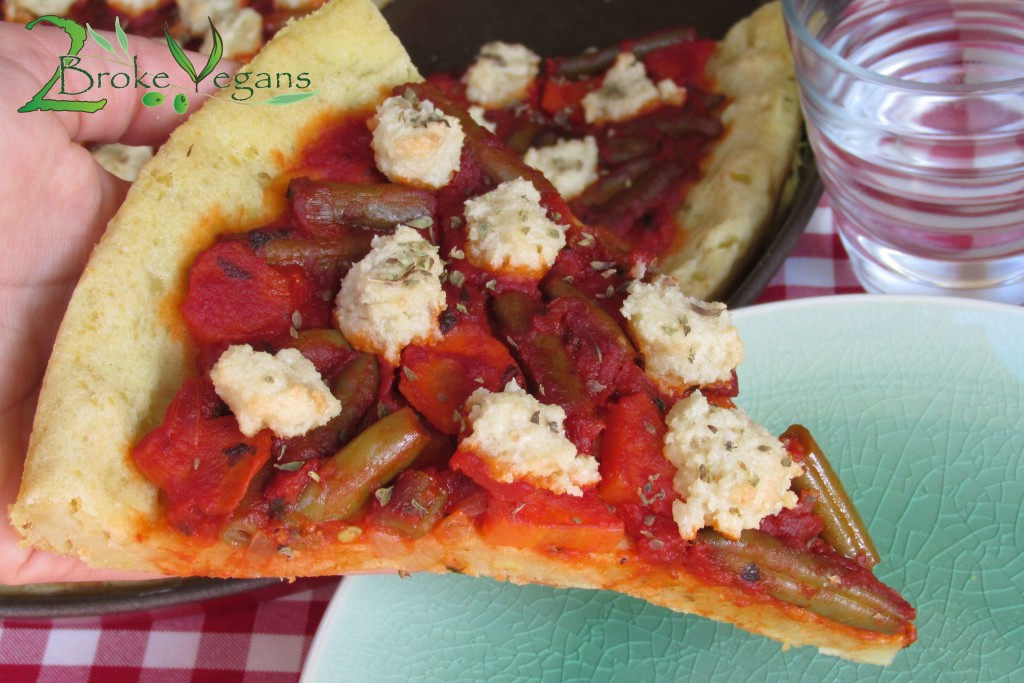 Ingredients for the crust to fill a 35 cm or 13 inch diameter pan:
10 small potatoes (850 grams or 30 ounces)
2 Tablespoons of olive oil
2 teaspoons of sea salt
dash of ground black pepper
1/2 teaspoon of dried oregano
1/4 teaspoon of dried parsley
2 cups of all purpose gluten free flour (320 grams or 11.3 ounces)
Instructions for crust:
Boil potatoes for 45 minutes.
Peel and mash potatoes.
Pre-heat oven to 160° C (320° F).
Add all other ingredients to the mashed potatoes and mix thoroughly.
Coat the pan with a thin layer of olive oil.
Lightly sprinkle some corn flour on top of the olive oil (optional).
Press the dough mixture into the pan. Form the handle and make the center as smooth as possible. Keep your hands lightly oiled or wet with water if dough begins to stick to your hands.
Fork the crust from the center out for even baking.
Pre-bake crust for 15 minutes.
Remove from oven and set aside.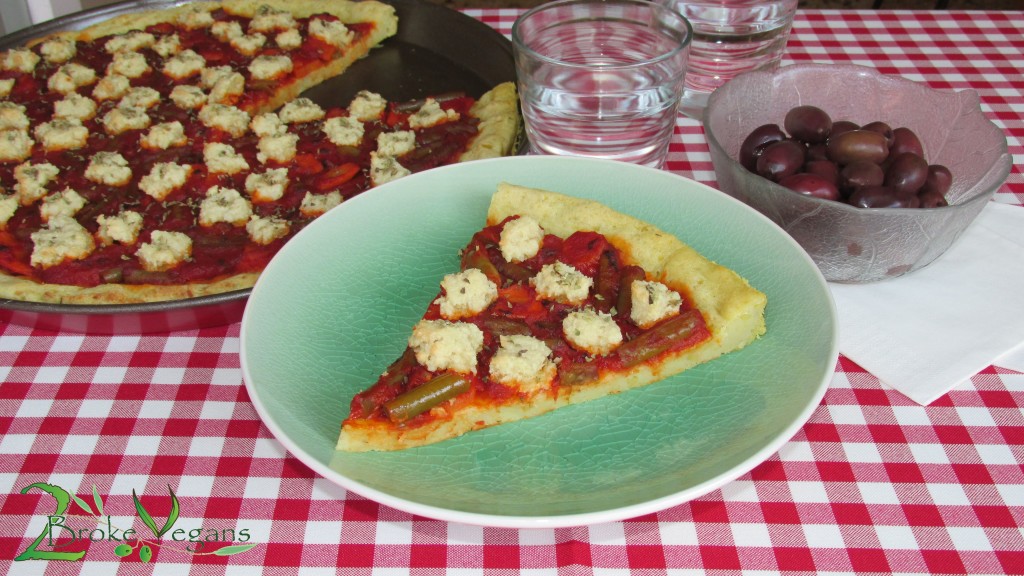 Ingredients for the toppings:
500 ml (16.9 fl. oz.) of tomato juice
1/2 cup of chopped red onions
3 Tablespoons of fresh parsley, chopped
1 teaspoon of raw cane sugar (if the tomato juice is bitter)
3/4 cup of carrots, sliced
1 1/2 cup of green beans chopped in smaller pieces
1/2 teaspoon of sea salt
Olive oil for coating the pan
1 serving of vegan feta cheese (click here for our recipe)
Instructions for the toppings:
Coat the bottom of a sauce pan with olive oil. Place the sauce pan over  medium heat.
Once the olive oil heats up, add the red onions and parsley. Stir and sizzle for 2-3 minutes.
Add the carrots, stir and sizzle for 3-4 minutes. Add the green beans, stir and sizzle for 8-9 minutes or until they soften up enough but be careful not to let them burn.
Add the tomato juice, raw cane sugar and sea salt. Stir and let simmer for 20-30 minutes until the sauce thickens. Keep stirring occasionally. Make sure all the vegetables are soft before you remove the pan from the stove.
Empty as much of the green bean, carrot and tomato sauce mixture onto the crust as you would like.
Add as many small vegan Feta chunks as you would like.
Place pizza back in the oven at 160° C (320° F) for 5-8 minutes or until the vegan Feta turns a slight golden brown color.
Remove, slice and serve!
Enjoy the flexible crust mixed with the traditional Greek flavor of green beans with Feta!

Copyright protected by Digiprove © 2015