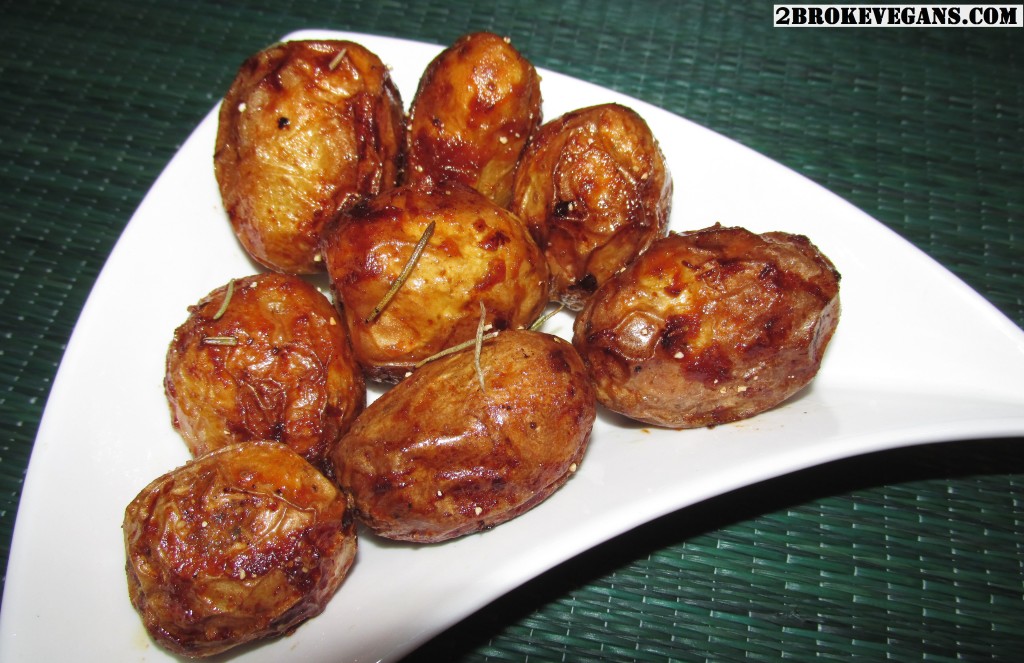 Once upon a time, my favorite cheeseburger was served with roasted baby potatoes in their skin! Since we are re-creating all of our favorites, here is one of mine! For the savory flavor I used barbecue sauce, mustard, agave syrup and dried rosemary. However, you can use whatever you like!
Preheat your oven to 200° Celsius (392° F)
Ingredients:
Baby potatoes, unpeeled
olive oil
For the flavored sauce:
3 teaspoons of gluten free vegan barbecue sauce
2 teaspoons of mustard
3 teaspoons of agave nectar
garlic powder
sea salt
rosemary
Choose an oven pan that can fit all the potatoes, with enough space to not touch each other. Coat it with a thin layer of olive oil and place it in the oven at 200° Celsius (392° F).  Leave it in the oven for about  8-10 minutes for it to heat up. This way when you add the potatoes in the oil coated pan, they will sizzle; forming a nice crust on the outside 🙂
Wash the baby potatoes very well and boil them in salted boiling water for 6 minutes. Then strain them. In the pot, pour the flavored sauce. Put the potatoes back in the pot and mix them well, so the potatoes are covered in the flavor mix! Sprinkle some rosemary on top and place them carefully in the oil coated pan. Place them in the oven at 200° Celsius (392° F) for 15 minutes, then flip them over and leave them in for 15 more minutes.
Done! Delicious little bites!