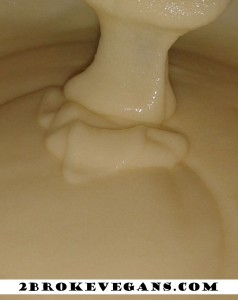 This is how you make a delicious gluten free vegan vanilla butter-cream frosting! Get a big mixing bowl and add the following ingredients:
3 Tablespoons of vegan butter
3 Tablespoons of vanilla vegan milk (almond milk, soy milk, etc enhanced with vanilla)
1/4 teaspoon of vanilla powder
2 cups of powdered sugar
Mix with a large spoon until smooth. If your vegan butter is not soft you may want to soften it over low heat on the stove or take it out a few hours before mixing the frosting. This is a great butter-cream frosting for vegans! If you want a thicker frosting use less vegan milk, for a runny frosting use more vegan milk.