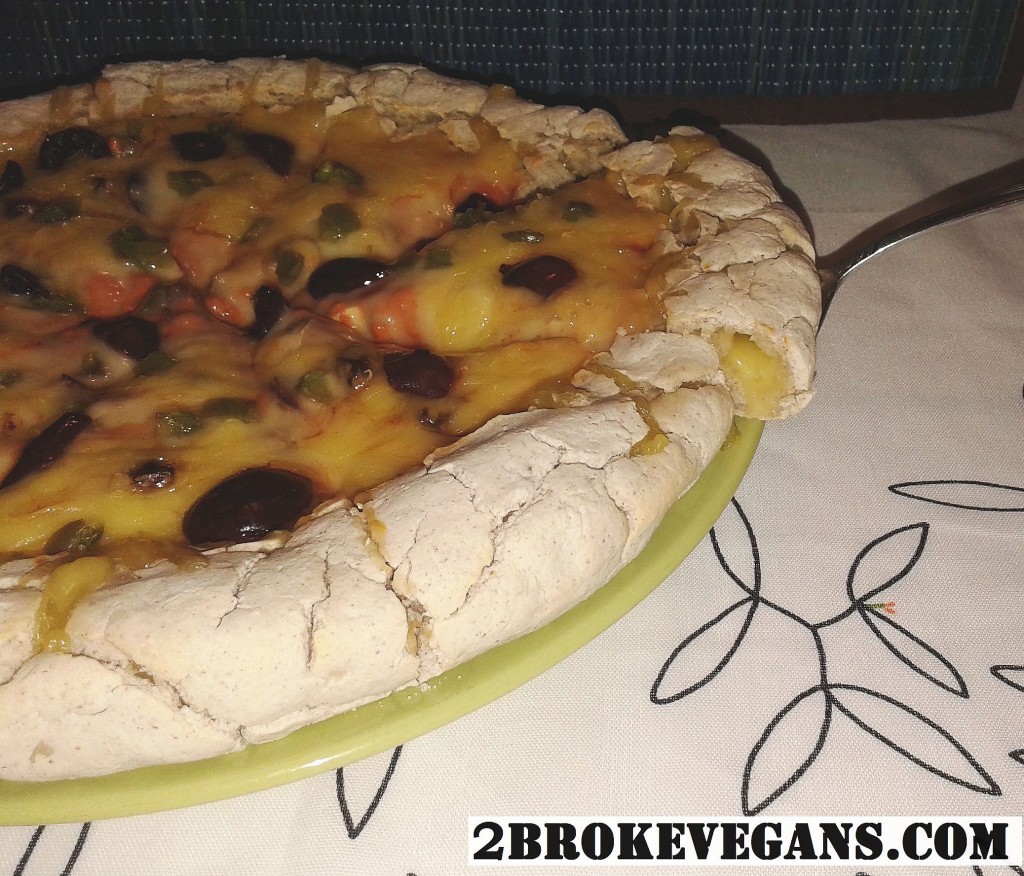 This vegan gluten free stuffed crust pizza recipe uses a slightly more moist version of our basic gluten free dough. This is to try to help prevent even more cracking of the outer crust so the vegan cheese can stay inside the crust. It might not look like a regular gluten crust, but no gluten free crust will stretch quite like a gluten dough will. 
Remove an oven rack from the oven and pre-heat oven to 150° Celsius (302° F)
In a large mixing bowl add:
1 1/2 cup of room temperature or slightly warmer water
3 Tablespoons of olive oil
2 Tablespoons of ground flax seeds
1 1/2 teaspoon of sea salt
2 teaspoons of raw cane sugar
2 teaspoons of organic gluten free yeast
Stir or mix those ingredients until a slight foam or some bubbles appear at the top of the liquid. Then, add:
4 1/4 cups of gluten free all purpose self raising flour
Stir the flour in completely! Once you have done that, lay out a sheet of parchment paper to begin forming your dough. Do not use all of the dough as you will want some of it left over to patch the stuffed crust once you get that far. Using your hands or a rolling pin, flatten your dough. Not too thin, you should not be able to see the parchment paper at all under the dough! Try to get the outer edges close to being a circle.
Now, take some shredded vegan cheese of your choice (it just must be able to melt and stretch, the flavor is your preference). We used grated violife vegan cheese for pizza. Sprinkle it around the outside of the dough trying to form a circle. Leave about a finger's width between the outer edge and the vegan cheese. Use enough vegan cheese to have substance but not too much that folding the crust over becomes impossible.
Once you have completed the circle, begin folding the and rolling the edges over the vegan cheese. This process takes some time. Some holes may appear where the dough stretched too thin, so good thing you still have some dough left in your mixing bowl! Patch all the visible weak spots of the outer crust with your leftover dough as best as you can. Because this dough is a little more moist than most of our other dough recipes, the patching is fairly easy.
Carefully place this crust onto an oven rack or something safe to transfer it to an oven rack. Place in the oven for 3 minutes to pre-bake it. Remove and get ready for the rest of the pizza!
You will need to prepare your pizza sauce (for a recipe click here). Spread your pizza sauce on the toppings area of the dough. Spread as much as you would like. Then, add your toppings. We used chopped mushrooms, diced green peppers and black olives for this one! Finally, cover with as much shredded vegan cheese as you would like! Again, we used grated violife vegan cheese for pizza.
Place pizza back onto the oven rack or something you can use to safely transfer the pizza into the oven. This is a heavy pizza so be careful! Bake for 12 to 15 minutes. The outer crust should not be turning brown but will have some cracking. There will be a few places where the vegan cheese oozes out of the stuffed crust, but for the most part it holds together well!
Once pizza is down, sprinkle some vegan Parmesan cheese (click here for a recipe) on top and enjoy!