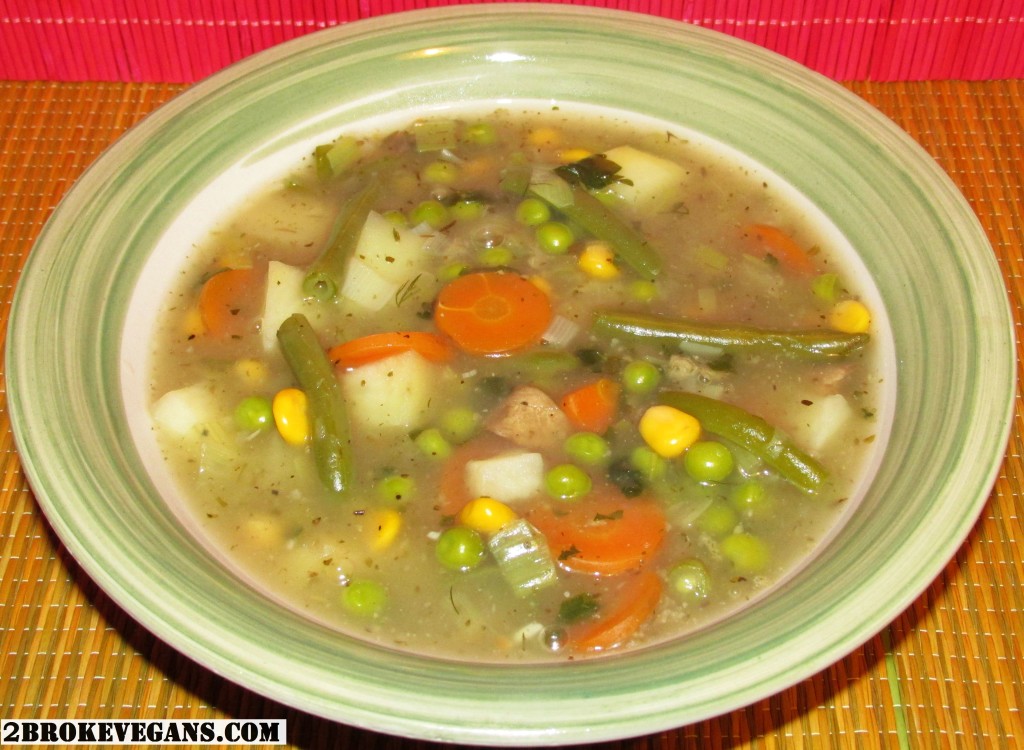 This is the soup that taught me all I know about making soups. I must have made this soup hundreds of times by now but I learned many of valuable lessons along the way. This is a very savory vegetable soup and worth the labor it takes to make it. Why not try it out for yourself? Here's how…
Ingredients:
2 garlic cloves, minced
1 cup of leeks, chopped
2 celery ribs, sliced
1/4 cup of green onions, chopped
1/4 cup of mushrooms, chopped
1 cup of carrots, sliced into rounds
2 potatoes, peeled and chopped into cubes
1 cup of green beans, cut in half or thirds depending on how long they are
2 cups of peas
1 cup of corn
1 cube of vegetable bouillon
1 teaspoon of cumin
1 Tablespoon of fresh fennel leaves
2 teaspoons of sea salt
dash of ground black pepper
dash of paprika
1 teaspoon of dried thyme
1/2 Tablespoon of dried oregano
2 teaspoons of xanthan gum
Get a very large pot, one that can hold a lot of soup. Coat the bottom with a thin layer of olive oil and put it over medium-low heat on the stove. Once you first smell the olive oil, add the garlic, leeks, celery and onions. Stir until you smell the garlic heating up. Then add the mushrooms. Stir a few times over the next 2 minutes.
Now, add the carrots and potatoes. Stir occasionally over the next 5 to 7 minutes. Then, add the green beans and stir a few times for a few more minutes. Finally add the peas and corn, stir, then fill the pot with enough water to cover everything by about an inch (2.5 cm).
Add all the other ingredients, stir them a bit as you turn the heat up to high to bring the soup to a boil. Keep stirring occasionally to prevent any of the ingredients from sticking to the bottom until the water boiling starts lifting them on it's own. Once the water is boiling, turn the heat down a notch or two and allow the soup to simmer for 5 minutes.
Now, turn the heat down to medium-low and cover the soup. Keep the covered pot over the heat for 30 minutes, stirring once every 5 minutes. Take it off the heat after 30 minutes and serve! The soup will be very, very hot, so be careful before trying it; even on a cold, rainy day!

Copyright protected by Digiprove © 2014