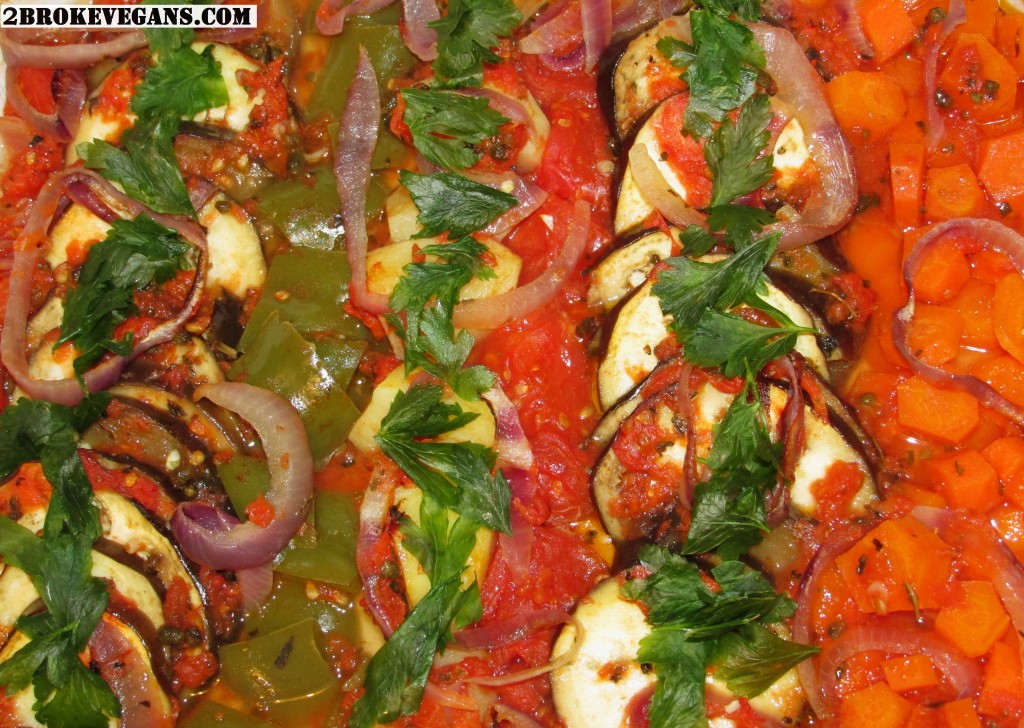 I suppose my ancestors couldn't come up with any other word for this recipe than μπριάμ (bree-Ahhm), which doesn't mean anything in particular from what I know! For this recipe you take vegetables and cook them in a pan in the oven, all together, until they are soft and yummy! Hence the name we gave it: vegetables in the oven.
You can use eggplants, potatoes, zucchinis and
whatever vegetables you wish. However, keep in mind that the onions, garlic, peppers and tomatoes are what give flavor to the potatoes, zucchinis and eggplants.
Ingredients (the quantities depend on how big your pan is!):
1 big eggplant with the skin
3 medium potatoes
3 carrots peeled
1 green pepper
1 big tomato
the juice of 5 tomatoes
1 clove of garlic
1 red onion, in slices
1 tablespoon of agave syrup or 1/2 teaspoon of raw cane sugar
cumin
basil
sea salt
pepper
olive oil
Clean the vegetables and chop them! Place them in a pan coated with olive oil, and make sure the eggplants make contact with the bottom of the pan, because they need the most heat to be cooked.
If you choose not to add a lot of liquid, you should chop the vegetables in bigger chunks because they will shrink when cooked. Potatoes are especially tricky as the rest of the vegetables might be too soft but they will still be tough if you chop them too big!
In a mixer or blender, mix 5 tomatoes with the agave syrup, 1/2 teaspoon of cumin and 2 tablespoons of dried basil, 2 tablespoons of oregano, a clove of garlic,  sea salt (to taste), and black pepper. Spread over the food. 🙂
Depending on your pan and the amount of vegetables you used, the juice may cover almost all the vegetables or be lower than the top of the pile. Add very little water, so the flavor remains strong.
Cover with aluminum foil and cook at 180° Celsius (356° F) for 90 minutes. They need all that time to soak the fluids up, get soft and cook! Right before they are done, if you wish, remove the aluminum foil to let the top vegetables get just a bit of a tan! Not to burn them to the ground, but to give them some color 🙂