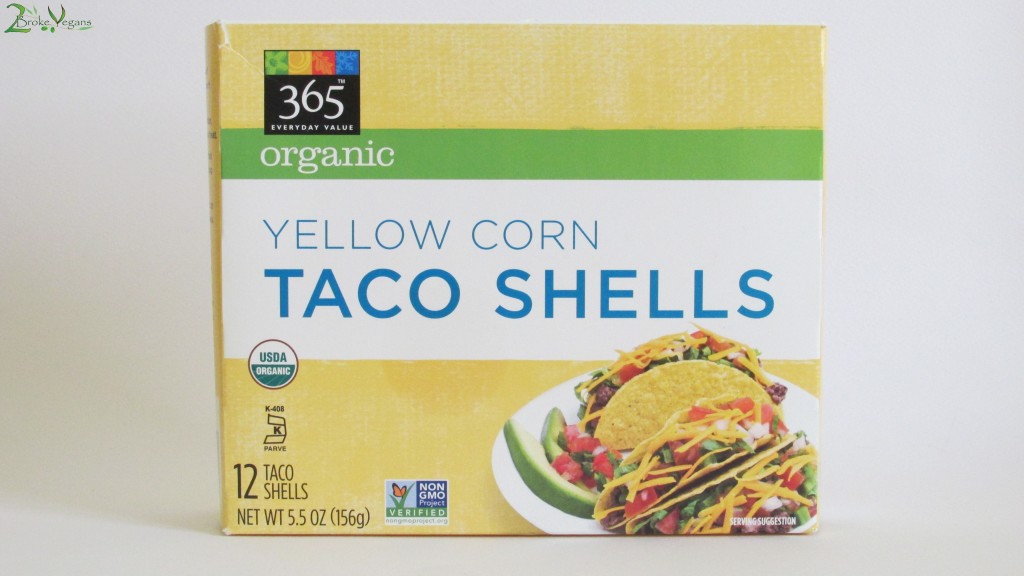 It is very difficult for us to find organic gluten free taco shells here in Greece, in fact, so far it has been impossible. The only taco shells we have been able to find here have been non-organic and may contain traces of gluten. When we have tried these shells, they have made us itch all over and do not agree with our digestive system so well. So, my mom sent me a pack of these 365 organic yellow corn taco shells. There are 12 shells in a pack and surprisingly only 3 of them were damaged on their journey across the Atlantic Ocean! 
As you know, we recently completed our 30 day raw vegan challenge. We tried to find some information helping us transition back into cooked food while not shocking our digestive system at the same time. Well, we really could not find much information at all but rest assured, there is plenty of information on how to transition into a raw food diet! Perfect. I had done a transition from a raw vegan diet years ago into cooked food, but I do not remember it affecting me as much as it did this time. Then I realized I was not 100% raw back then as I still enjoyed the occasional organic tortilla chip or a Chipotle vegetarian bowl. Well, as expected, it does not take very much food to feel extremely full for either one of us right now!
The first dish I made were gluten free vegan giant soft pretzels with a raw vegan cheese dip (recipe coming soon). They were delicious but Athanasia could only handle 3 bites. I managed to eat one full pretzel but I felt so tired while Athanasia felt very heavy in the head. Nothing could have prepared me for the storm that followed that evening on the porcelain throne though! So, my advice to anybody transitioning out of a raw vegan diet is to be careful and take it extremely slow. Keep a lot of raw vegan foods in your diet and slowly transition. Here we are 3 days out of our raw vegan diet and everything feels back to normal again. Last night I enjoyed 2 tacos and today as well. That's all it takes for me to feel very satisfied and some of the ingredients in the tacos are raw.
So, what do I think about these 365 Everyday Value brand taco shells? If my memory serves me correctly they can be purchased at Whole Foods. They were very delicious. I pre-heat all of my taco shells in the oven as instructed on the box and these handled it very well. I always have trouble keeping the taco shells upright, but that is certainly not the company's fault! The taco shells were very delicious, no unnecessary sodium added or any odd ingredients really.  The ingredients are: Organic stone ground yellow corn masa flower, organic expeller pressed high-oleic sunflower and/or safflower oil, trace of lime. That's it. I like that, especially the trace of lime when it comes to anything to do with corn. Lemon or lime with corn should be like peanut butter and jelly!
The shells remained crunchy and delicious even after some of the ingredients in them made themselves at home. One shell we had heated in the oven did not get used last night so we placed it in the fridge until today. Somehow that shell remained crispy too! We both really enjoyed these taco shells so thanks to my mom for mailing them to us! I highly recommend you give them a whirl if you live anywhere that has a Whole Foods.

Copyright protected by Digiprove © 2014