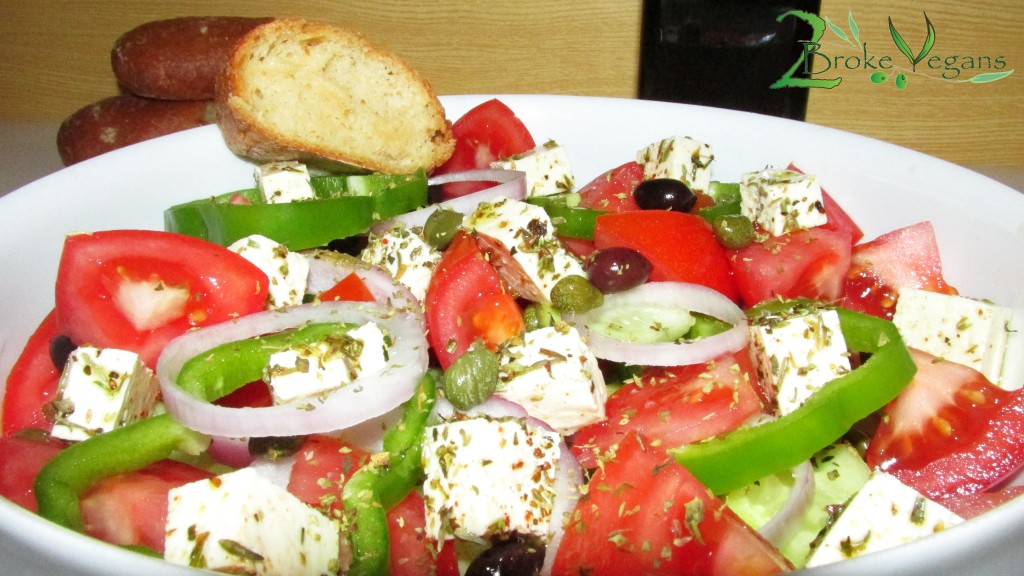 All last summer with Jake we were eating Greek salad, (we call it horiatiki salad here!). Now that it is summer again, well, at least the calendar says so but it hasn't stopped raining the past two weeks (yay!), we are eating Greek salad every day. Thanks to our friends over at Viva Las Vegans, we now have a great vegan Feta cheese recipe! Which I know doesn't mean a whole lot to Jake, but to a Greek, it is the most important thing to have a Greek salad with vegan Feta cheese!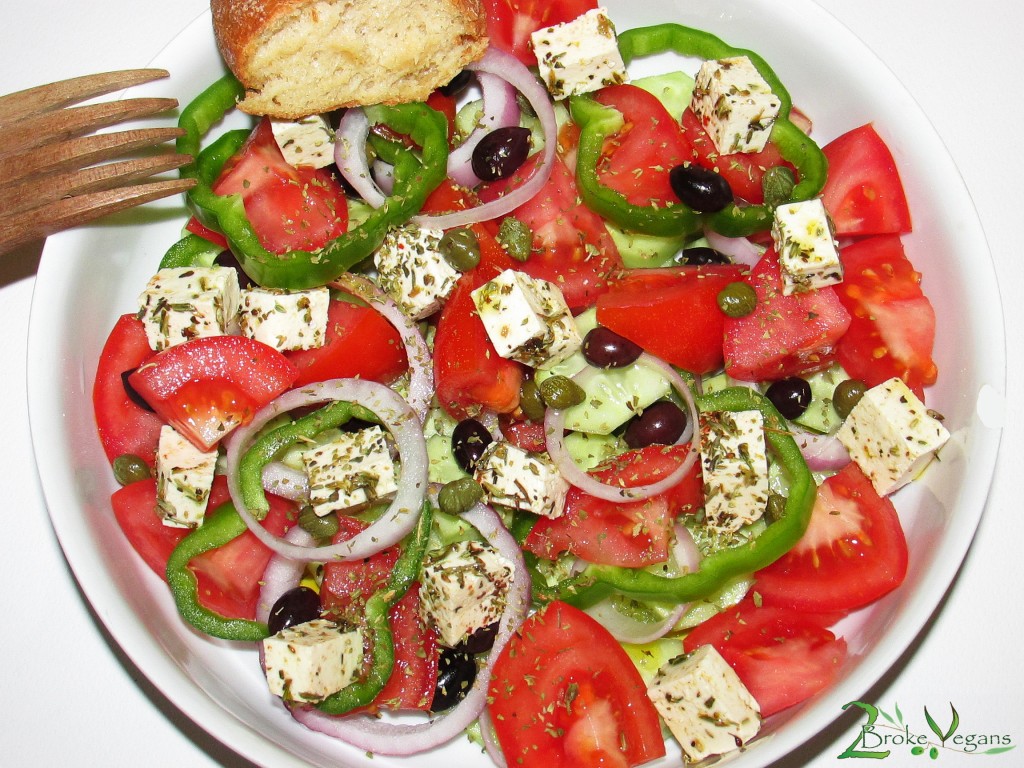 If you think I am overreacting, you haven't been in Greece. As Brian Church says in his book  "How to learn Greek in 25 years", "According to one study, around 98% of Greek words are food related." This is understood after you taste the flavor of the food 🙂
The Vegan Feta cheese is a very inspired recipe our friend had. You take a block of tofu (200 grams/ 7 ounces), cut it in cubes of 1 cm thickness and marinade it in this mixture of spices, herbs and (what else) olive oil 🙂
Ingredients for the Vegan Feta cheese:
200 grams of firm Tofu with natural flavor
1 tablespoon of lemon juice
3/4 of a teaspoon sea salt
1 garlic clove chopped
1 teaspoon sweet red pepper flakes
1/2 teaspoon dried oregano
Basil to taste
Thyme to taste
Marjoram to taste
olive oil (enough to cover the tofu cubes)
Add the cubes of tofu in a glass or porcelain bowl. In a separate bowl mix the herbs and spices, throw them in the bowl of tofu, mix it good, add the lemon juice. Add enough olive oil to cover the tofu cubes.
Cover with a membrane and put it the fridge for several hours (preferably all night). Again, the recipe we are using is from Viva Las Vegans (click here to see the recipe).
The next day, prepare your Greek salad:
2 tomatoes, chopped
1 cucumber, sliced
1/2 of a green pepper, diced
1/2 of a red onion, sliced
Lots and lots of black olives
capers
Mix them well together. On top, add the vegan Feta cheese cubes, some more oregano and right before you serve drizzle some of the left over marinade olive oil from the vegan Feta cheese.
Don't forget to have some freshly baked bread to dip in the oilve oil marinade!

Copyright protected by Digiprove © 2014