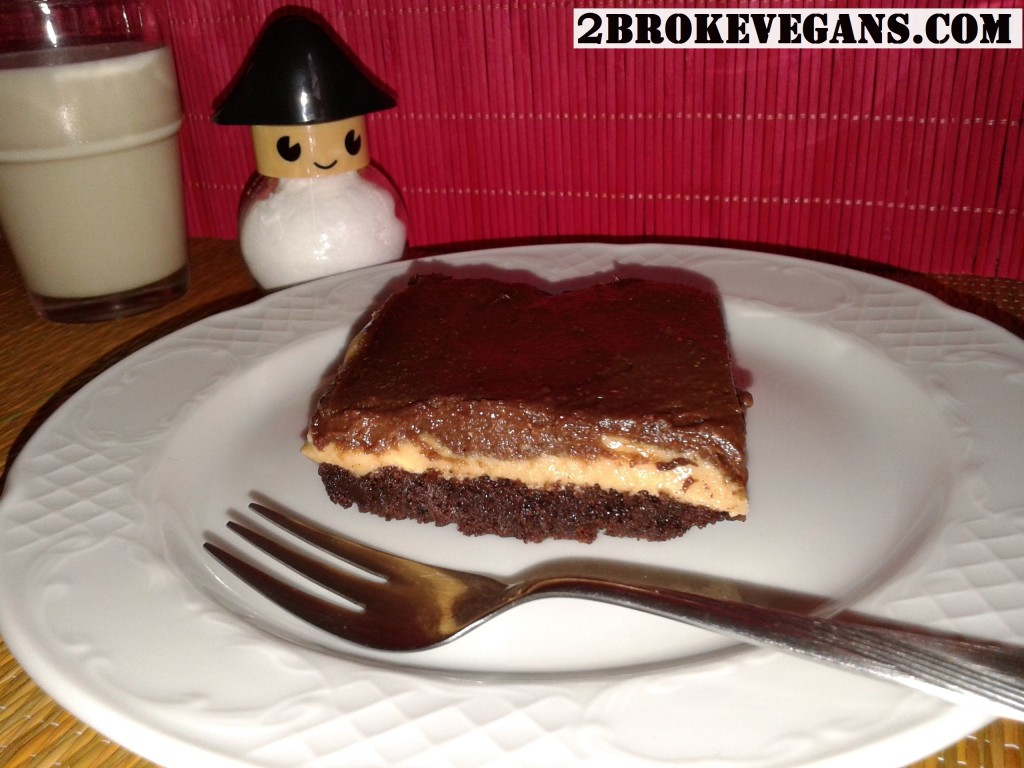 Combining chocolate and peanut butter creates one of my all-time favorite flavors! We made this gourmet dessert and fell in love with it. It should be noted it is best enjoyed after it has been refrigerated overnight.
First you need to prepare the peanut butter recipe:
Perfect Peanut Butter (click here for recipe) we made two batches just to make sure we had enough.
Another recipe used later in the process:
Almond Vegan Milk Chocolate Frosting (click here for recipe) no need to make this recipe until the final step.
Pre-heat the oven to 160° Celsius (320° F)
Now, get a large mixing bowl and add:
3/4 cup gluten-free, self-raising, all-purpose flour
5 Tablespoons of cacao powder
1/2 cup of raw cane sugar
1/4 teaspoon of sea salt
Whisk these ingredients until they are distributed evenly
You might want to put some kitchen gloves on for the next steps!
Now add:
4 Tablespoons of vegan butter
Work the butter in until you have a clumpy but consistent mixture
Then add slowly and mix:
up to 1/4 cup vegan milk (almond milk, soy milk, rice milk, etc)
Pour slowly, you may not use all of the milk, we used about 3/4 of the vegan milk until the mixture was just right. You don't want it too runny but it must stay together!
Once mixture is just right, spread in a pan like a crust. You may use a circular or rectangular pan. We used a 27 cm by 18 cm glass pan (about 10 inches by 7 inches)
Now bake it in the oven for 8 to 10 minutes. It took ours about 10 minutes for the outer edges to puff just the right amount. The inner portion stays soft to the touch. Remove from the oven and allow it to cool before proceeding.
Is it cool yet? Probably not, but it looks so good doesn't it? Once it is cool, do your best to spread the Perfect Peanut Butter using very little pressure. Spread it all the way to the edges. At this stage you could cover it and put it in the refrigerator for a few hours (or overnight) to allow the Perfect Peanut Butter to solidify enough to spread the Almond Vegan Milk Chocolate Frosting on top. You can try to do it right away if you would like but the Almond Vegan Milk Chocolate Frosting is thick and could easily disturb the peanut butter.
Now cover the pan and refrigerate for a few hours (or overnight if you did not refrigerate at the peanut butter stage). It is worth the wait!
Ready? Now enjoy a piece of these amazing chocolate peanut butter brownies! They're very good!

Copyright protected by Digiprove © 2014