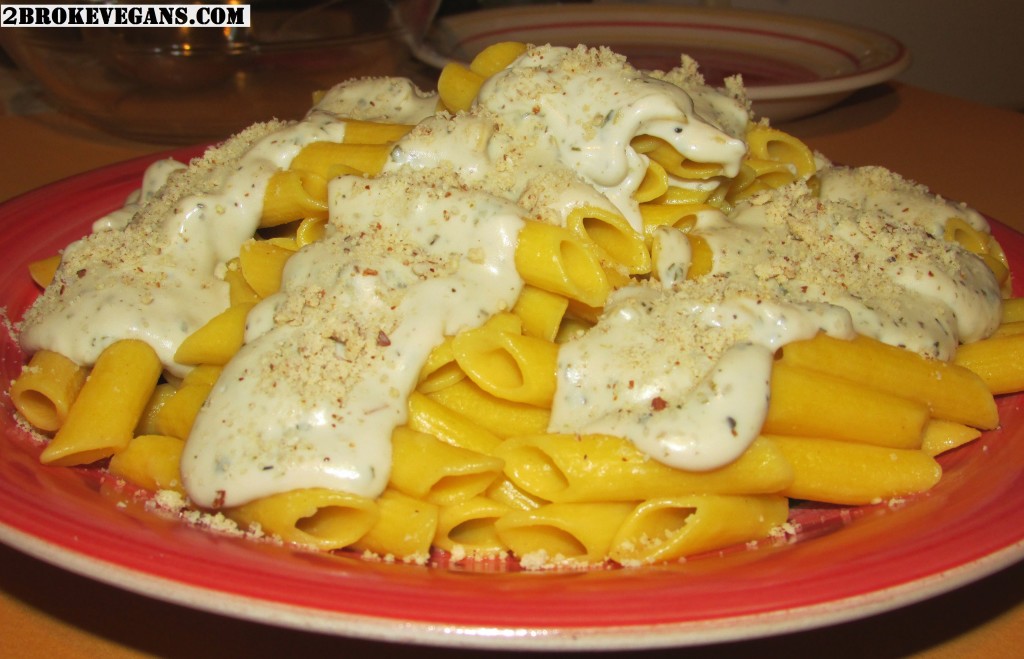 Pasta, pasta, pasta! We love pasta! This creamy garlic penne pasta is vegan and gluten free. The recipe is simple, easy and very tasty! Here is how it's done:
Ingredients:
2 Tablespoons of vegan butter
2 garlic cloves, minced
1/2 cup of vegan milk (almond milk, soy milk, rice milk, etc.)
200 ml (1 cup) of almond cream (click here for recipe)
1 teaspoon of dried parsley
1 teaspoon of dried oregano
1 teaspoon of sea salt
dash of ground black pepper
3 teaspoons of corn starch
gluten free vegan penne noodles made to your liking
In a medium sauce pan add the vegan butter and minced garlic. Place the pan over medium heat on the stove. Stir occasionally until the vegan butter melts, then add the vegan milk and almond cream. Whisk and then add the parsley, oregano, sea salt and pepper. Once the sauce begins to simmer add the corn starch and whisk constantly until sauce thickens and becomes smooth (with no chunks of unmixed corn starch left). This process can take 5 to 7 minutes. Once sauce is smooth turn the heat down to medium low and whisk occasionally until you make your noodles.
Follow the instructions to make the noodles you choose to use. This sauce recipe makes enough sauce to serve 3 to 4 depending on how much sauce you use per bowl. It is a very delicious pasta recipe!