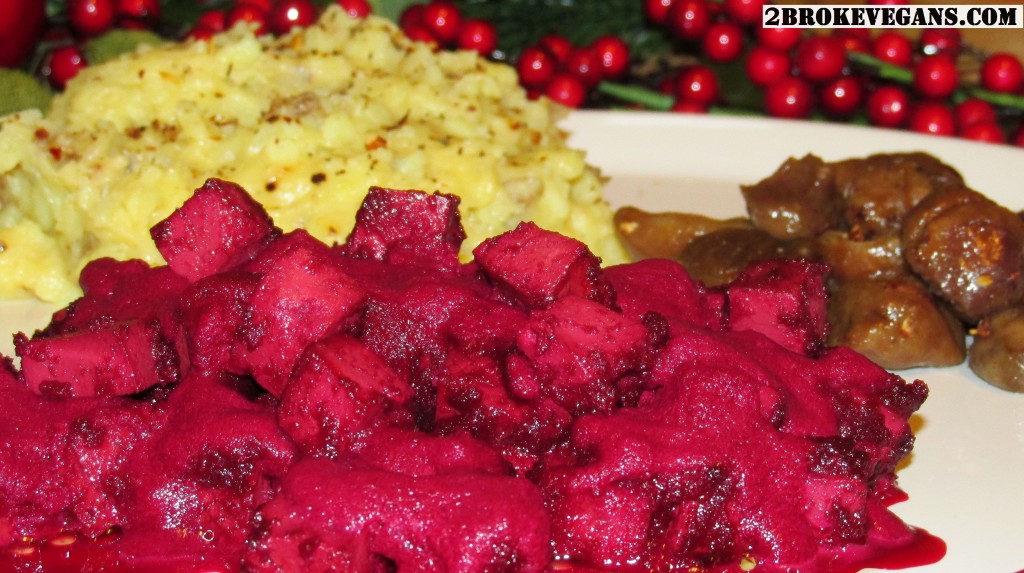 Wait. What? Vegan glazed ham? That's what I attempted to accomplish. I wanted it to have a traditional holiday glazed ham flavor. The way I remember, it consists of salty sweet undertones with a hint of cloves. However, what else would it need? That's what I was determined to find out! 
You are going to have to marinade chopped tofu for a few hours before getting started. I used a high powered blender to make the marinade, but you can either juice the beets to get just the juice or boil and mash them as well.
Ingredients:
5 to 6 medium to small beets, peeled, juiced or blended
3 Tablespoons of olive oil
1 garlic clove
1/2 teaspoon of ground cloves powder
1/8 teaspoon of ground cinnamon
1/8 teaspoon of allspice
1 teaspoon of sea salt
1/4 teaspoon of apple cider vinegar
1 Tablespoon of agave syrup
1 teaspoon of vegan gluten free Worcester sauce
1/2 cup of water if you did not juice the beets
200 grams (1 1/2 cup) of tofu. chopped into cubes
First blend all of the ingredients except the tofu. Then pour the marinade into a bowl or bag and add the tofu cubes. Refrigerate for 2 hours or more stirring or shaking every hour.
After the time has passed, coat a large frying pan with a thin layer of olive oil. Then add 2 tablespoons of vegan butter and a teaspoon more of vegan gluten free Worcester sauce. Place the pan over medium heat on the stove. Once the butter has melted, stir and add the tofu cubes. Set aside the remaining marinade to drizzle over the tofu ham later if desired.
Now keep the tofu cubes on the heat for 15 to 20 minutes. Flip the blocks every 2 to 3 minutes using a spatula. Remove from heat, transfer the cubes to the serving plate. Feel free to drizzle some of the remaining marinade over them if desired now or move on to the next step. Pour maple syrup and sprinkle sea salt over the top of them. Serve!