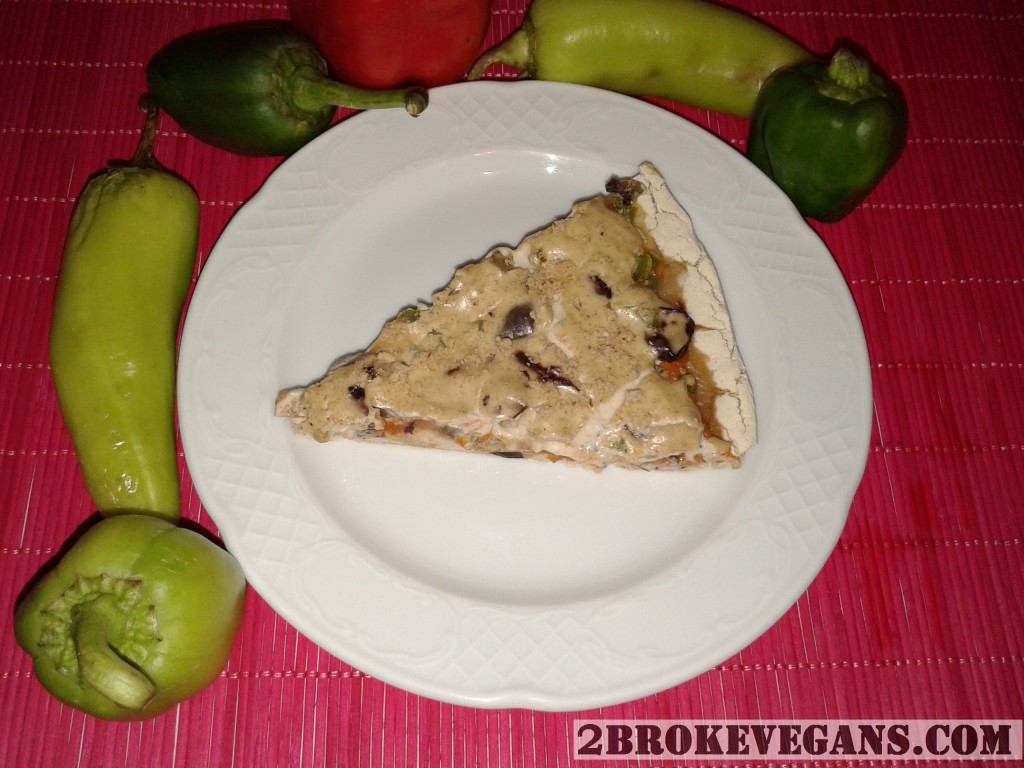 To make this gluten-free vegan mozzarella cream pizza you will need to prepare these recipes first:
Basic Gluten-Free Vegan Dough (for a recipe click here)
Vegan Mozzarella Cheese Cream (for a recipe click here)
Pizza Sauce (for a recipe click here)
Vegan Parmesan Cheese (for a recipe click here)
Pre-heat oven to 150° Celsius (302° F)
On a sheet of parchment paper, take about half of the dough you prepared and begin flattening it using your hands or a rolling pin. Then begin rolling over the edges to form your crust, try your best to make a circle if you do not have a pan to guide you (we don't have a pan, we just eyeball it). Poke holes from the middle all the way to the edges using a fork if you would like. Once the crust has been formed, put it in the oven (parchment paper included) directly on the rack to pre-bake it for 4 to 5 minutes. Do not leave it in too long though!
Now, spread some of your pizza sauce until it is evenly distributed.  You may use as much or as little sauce as you desire, either way, you should have sauce left over if you are only making one pizza. Jar the remaining sauce and refrigerate it (you can use it later!)
Then, prepare your desired toppings (if you haven't already). Typical toppings used are:
diced red onions
sliced black olives
chopped mushrooms
diced green peppers
diced or sliced red peppers
sliced zucchini
and anything else you could want on a pizza!
Now place the pizza, on the parchment paper, back on the oven rack and cook until you smell the toppings. Do not let them burn! This process should take 8 to 10 minutes. If the crust begins burning or browning, take the pizza out and proceed to the next step.
Finally, take the pizza out of the oven to pour the vegan Mozzarella cheese cream over the toppings and spread evenly to the edges. Put the pizza back (parchment paper too if you like keeping your oven clean) in the oven for about 3 to 5 more minutes (until the Mozzarella cheese cream hardens a bit, it will still be creamy underneath!) Take out of the oven and sprinkle vegan Parmesan on top. Cut into slices and serve! It's a delicious pizza!