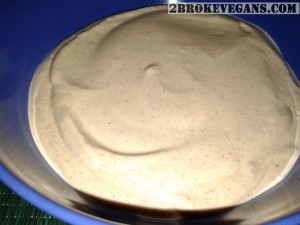 This is a very simple and easy vegan cheese recipe. Here is how you make it:
In a powerful blender (we used a Vitamix) mix these ingredients until smooth:
2 Tablespoons flax seeds
1/2 cup vegan milk (almond milk, rice milk, soy milk, etc.)
1 Tablespoon almond cream*
1 teaspoon of vegan butter
1 1/2 teaspoons of sea salt
2 teaspoons of nutritional yeast
1/2 block (100 grams) of tofu
3/4 cup cashews
*For a great almond cream recipe click here
That's all there is to this one. It works great for baking on top of pizza or in lasagna! It can also be used as a dip or spread with just about anything!

Copyright protected by Digiprove © 2014