It has been a long time since I have had a soft pretzel with cheese. After our 30 day raw vegan challenge was over this was the first thing I wanted to attempt to make. Working without gluten can be difficult when trying to form shapes with dough but I think these gluten free vegan soft pretzels with cheese turned out great for my first attempt! Here is how I did it: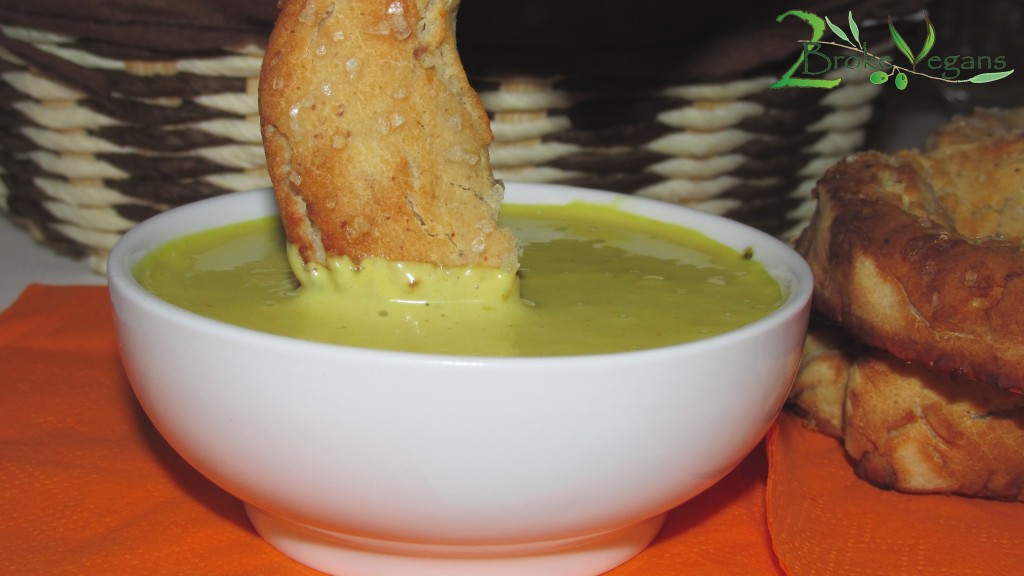 Ingredients for the gluten free vegan soft pretzels:
1 1/4 cup warm water
1 Tablespoon of yeast
1/2 Tablespoon of organic raw cane sugar
4 1/4 cups of gluten free self raising all purpose flour
1 teaspoon of sea salt
1/4 cup of olive oil
2 Tablespoons of ground flax seed powder combined with 6 Tablespoons of water
Agave syrup
Instructions (pre-heat the oven to 180° Celsius (356° F):
Combine the water, yeast and raw cane sugar in a bowl and let it sit for 5 minutes
Add everything else except the agave syrup and mix using a powered mixer
Brush the top of the dough with some olive oil
Cover the bowl with a towel or lid and allow dough to rise for 1 hour
After the time has passed, form a snake with some of the dough and give it a large U shape on some parchment paper or a pan
Take the top of each side of the U and cross them to the bottom of the U in a criss-cross pattern. Then, twist them to the opposite side over each other to form your pretzel shape
Brush with some agave syrup and sprinkle some sea salt on them
Do this 5 to 6 times to form all of your large soft pretzels and bake them in the oven for 8 to 12 minutes or until a toothpick comes out clean. As you can see, our oven baked them a little unevenly but they were delicious anyway.
Ingredients for the vegan cheese for dipping:
1 cup of water
6 Tablespoons of nutritional yeast
1 1/4 teaspoon of sea salt
1 1/4 cup of raw cashews
2 Tablespoons of red onions, diced
1 garlic clove
1 teaspoon of lemon juice
1/2 teaspoon of mustard powder
1/2 teaspoon of tumeric
Instructions for the vegan cheese dip:
Add all the ingredients in a high powered blender
Blend until smooth and creamy
That's all there is to making the vegan cheese dip.
These soft pretzels are really amazing and very filling! We obviously did not eat all of ours so we have the left over pretzels in the freezer. Then all you have to do is heat one up in the oven for 4 to 5 minutes for a quick and easy snack!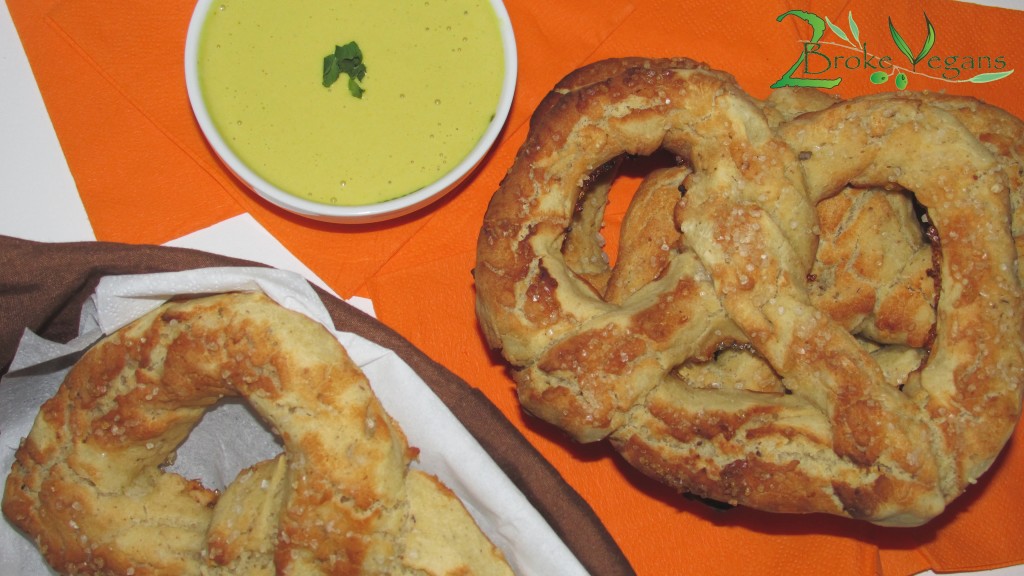 Copyright protected by Digiprove © 2014