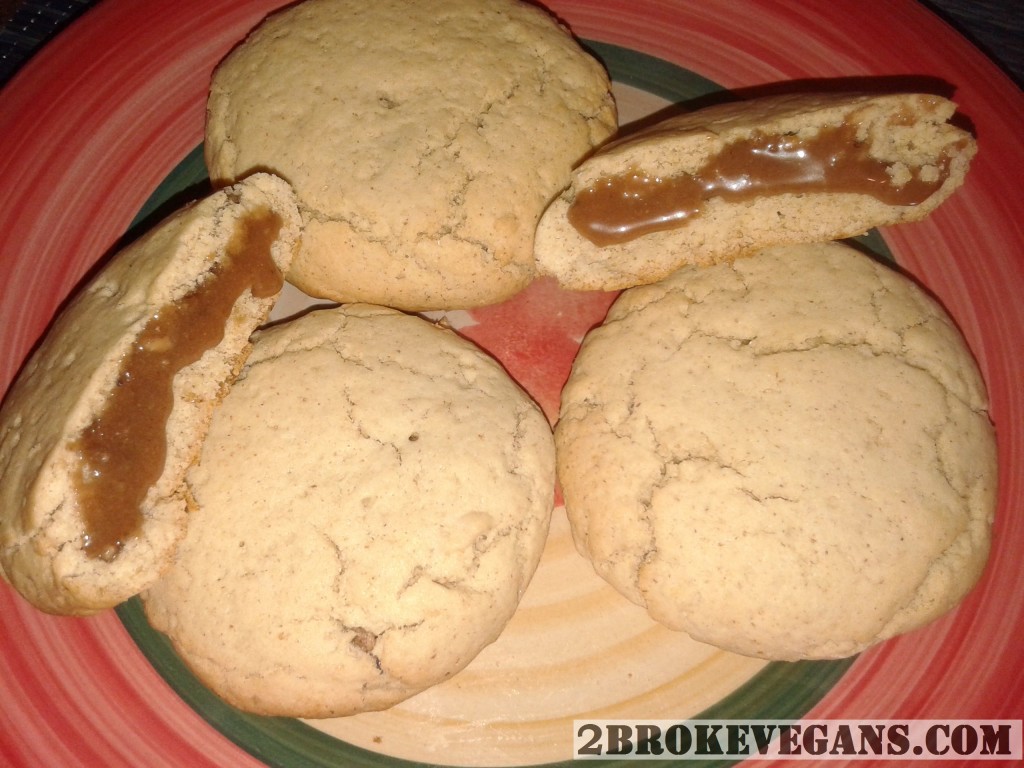 They are so soft, puffy, creamy and amazing! The kind of cookie that almost melts in your mouth! Almost 😉 Imagine a sugar cookie… the perfect sugar cookie… but filled with cream! That's exactly what our hazelnut cream filled cookies are!
Prepare your cream, we used a Cacao Hazelnut Cream
Pre-heat the oven to 190° Celsius (375° F)
In one large mixing bowl add and whisk:
3 cups of gluten-free, all purpose, self-raising flour
1 teaspoon of baking powder
1/2 teaspoon of sea salt
Set this aside and proceed.
In another large mixing bowl add:
3/4 cup (150 ml) of vegan butter
1/2 cup sugar
3/4 cup brown sugar
Mix and mash this into a smooth mixture, then add:
2 Tablespoons of ground flax seeds mixed or whisked with 1/2 cup of water
1/2 teaspoon of vanilla powder
Mix this as smooth as you can. Then take the first bowl you set aside that contains the dry ingredients and add them into the wet ingredients bowl. Stir completely until it resembles a cookie dough.
Now take a slightly larger than average ball of cookie dough and flatten it with your hand on a sheet of parchment paper.  You should be able to do this 18 times with this recipe and still have some dough mixture left over. You will need this left over dough so keep it. Once you have flattened cookie dough balls 18 times you can take the Cacao Hazelnut Cream and put about 1 teaspoon (or more if you can) of it on top of each flat "cookie". From here you will fold up all sides of the flat cookie to almost cover the cream. Be careful not to rip the dough though so do not worry if it does not completely cover it. This is why you kept the left over dough, to fill in the top of each cookie. Then mold and shape the final cream filled cookie into a round shape, using very gentle pressure. Too much pressure will cause the dough to rip and leave you with cream oozing out of the cookie.
It is not as complicated as it sounds! Once you have all 18 cookies made, you may sprinkle some brown sugar on top of them or bake them as they are. We did not sprinkle anything on top of ours due to there being a lot of sugar (to us) in the recipe already.
Remember, cookies continue to bake even after you take them out of the oven! 8 to 9 minutes is all it should take at 190° C. If they are turning brown on top, they have been in too long! We hope you like them!
A special note: the flavor really comes to life after sitting in the refrigerator overnight!