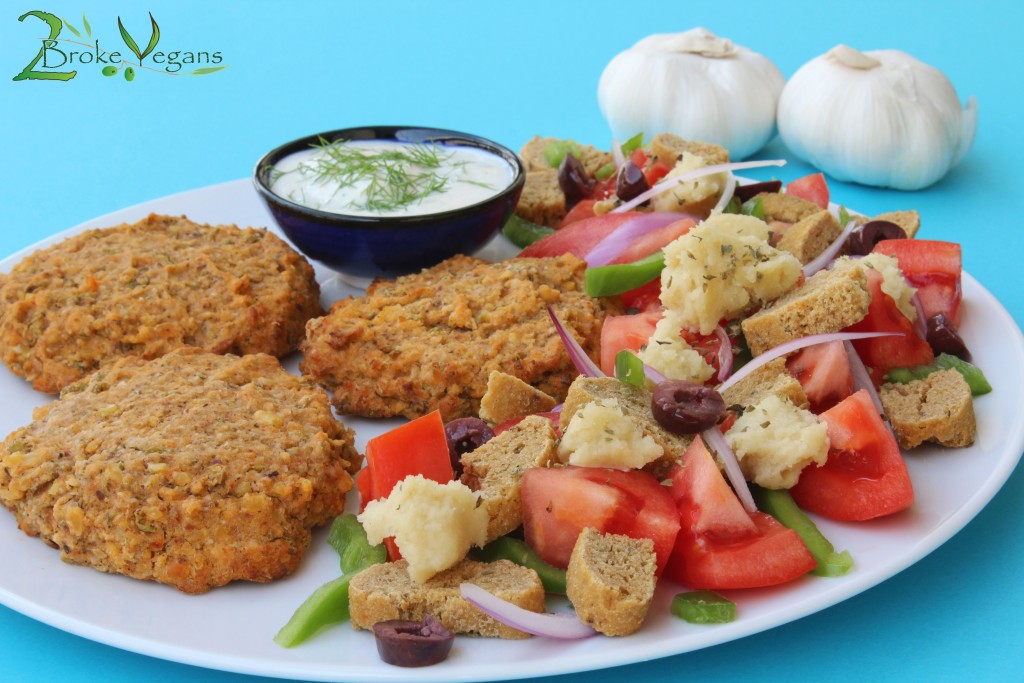 I had never eaten mung beans before we made these mung bean patties. In fact, when Athanasia told me they were mung beans I immediately remembered this clip from the Office. I was pleasantly surprised though, these are some of the most delicious vegan burger patties I have ever tried. Besides, who can resit? Mung beans are very nutritious! This meal is the last installment in our vegan nutrition series we have been working on with vegan nutritionist Dimitra Makrigianni.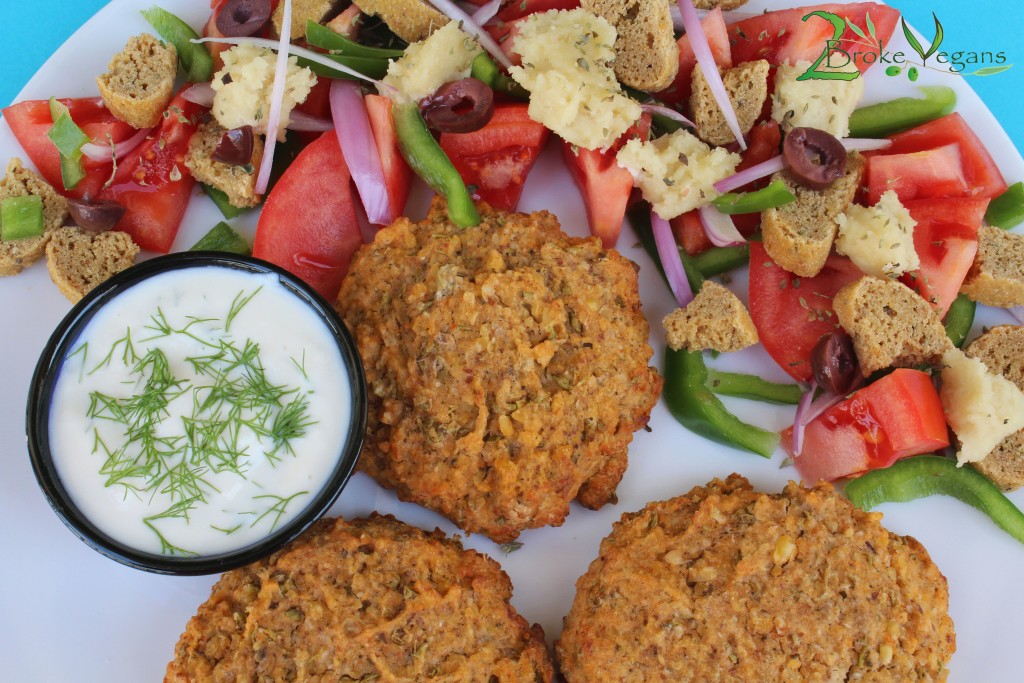 Ingredients (makes 5 mung bean patties):
1/2 cup (100 grams or 3.5 oz) uncooked mung beans (after boiling becomes about 230 grams)
1 Tablespoon of flax seed powder whisked with 3 Tablespoons of water
1/2 cup (45 grams or 1.59 oz) of buckwheat flakes
1 garlic clove
1/2  teaspoon of sea salt
4 Tablespoons of grated tomato
4 Tablespoons of olive oil
1 Tablespoon of lemon juice
1/4 teaspoon of ground ginger
1/2 teaspoon of dried basil
Instructions:
Boil the mung beans for 15-20 minutes. Strain them after boiling.
Preheat the oven to 150 °C (302° F).
Pulse the buckwheat flakes in the food processor until powdered. Remove from processor.
In the food processor add the mung beans, flaxseed/water mix and the rest of the ingredients besides the buckwheat flakes. Pulse for a little bit, until mixed but not mashed.
Mix in the buckwheat flakes powder with your hands.
Shape the burger patties and place them on parchment paper, then bake in the oven for 20-25 minutes (on convection mode).
Serve with soy yogurt dip (sea salt, garlic powder and chopped dill mixed in the yogurt), and one of our favorite salads: Greek Horiatiki.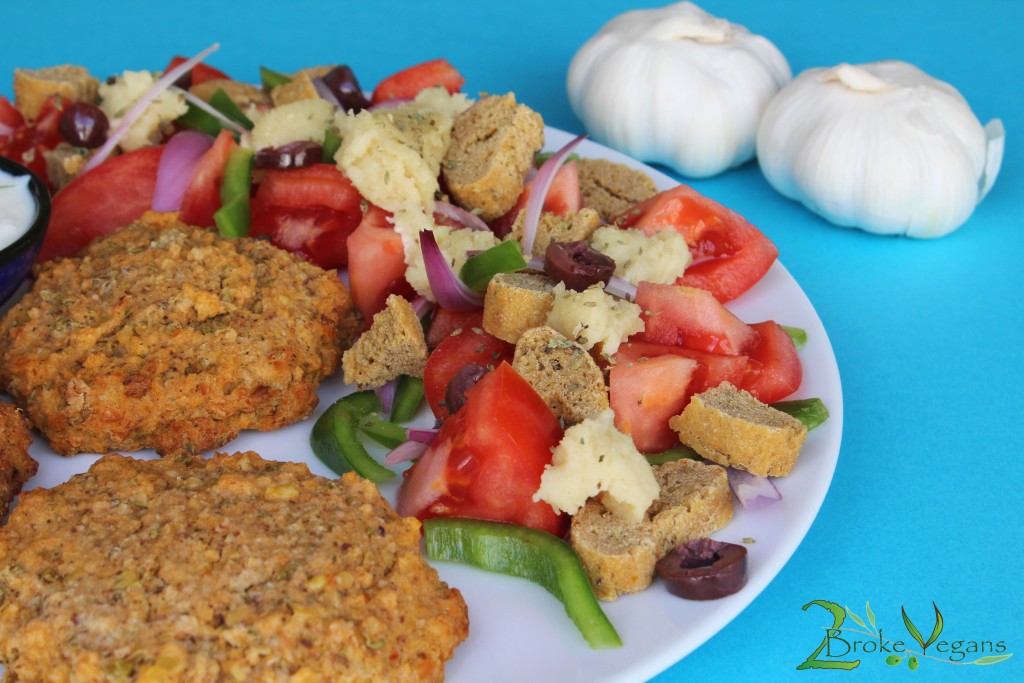 Ingredients for the Greek Horiatiki salad:
1-2 tomatoes, chopped
1/2 red onion, sliced
1/2 green pepper, sliced
Black olives, sliced
Almond vegan feta cheese (click here for the recipe)
Gluten free rusks (ντάκος, like this one)
Dried oregano
Sea salt
Olive oil
Instructions for salad:
Mix the vegetables with as much almond feta and rusks you like.
Drizzle olive oil.
Sprinkle some sea salt and garnish with dried oregano.
Serve nice and cool!
Enjoy 🙂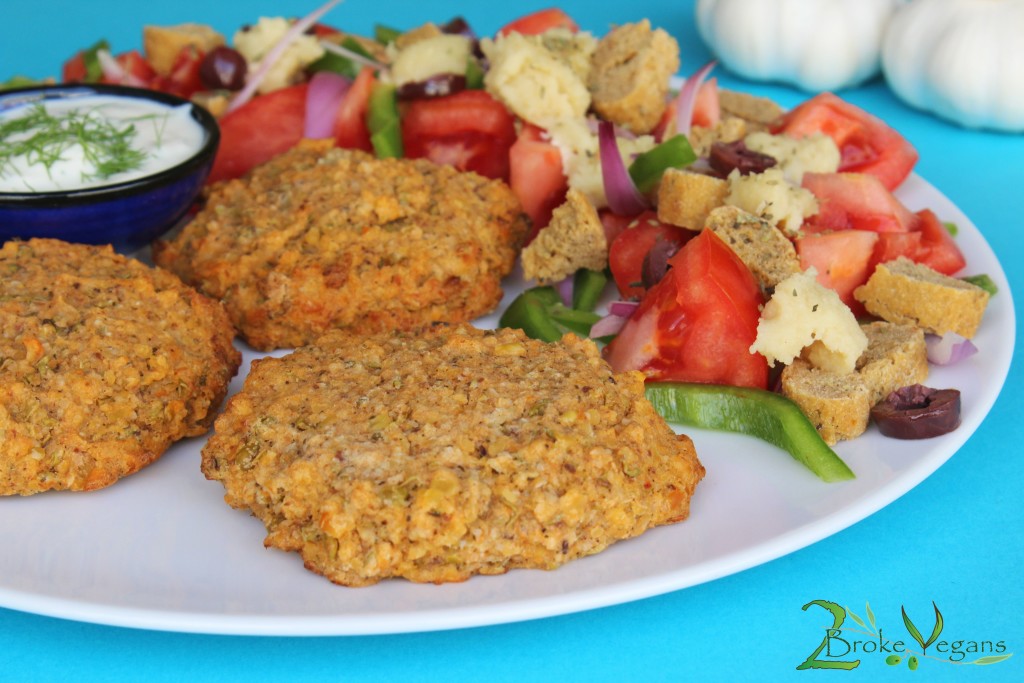 Copyright protected by Digiprove © 2015