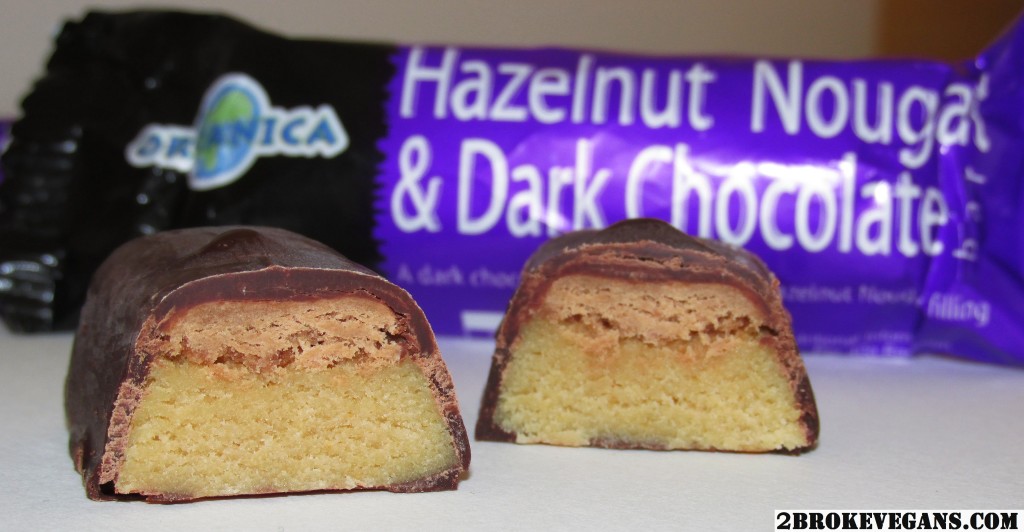 Jake: One day Athanasia was looking around the internet for vegan gluten free snacks and treats to have something she could bring with her for school. That is when she found these Organica Hazelnut Nougat & Dark Chocolate candy bars (click here to order in Europe). She read some reviews from other people who had tried them and said everybody loved them! So I ordered some for us to try and sure enough, we loved them too! Of course, it is always nice to have a quick snack that we do not have to make or prepare…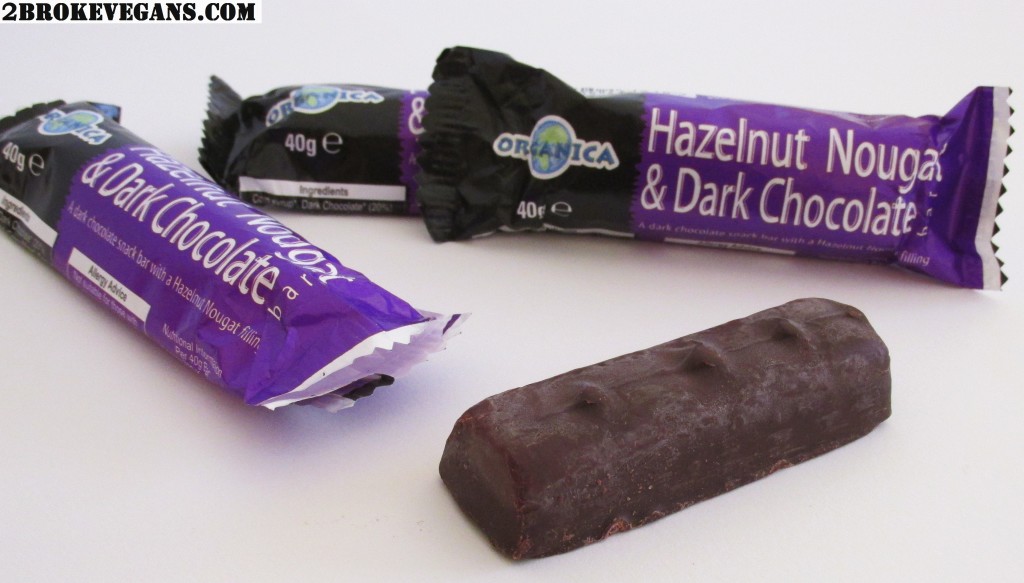 They are very delicious! As usual, the hazelnut flavor of the nougat compliments the flavor of the chocolate perfectly. We love using hazelnuts in all of our chocolate flavored recipes so it should really be no surprise that it works in these candy bars as well. The chocolate on the outside is almost perfect and soft enough to bite into. The nougat is as you would expect the nougat to be, slightly chewy but not tough.
Athanasia: Hey! So yeah, I have a sweet tooth. I need something sweet after every meal. The school thing is just an excuse, these babies never made it to school! I am pretty sure if you are reading this you are also on a quest for vegan, gluten free candy bars that don't just taste halfway decent. These Organica hazelnut nougat and dark chocolate candy bars are amazing to me! They are chewy and all the flavors combine perfectly together. Unfortunately, I ate my share all too quickly. Learn from my mistakes!
Our closing thoughts: Ok, so they are delicious, but what's the catch? Well, like most chocolate products they are produced in a facility that also handles dairy products. These candy bars are advertised as vegan and gluten free, however, they are made in a building that has dairy products in it. So it is obviously not a vegan company nor do they support the foundation of a cruelty free lifestyle. We have not found any chocolate products available to us in Europe that are not manufactured in a facility that does not handle dairy products yet! This "may contain traces of milk" warning seems to be on every single chocolate product sold in Europe (that we have found anyway).
We have not found a place in North America that sells these as of yet. If any of our readers know where they can be found in North America let us know or post a link below in our comments.
Has anyone else tried these candy bars? If so, leave a comment sharing your thoughts on them!