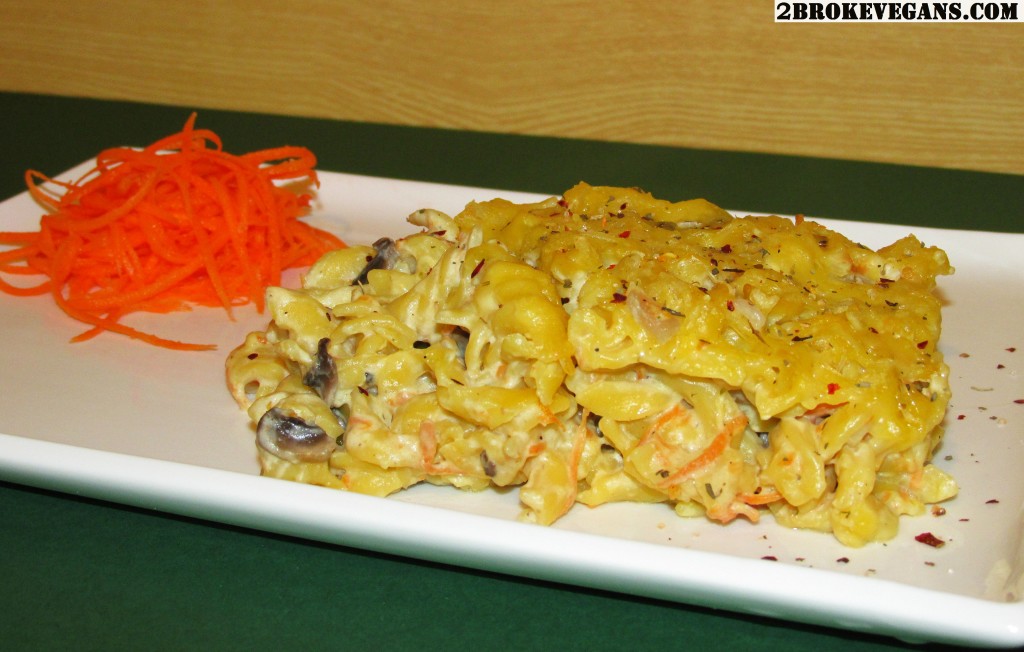 Ideal comfort food for cold days, this perfect baked carrot pasta will fill you up and keep you warm 🙂 With melted vegan cheese and soy cream, we eat it until we feel like a stuffed teddy bear! We made enough for 5-6 people, in a 30 x 25 x 8 cm oven pan, so adjust accordingly to your needs.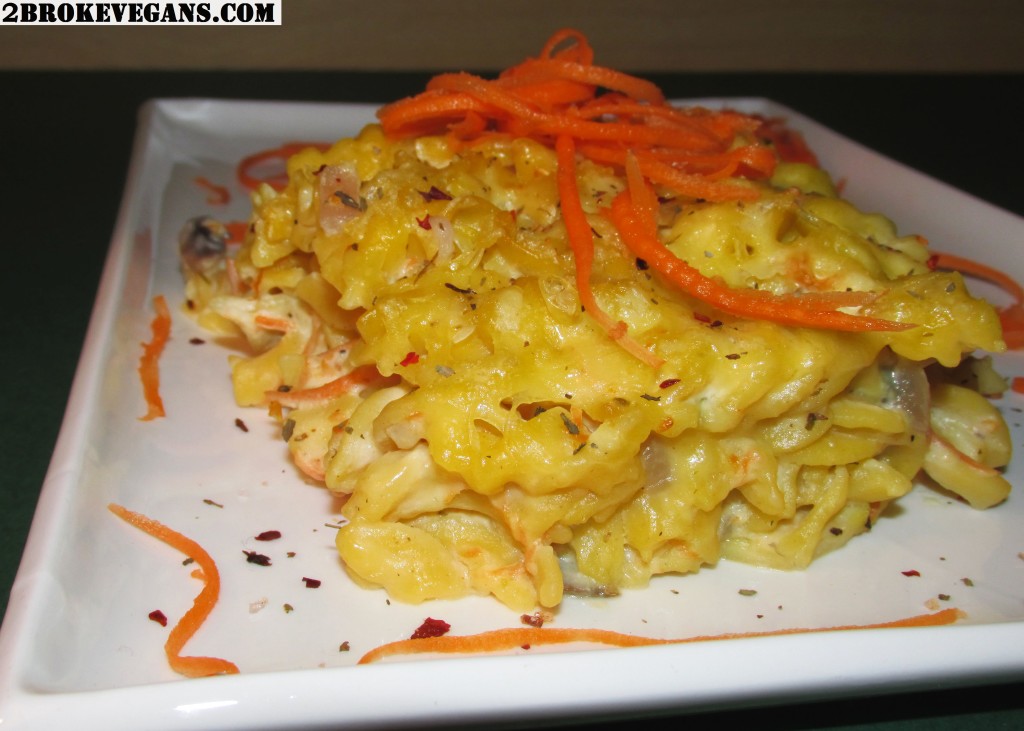 Ingredients
Half of a red onion, chopped
1-2 garlic cloves, chopped
500 grams (about 4 cups) of white mushrooms, sliced
2 zucchinis, peeled and sliced
2 carrots, grated
500 ml (2 1/2 cups) of soy cream
1 1/2 cup of soy milk
2 cups of grated vegan cheese that melts
2 tablespoons of lemon juice
Olive oil
750 grams ( 17.6 oz or 1 1/2 cups) of gluten free vegan fusilli or penne noodles
Herbs:
1 teaspoon oregano
1/2 teaspoon basil
1/2 teaspoon thyme
2 teaspoons of sea salt
1/4 teaspoon cumin
Ground black pepper
Coat the bottom of a large frying pan with some olive oil and place the frying pan over medium heat. Toss in the onions and garlic; sizzle for 1-2 minutes. Then add the mushrooms and cumin, stir them well and sizzle for 2-3 minutes until they soften up. Then add the zucchinis, carrots, salt, oregano, basil and thyme; stir and allow some time to soften up as well. Then, add the lemon juice; let it cook a bit and done. Empty the vegetables in the oven pan you will use.
In the very same frying pan you just used, empty your soy cream, soy milk, 1 cup of the vegan cheese, some pepper and 1 teaspoon of the sea salt. Stir, place over medium-low heat and stir frequently, until the vegan cheese melts.
In a large pot with salted water, boil the pasta. When they are done strain the pasta and empty it in the oven pan. Stir well so the pasta is mixed with the vegetables, then empty the cream inside, stir again and finally cover with the rest of the vegan cheese.
In preheated oven bake your pasta for 15-20 minutes, at 200° Celsius until the vegan cheese on top melts and gains some color.
Serve warm with vegan Parmesan(click here for our super easy and fast recipe) and enjoy!