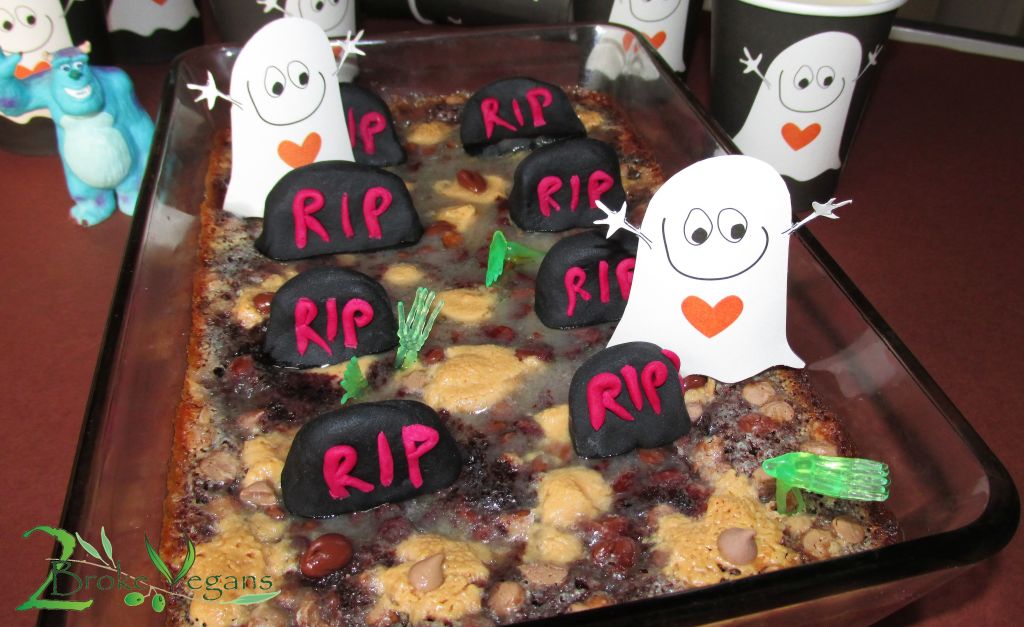 Happy Halloween! What better way to celebrate than having some fun in the kitchen? We made these delicious party in the graveyard brownies. However, if you come to our door trick or treating there probably will not be any brownies left. Sorry, but they are that good!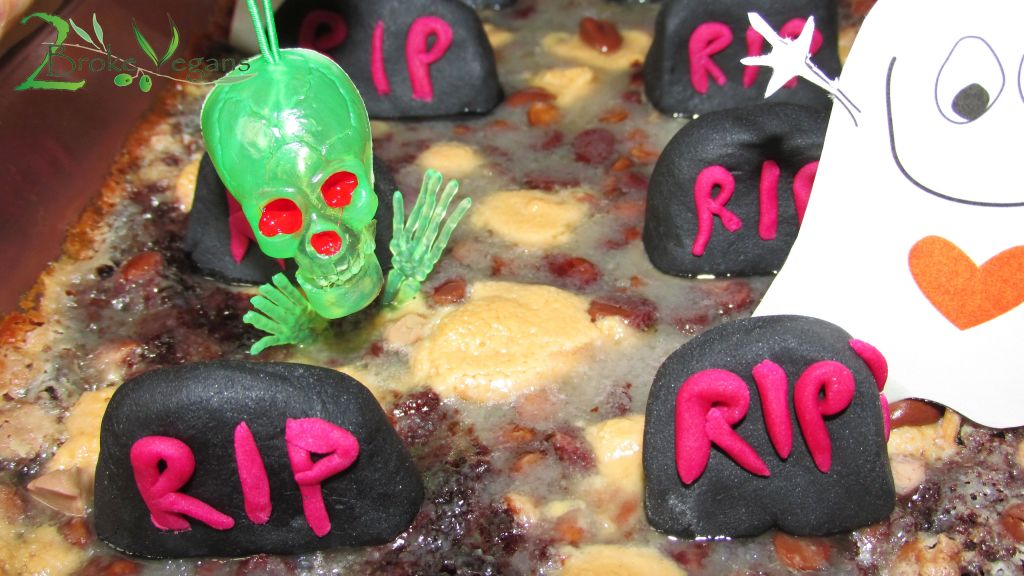 Before we get to the baking, we have an announcement to make about the Amazon gift card giveaway: the winner is Αναστασία! Thank you again to everybody who left comments. Now, let's get baking!
Ingredients for brownie mix:
1 cup of gluten free all purpose flour
1 teaspoon of baking soda
1 teaspoon of baking powder
5 Tablespoons of cacao powder
1/2 cup of organic raw cane sugar
1/4 teaspoon of sea salt
1 Tablespoon of ground flax seed powder whisked with 3 Tablespoons of water
4 Tablespoons of vegan butter
1 Tablespoon of vegan milk (almond milk, rice milk, soy milk, etc.)
Other ingredients used to complete party in the graveyard brownies: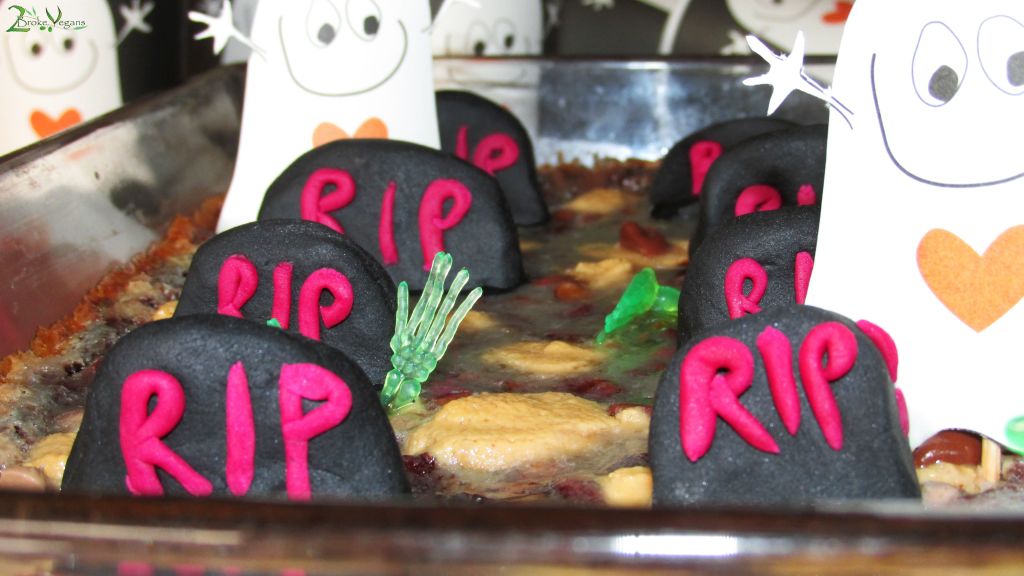 Instructions:
Pre-heat oven to 175° C (347° F).
Whisk the flour, baking soda, baking powder, cacao, sugar, and sea salt together in a large mixing bowl.
Combine the ground flax seeds with the water, whisk thoroughly and set aside. Allow a gel to form (this process takes 5-10 minutes).
Mash the vegan butter into the flour mix using your hands until the mixture is a bit crumbly. Make sure it is mixed in completely!
Pour the flax seed water mixture and vegan milk into the brownie mixture. Work the mixture with your hands until an even consistency emerges.
Press the brownie mixture into your pan and spread it to all 4 corners. Try to keep an even and level surface.
Pour the vegan sweetened condensed milk over the brownies followed by scattering the vegan caramel and chocolate chips on top.
Using a spoon, drop some small peanut butter clumps over it all.
Cover pan with aluminum foil to help minimize any burning in the oven.
Place brownies into oven for 20-25 minutes. Remove the aluminum foil cover after 15-18 minutes.
Remove from oven and allow to cool. Refrigerate overnight before serving (this helps to prevent the brownie from crumbling when serving).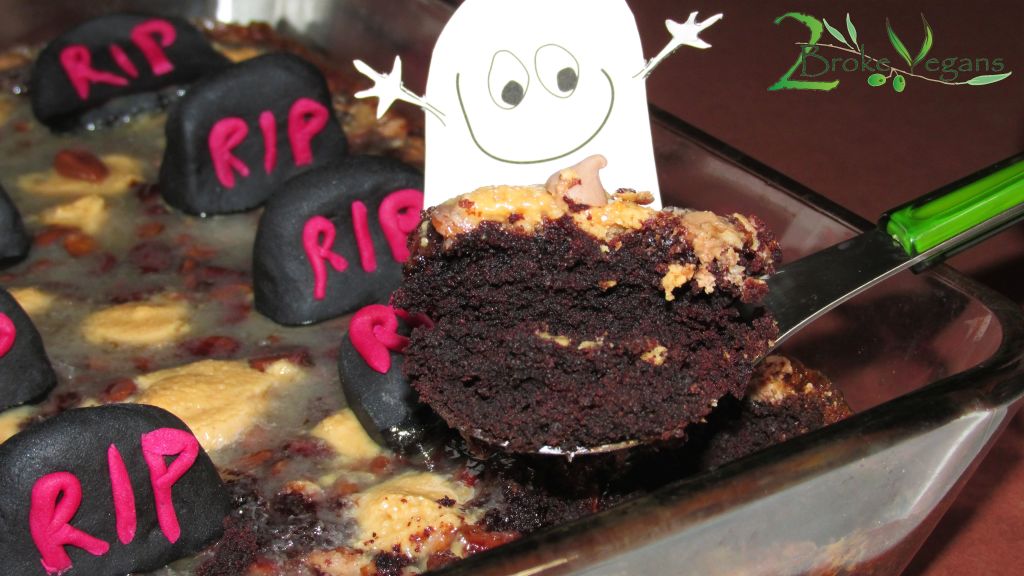 We really loved the flavor of these brownies! Thanks to the amazing toppings they reminded me of a kind of Halloween bars my mom used to make. Of course, my mom does not like Halloween so she called them "Double Delicious Bars". They were definitely double the delicious, no doubt about that!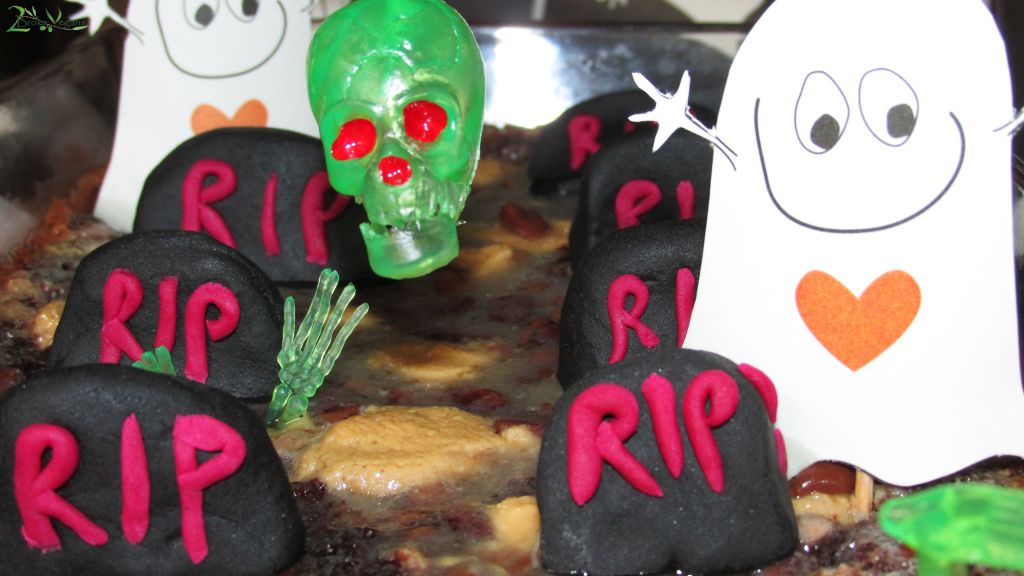 Copyright protected by Digiprove © 2014