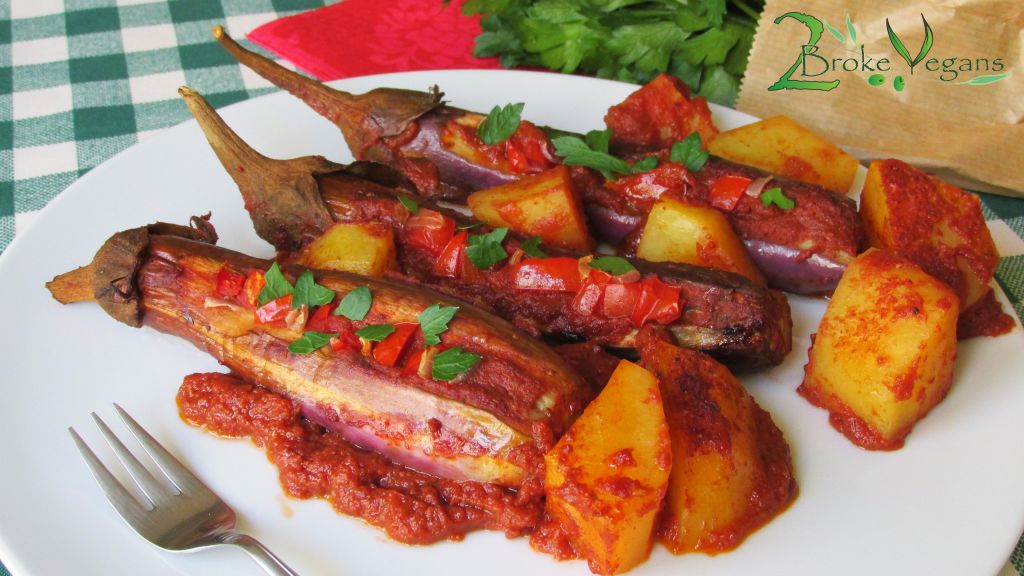 The Greeks and Turks share many things, customs, words, and thankfully recipes. One of the most traditional Turkish dishes we also cook often in Greece is Imam Bayildi (which means "the Imam fainted").  He fainted because he heard how much olive oil his wife used in the Imam Bayildi! We wanted to see how tasty this dish would be without any olive oil, so we tried and the results were very satisfying! Light, yet juicy and tasty, we fainted from pleasure!
Ingredients (serves 2):
5-6 long slender eggplants
1-2 potatoes
Tomato sauce
1/2 cup (100 ml) of water
Sea salt
Ingredients for the tomato sauce:
500 ml of tomato juice or about 5 juicy tomatoes
1/2 teaspoon of oregano
1/2 teaspoon of dried basil
1/2 teaspoon of thyme
1 teaspoon of dried parsley
1/8 teaspoon of cumin
1/8 teaspoon of garlic powder
dash of cinnamon
dash of nutmeg
dash of cloves
dash of all spice
dash of ground black pepper
1/4 cup of chopped red onions
1/2 teaspoon of raw cane sugar
1 teaspoon of sea salt
Instructions:
Wash the eggplants and cut their bottom off.
Leave their hats on for style.
Using a peeler or knife, peel a thin stripe of skin, then leave one strip unpeeled. Keep repeating this pattern until you have 4 strips of skin and 4 peeled strips on each eggplant.
Using a knife, cut along the length of the eggplant, inside the peeled stripes to create a "pocket".
Then, salt the eggplants very well and place them on a strainer for 30-60 minutes or place the eggplants in salted water for an hour. This helps reduce the bitterness of the eggplants.
Afterwards wash them very well and allow them to dry.
In the meantime, preheat the oven to 160° Celsius or 320° F
Blend all the ingredients for the tomato sauce together until smooth. Set aside.
Wash, peel and dice 1-2 potatoes.
When all is said and done, place the potatoes and eggplants in a pan with a lid (or a pan you can cover with aluminum foil).
Add some tomato sauce in the "pockets" of the eggplants. Pour the rest of the tomato sauce on top of the eggplants and potatoes along with 1/2 cup (100 ml) of water.
Cover with lid or aluminum foil and cook in the oven for 1 hour, or until the vegetables are soft.
Serve warm! Goes great with some almond feta 🙂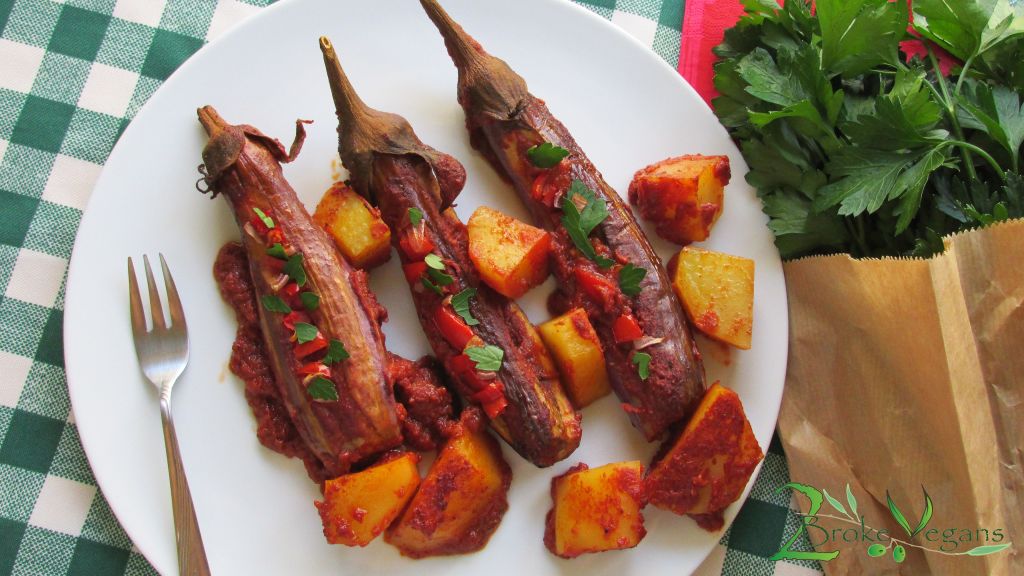 Copyright protected by Digiprove © 2014