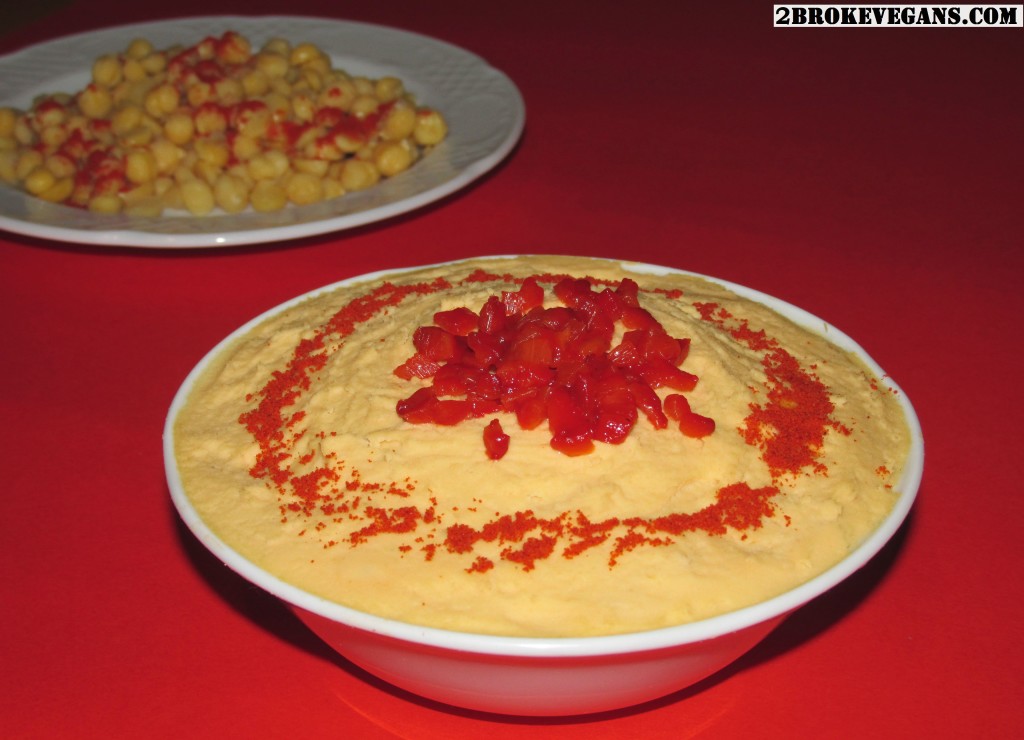 I love roasted red pepper hummus and have not had it since I moved to Greece. I've always known it was easy to make but I was so used to being able to buy it almost anywhere in Minnesota. My sister and her boyfriend sent us a huge vegan cookbook as a Christmas gift (thanks Krysti and Jacob!) and as of right now it is the only cookbook we own. It has almost 300 pages packed with recipes so it may be the only cookbook we will ever need to own! The name of the cookbook is Veganomicon by Isa Chandra Moskowitz & Terry Hope Romero (click here for link) and it is amazing. We have made some modifications to this recipe after we made it a few times. We prefer our hummus to be runnier than the book's recipe turned out.  My sister and her boyfriend has read some of the other cookbooks published by them and love how their recipes turn out.
As I was flipping through the cookbook I found myself frozen on page 67 where I found their hummus recipe. Granted, they did not have a roasted red pepper hummus recipe but they had the basic hummus recipe I could turn into what I wanted. So I started with their blueprint and went from there. They used canned chickpeas but I do not like to use things from a can so we soaked our dried chickpeas overnight before getting started.  Here are the ingredients:
4 cups of boiled chickpeas (or you can use two 15 ounce cans of garbonzo beans/chickpeas drained and rinsed)
1/2 cup (120 ml) of olive oil
1/4 cup (59 ml) of lemon juice
3 Tablespoons of tahini
2 garlic cloves
2 cups (480 ml) of water
pinch of cumin
1 teaspoon of sea salt
dash of ground black pepper
2 red bell peppers, roasted
garnish with ground paprika
If you have canned chickpeas this process will only take you 10 minutes after roasting your red peppers. If you have dried chickpeas, soak them overnight. Drain and rinse, then boil them in a large pot of water. Once the water is boiling add the chickpeas. Bring the temperature on the stove down to where the water simmers. Simmer the chickpeas for 90 minutes. 20 minutes before they are done, add a pinch of sea salt. However, doing so in the beginning will make the chickpeas tough (thus not ideal for making hummus). Drain the chickpeas when done and allow them to cool while roasting the red peppers.
Guide for roasting red peppers:
Set the oven to broil.
Remove seeds and green top from the red peppers. Cut the red peppers into strips you can lay flat on a pan or piece of tin foil. Do not use parchment paper, it may start on fire inside your oven at broiling temperatures.
Place them into the oven and flip them after 5 minutes. Once the red peppers have black spots showing on the outer side, remove them from the oven.
Place them into a temperature resistant bowl covered tightly with saran wrap for 15 minutes. After the 15 minutes has passed, remove the red peppers' outer skin (the black part) by peeling them with your fingers or a knife. The peppers should be soft.
Save a strip or two of the roasted red peppers to dice as a garnishment on top of the hummus. The rest of them will go into the blender or food processor.
Ok, are you ready to make hummus now? This is the easy part!
In a high powered blender or food processor (we used a Vitamix), add the garlic cloves, olive oil and half of the chickpeas. Blend these until it is creamy and smooth.
Now, add all of the other ingredients (but remember to save some diced roasted red peppers for the end) except the paprika and blend until smooth. If it's too thick add more olive oil or water (your choice) but be careful to not make it too runny either.
Once the mixture is consistently smooth, empty it into a large bowl you can cover with saran wrap or a seal-able container. Chill in the refrigerator for 30 minutes before mixing in the diced roasted red peppers and sprinkling paprika powder on top.
Stir in the garnishments and serve!

Copyright protected by Digiprove © 2014