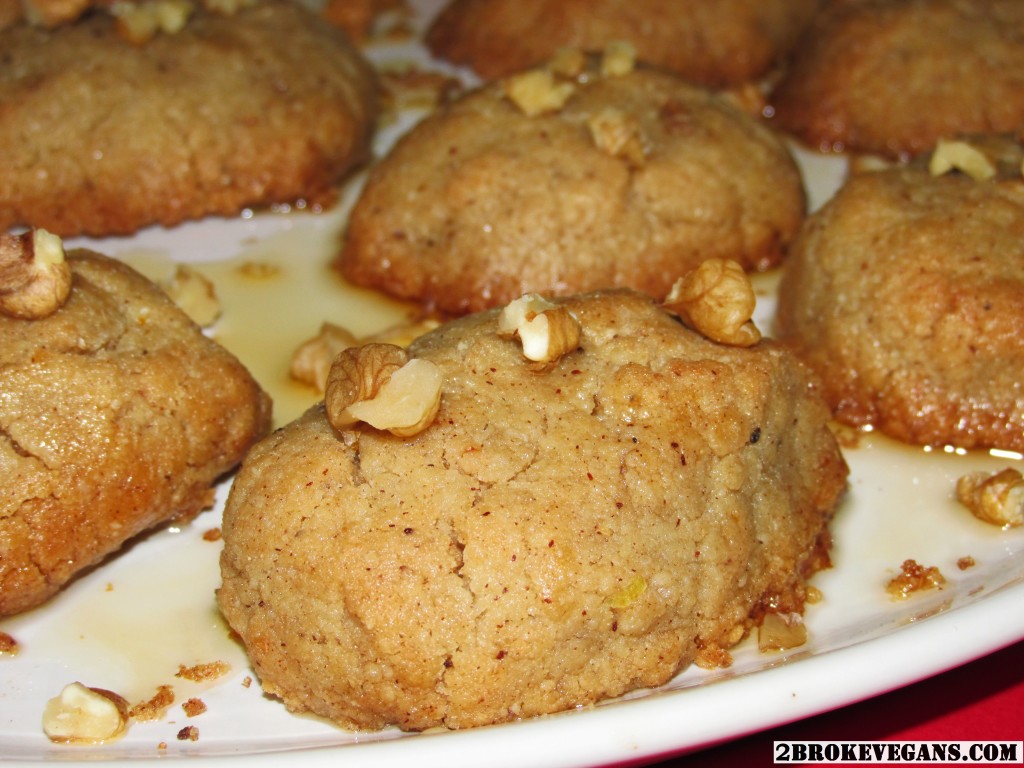 Traditional Greek Glazed Christmas Cookies! These cookies smell like Christmas: cinnamon, cloves and citrus aromas dipped in delicious syrup! Juicy, soft and delicious; vegan and gluten free!
This year (2014) I decided to try out a different recipe for these cookies than what we had posted already (I felt last year's were a bit too crumbly for my taste). So, I found this recipe and made some adjustments. The result was very close to the traditional Greek melomakarona. Hope you enjoy!
Ingredients for about 20 cookies:
1/2 cup of gluten free flour
1 1/2 cups of semolina from rice
¼  cup of orange juice
1/2 teaspoon of baking soda dissolved in the orange juice
1 Tablespoon of flaxseed powder dissolved in 3 Tablespoons of water
1/2 cup of olive oil
2 Tablespoons of brown sugar
1 teaspoon of orange zest
½ teaspoon of ground cloves
1 teaspoon of ground cinnamon
Walnuts for garnishment
Ingredients for the syrup:
3/4 cup of water
1/2 cup of sugar
1/2 cup of agave
A cinnamon stick
Instructions:
Preheat the oven at 180° (356°F) either convection or conventional mode.
In a bowl, whisk olive oil with the sugar, then add the orange juice with the soda, orange zest, flaxseed water, cinnamon and the cloves. Keep whisking.
Remove the whisk and add the semolina. Work the mixture with your hands until completely mixed, then add the flour and work it until you have a dough that doesn't stick to your hands. It might seem crumbly, but when you bake the cookies the dough comes together, thanks to the semolina and the flaxseed.
Shape the dough with your hands in a cookie shape that is relatively flat (the one you see in the photos is the traditional one) and place them on parchment paper. Bake at 180 °(356°F)for 8-10 minutes in convection mode or for 15-18 minutes in conventional mode.
Remove from the oven and let them cool off.
Prepare the syrup. In a small sauce pan add the water, agave, sugar and cinnamon stick. Place over medium to high heat until it starts boiling.
Remove the syrup from the heat. In the hot syrup put the cold cookies, leave them in to absorb the syrup for about 30 seconds, then remove them. You can leave them in for more or less time, depending if you like the cookies soft or crunchy. However, be careful not to leave in for too long or the cookie will fall apart.
Serve them with crushed walnuts and a Christmas mood!