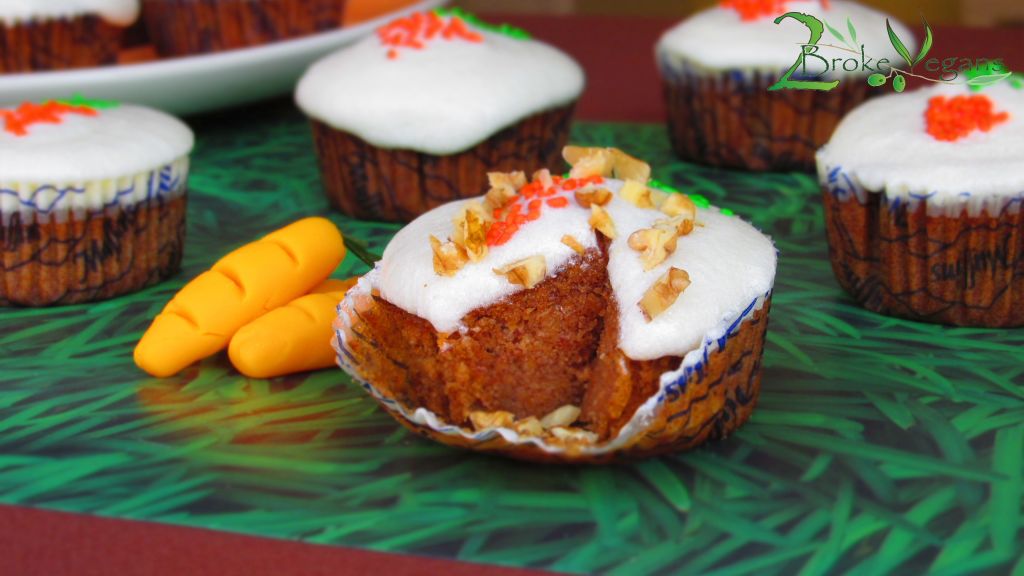 It's our first birthday at 2brokevegans.com! It's been an amazing year filled with delicious food, new ideas and of course a lot of learning. We have been very blessed to have so many readers from all around the world (which is something we never imagined we would have when we launched our blog)! We have also met so many new and interesting people because of the blog which has been awesome! So, thank you to everybody who reads, follows or comments on our recipes! We would like to celebrate with these vegan gluten free carrot cupcakes by sharing the recipe with all of you!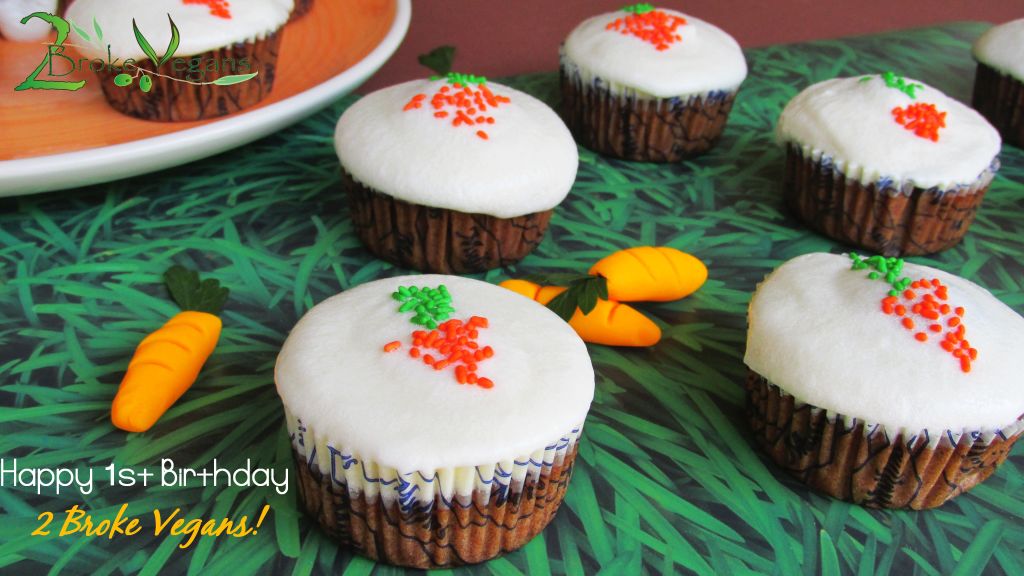 Now, who's ready for some cupcakes?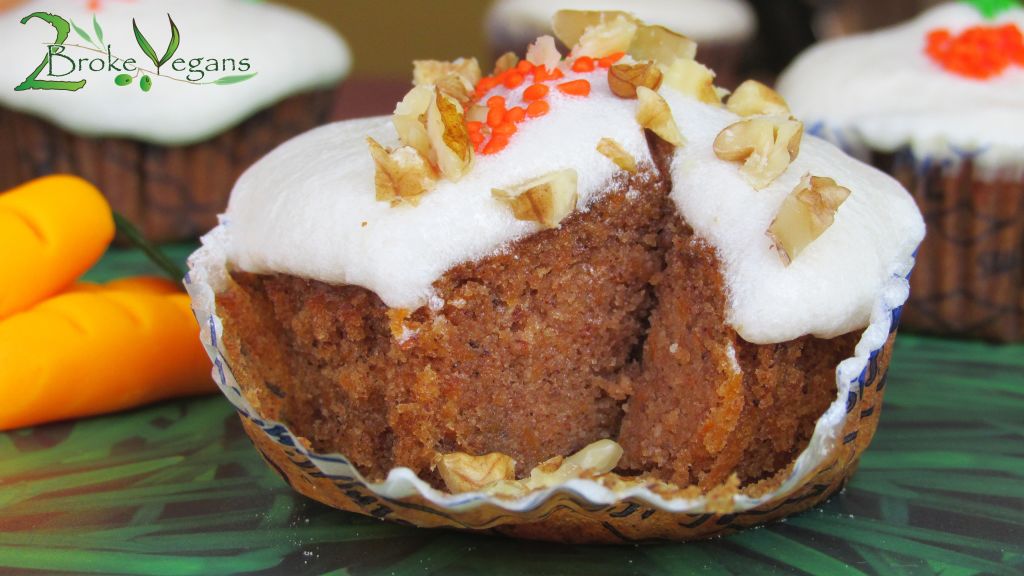 When I was growing up, my mom would make each one of her kids the cake of their choice for their birthday every year. My choice was always carrot cake, it is definitely my favorite cake by far! Of course, in those days my family and I were not vegans yet so I had a bit of a challenge converting my mom's old recipe into a gluten free vegan recipe. The cake part was not so difficult as I have made many vegan gluten free cakes over the years now. The frosting was what I was always afraid to try as the original version had cream cheese in it! However, thanks to Viotros sending us some of their Viofree Violife Original Vegan Cream Cheese this suddenly became very easy to make! Let's get started…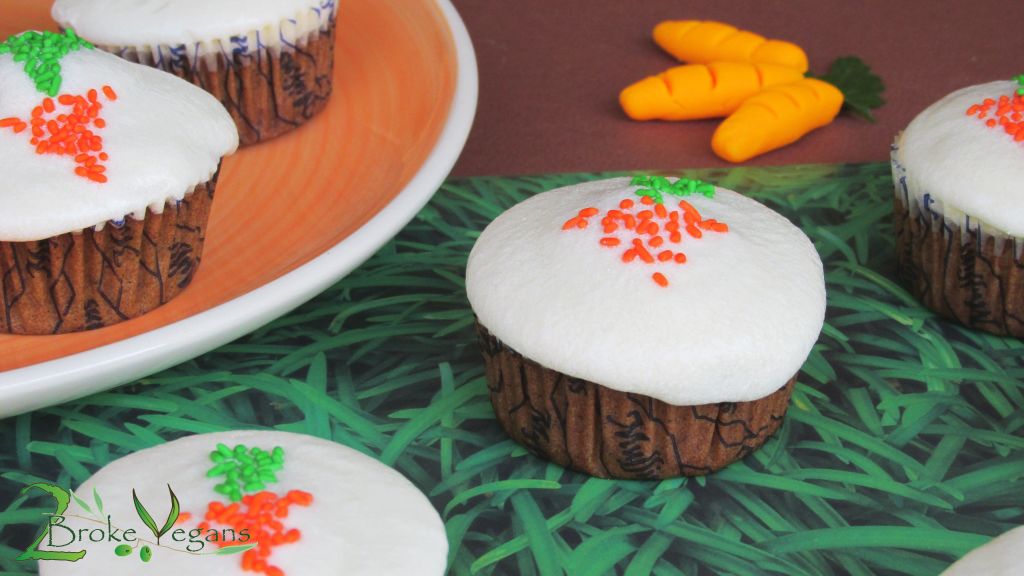 Ingredients for the cupcake base (makes 36 cupcakes):
2 cups of buckwheat flour
1/2 cup of tapioca starch
1/2 cup of rice flour
2 teaspoons of baking soda
2 teaspoons of baking powder
2 teaspoons of ground cinnamon
1/2 teaspoon of ground cardamom powder
1 teaspoon of sea salt
1 1/2 cup of raw organic cane sugar
4 Tablespoons of ground flax seed powder mixed with 12 Tablespoons (3/4 cup) of water
3 cups of grated carrots
2 Tablespoons of apple cider vinegar
1 cup of canola or sunflower oil
2 cups of vegan milk (rice milk, soy milk, almond milk, etc.)
Instructions for the cake:
Pre-heat oven to 175° C (350° F).
Combine the ground flax seeds with the water and whisk thoroughly. Set aside to allow mixture to come together into a gel (this takes about 10 minutes).
Mix together all the dry ingredients (this does not include the grated carrots) in a large mixing bowl with a whisk.
Add the oil, milk and vinegar to the dry mixture bowl. Whisk.
Add the flax seed water and grated carrots. Switch to a large spoon and stir until everything is mixed completely.
Fill your cupcake papers or molds about 2/3 of the way full.
Bake in the oven for 20 minutes or until a toothpick comes out clean.
Ingredients for the frosting:
1/2 cup of vegan butter
200 grams (7 ounces) of Viotros Violife/Viofree Original Vegan Cream Cheese
1/4 teaspoon of vanilla powder or 1 teaspoon of vanilla extract
4 cups of powdered raw cane sugar
1 Tablespoon of water (the more you use, the runnier it becomes; so be careful!)
Instructions for the frosting:
Allow the butter to soften outside of the refrigerator for a bit.
Add all ingredients into a large mixing bowl.
Using a powered mixer, beat on a high speed until all the clumps go away and a smooth frosting emerges.
Once cupcakes have cooled, add the frosting on top of each one.
Keep cupcakes refrigerated.
If these cupcakes are too sweet for you, try topping them with some crushed walnuts, it helps! It has been years since I have had a carrot cake so I am very happy they turned out to be so tasty! The Viotros Viofree Original Creamy Vegan Cheese can be found at Botanica here in Patra, Bamboo Vegan in Athens or if you are in the rest of the world click here to see if it is available near you.

Copyright protected by Digiprove © 2014