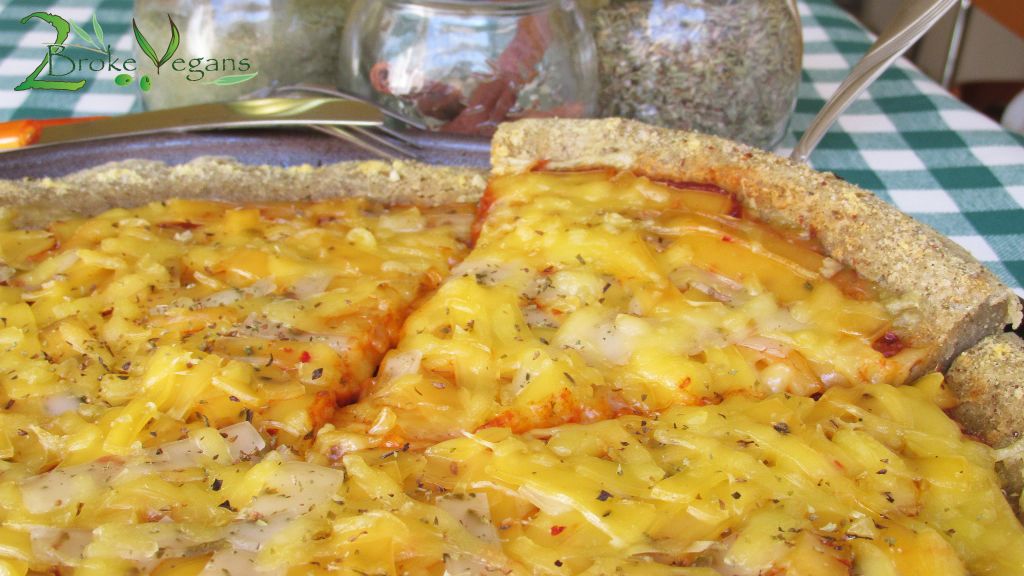 In our last post we mentioned how Viotros sent us a mountain of vegan cheese to come up with recipes for. Athanasia had the idea to mix and match different flavors of their vegan cheese for that post, so, now it's my turn! I have casually mentioned three and five cheese pizzas to her from my non-vegan days only to hear her say "yeah right!". Well, it was time to show her it's true! With basketball season right around the corner it's time for a slam dunk five cheese vegan pizza! We made this pizza using five different flavors of vegan cheese from Viotros and it is delicious!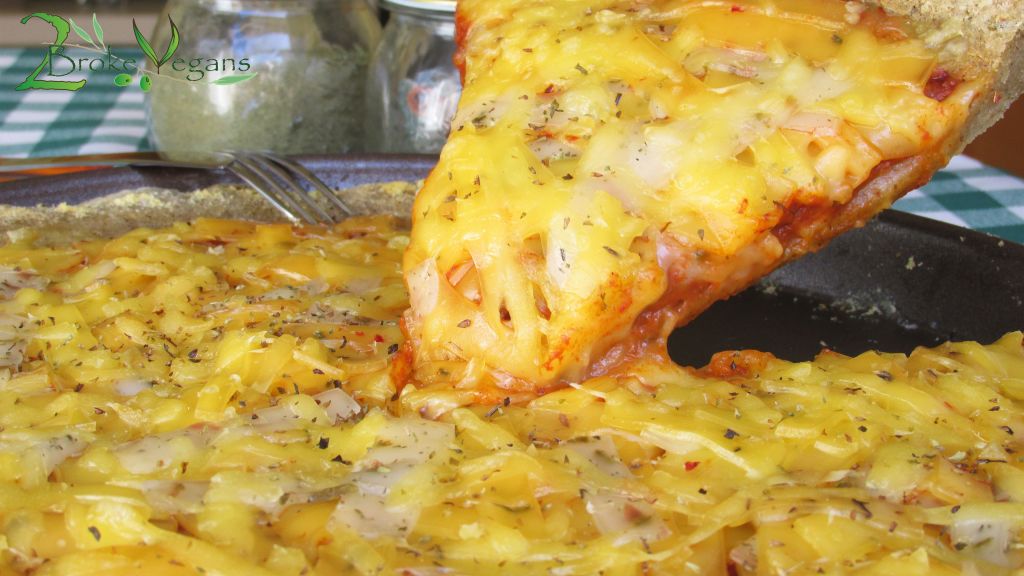 We chose to use the new slices without preservatives Violife/Viofree makes now to see if they melt on a pizza. On top of it all we used their cheese for pizza that we already know melts. The nice thing about some of these slices is they have dehydrated peppers, olives and mushrooms in them so this pizza was very tasty without a lot of work to chop vegetables! We used the Peppers, Mushrooms, Olives, Oregano & Thyme (sold as "Herbs" outside of Greece) and Pizza Viofree/Violife slices for this pizza. The packaging is a little bit different here in Greece than what you may find from around the globe so I have included some small pictures of some of the Greek versions at the very bottom of this post.
So, those are the five different vegan cheese flavors we chose for this adventure! We stacked 4 slices of each flavor on a cutting board and sliced them into small "shreds" of cheese. This made about 4 cups of vegan cheese shreds from slices. We then grated a small amount of their vegan cheese for pizza to top off the pizza.
We topped it off with the cheese we knew would melt in case the slices did not melt, however, the slices did in fact melt as well!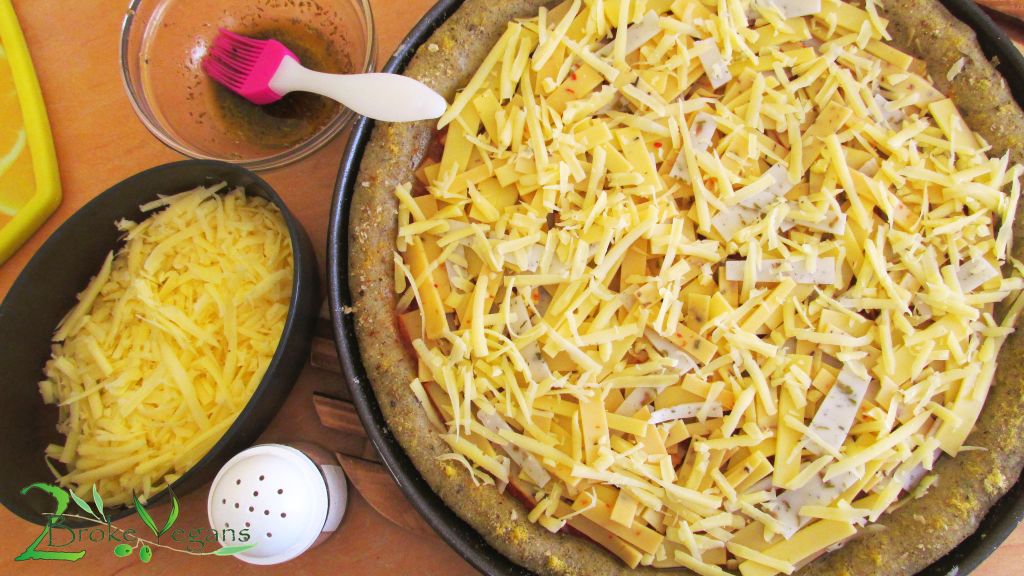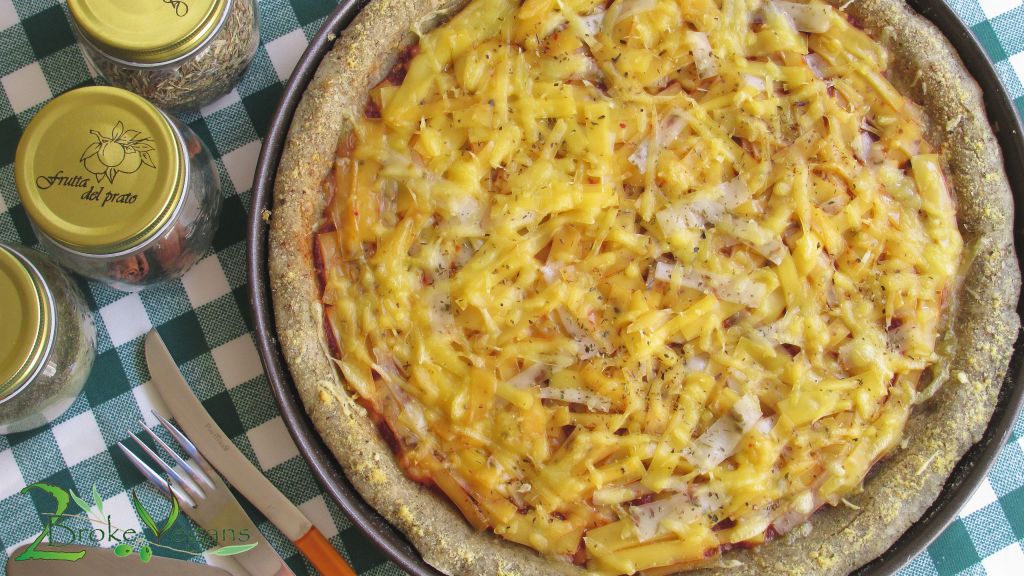 For the dough/crust we prepared our gluten free vegan Italian crust (click here for recipe).  We pre-baked this crust for 8 minutes at 150° C (302° F) and then baked it for 12 more minutes after adding the sauce and vegan cheese. If you have your own dough or crust, follow your normal baking instructions for this pizza.
We also made our pizza sauce (click here for recipe).
These vegan cheese slices from Viotros made making this pizza an extremely easy task without lacking in flavor! Athanasia's mom said we should team up with them to make ready-made frozen gluten free vegan pizzas available in Greece; how convenient would that be? Every time I talk to my brother Andrew back in Minnesota he brags about how easy it is for him to slap together a vegan pizza. He grabs a frozen gluten free crust, spreads some store bought pizza sauce on it, sprinkles some already shredded vegan cheese on it and whatever toppings he wants. Here we are making the crust, sauce and shredding the cheese! Oh well, know for a fact our way is more tasty!
Again, here in Greece you can find Viofree products at Botanica here in Patra and at Bamboo Vegan in Athens. For a complete list of where to find Viofree/Violife products click here.
As promised, here are the photos of the Greek packaging of Viotros Viofree vegan cheeses used on this pizza: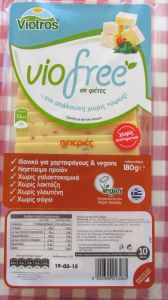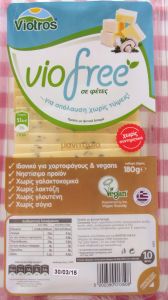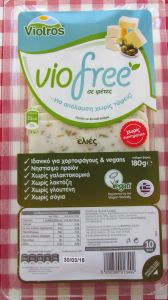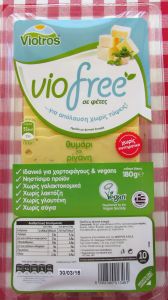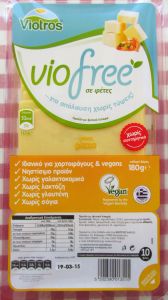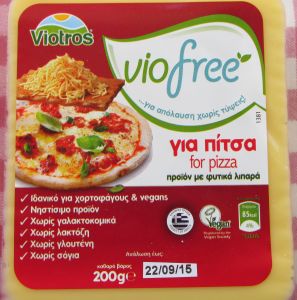 Copyright protected by Digiprove © 2014