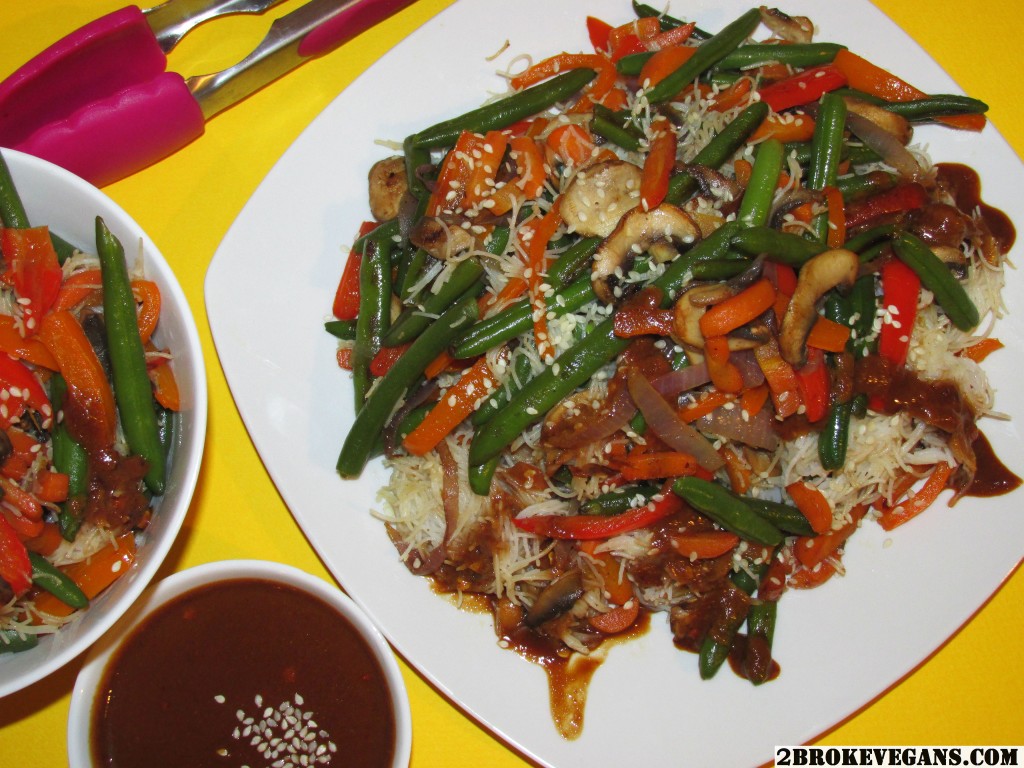 We wanted to make a vegan gluten free stir fry but we had no idea it would be this amazing! What made it truly savory was Jake's stir fry sauce which highlighted all the flavors and gave it an exotic touch 🙂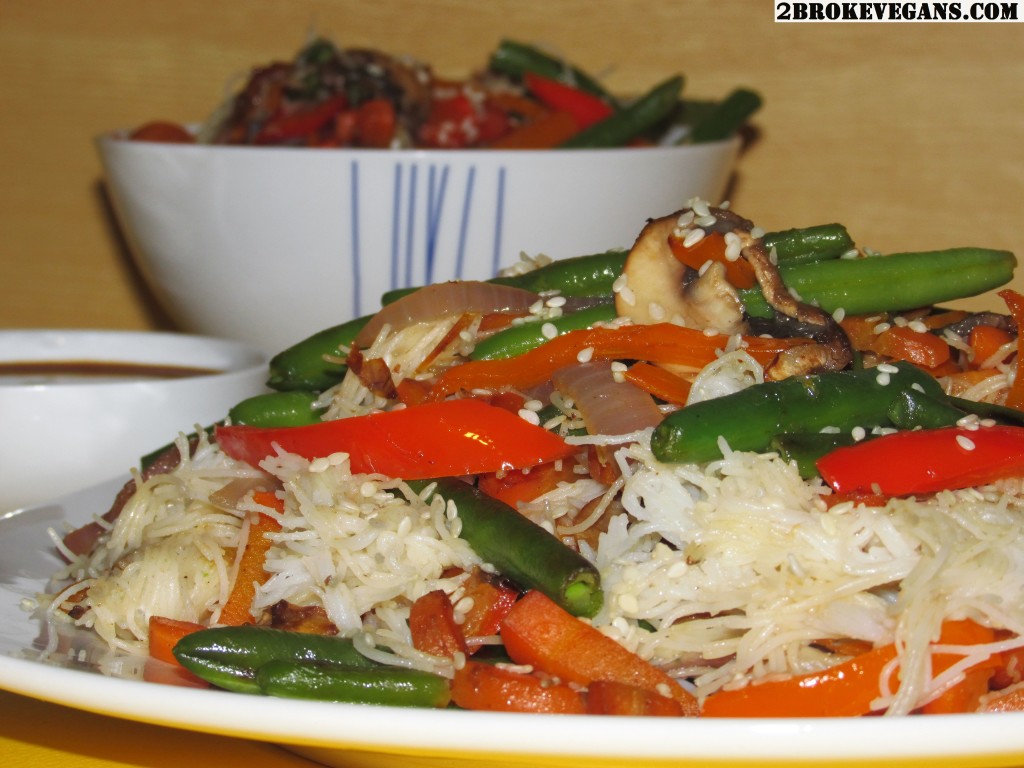 The secret to a good stir fry is to sizzle each vegetable individually because some vegetables need less time than others. Thanks to our friend Hara for teaching us this! Of course she is a master at this so her veggies turn out much better than ours but we will learn! You will need a wok or a non-stick frying pan. I used coconut oil but you can use any vegetable oil, preferably something light because olive oil (which is a "heavy" oil) for instance will make this dish very heavy! Serve with your favorite gluten free vegan noodles, we used rice noodles.
Ingredients for the vegetable stir fry:
2 1/2 cups of mushrooms, sliced
1 1/2 cup carrots, sliced and chopped in half
1 long red pepper, sliced
1 long orange pepper, sliced
1 garlic clove, minced
2 1/2 cups of green beans
1/2 cup of red onions, sliced (about 1/2 of a medium onion)
Organic coconut oil
1/2 teaspoon of ground ginger powder
1/4 teaspoon of sea salt
Pinch of cumin
3 drops of gluten free vegan Worcester sauce (click here in Europe or click here in North America)
Ingredients for the stir fry sauce:
3 Tablespoons of gluten free tamari sauce
2 Tablespoons of organic tahini
1 Tablespoon of freshly squeezed lemon juice
1/2 teaspoon of organic raw cane sugar
3/4 teaspoon of red pepper flakes
Instructions for the sauce:
Combine the ingredients in a small to medium bowl and whisk until mixed completely. It should be noted we added the minced garlic clove to the sauce after it had been fried and whisked it in as well. Read below for the instructions on frying the garlic.
Instructions for the vegetable stir fry:
Pour some coconut oil in the wok or the frying pan. Put the pan on medium-high heat. On our stove this was done on setting 6 out of 9. What I did was put each vegetable on it's own, sizzled it until it was soft but still a little crunchy. Then I removed it from the pan and set it aside in a bowl for later. Next I added a different vegetable and so on. Once they were all cooked I mixed them together in the pan over a  medium-low heat to blend the flavors.
I sizzled the garlic with the ginger powder first and Jake added it to the sauce he made. The other important note is the mushrooms get sizzled with the cumin and Worcester sauce. Make sure you add some coconut oil before adding the Worcester sauce or it will stick to the pan! The order you fry the vegetables is not very important but doing them individually is.
So, once the noodles and vegetables are done, mix them together and drizzle the sauce over it all.
This dish was so good we could not get enough of it! We had prepared everything before we went out for our evening jog so we had food ready when we got back. It is not heavy in the stomach so it was perfect for after we exercised. In fact, this was so good I couldn't get the food away from Jake! If I had tried I might have lost one of my hands!

Copyright protected by Digiprove © 2014