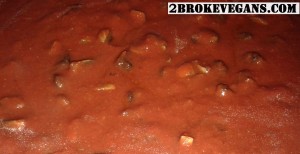 Let's take the first step in creating a vegan lasagna: vegan lasagna sauce!
Here's what you need to do:
Coat the bottom of a large and deep frying pan (that has a cover) with olive oil. Place the pan over medium-low heat on the stove. Once the olive oil is hot enough add these ingredients in the following order and saute them (stirring occasionally):
1/4 cup (50 ml) of chopped or diced red onions
1 garlic clove, minced
2 cups (400 ml) of chopped mushrooms
1/4 teaspoon of cumin
1/2 teaspoon of vegan worcester sauce
1/2 teaspoon of sea salt
Once they have sizzled to saute for about 10 minutes, blend and add:
the juice from 3 juicy tomatoes (basically blend the tomatoes in a blender with the ingredients listed below)
70 grams of tomato paste
1/2 Tablespoon of raw can sugar
1/2 Tablespoon of dried basil
1 Tablespoon of dried oregano
1 teaspoon of dried parsley
Once blended this should be around 600 ml (about 3 cups) of tomato sauce. Pour the tomato sauce from the blender into the frying pan with the mushroom mixture. Place the cover over the pan and keep on medium-low heat. Stir occasionally for about 15-20 minutes. Once you smell the herbs, it's ready. This usually happens after the sauce begins bubbling from the heat. Now, get ready to make some vegan lasagna!